Coins We Love - October 26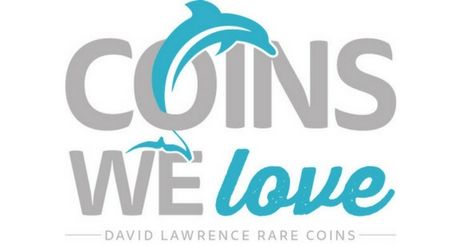 This week we were supposed to be in attendance of the PCGS Member's Only Show in historic Philadelphia, Pennsylvania. However, due to the number of fresh collections arriving in the office over the past few weeks, we've had to stay here and crank through the top priority items. The coins we've received are of higher quality than a typical dealer inventory, thus we've viewed our time as being well-spent. We might be forced to be even more active at the upcoming Baltimore show, but we're quite okay with that!
Typically, we view our fourth quarter of the year as a time that things slow down for us, but that's not been the case so far at DLRC. We've had a record number of packages arriving at our doors and it's even forced us to add to our office space as well. With coins taking over our visitor's office, we're loving the opportunities to buy large collections and expand our offerings.
As you might have noticed, we've had some very nice additions to our currency collection in the past few weeks. While we're offering some neat U.S. pieces, we've also added in a new product, World Currency, which has been a rather exciting new foray for us. We'll continue to grow these categories in the next few months, but we hope that you find the items listed there interesting as well!
Thanks again for reading along and please don't hesitate to let us know if there's anything we can do for you or if there's anything of interest here or on our website. We'd love to hear from you!
Sincerely,
John Brush and Your Friends at DLRC
---
Why we love it: Early Colonials typically do not come in an attractive state, but this choice AU piece exhibits fantastic centering on a high-quality planchet. The toning is light, but even on both sides with pleasing eye appeal. A truly nice issue that would be ideal for the advanced Colonial Coinage collector.
Value: The CPG lists this piece at $10,200 with the PCGS Price Guide just behind that at $10,000. This piece is reserved for a very reasonable $9,500 in this Sunday's auction. A finer example is not likely to be found in quite some time. Even if there are pieces technically graded finer, this one is perfect for the collector who appreciates eye appeal.
---
Why we love it: Shipwrecks and hidden treasure have long been popular with kids and adults alike who have heard stories for years. Thus, the shipwreck recovery coins have brought a certain demand due to the novelty of the find and the historic background. The SS Republic was a historic ship that saw activity during the Civil War on both sides of the conflict, but was wrecked as a union ship traveling to New Orleans in 1865.
Value: When these were first released, they brought gigantic premiums. However, the premiums have relaxed in recent years to a much more manageable level and have become increasingly difficult to find. With the latest piece selling for $7,344-$7,750, this coin's reserve of $7,800 is in-line with recent pieces and is destined for a discerning historian/collector.
---
Why we love it: One of the nicest survivors from a mintage of 11,515 coins, this choice uncirculated piece from the Charlotte mint is a highlight of our active inventory. While four examples are technically graded finer by NGC, we would argue that this issue is arguably the nicest of the quintet. Alas, when you're in the rarified air of pieces of this quality, it's hard to located comparable ones at all. Lustrous, flashy yellow-gold surfaces with phenomenal quality for a product from the branch mint, this coin is ideal for the advanced collector.
Value: The CPG value of $14,200 comes in slightly lower than the PCGS Price Guide value of $14,500 and the NGC Guide at $16,000. With quality such as this, it should certainly garner much attention and is available for just $13,000, a fantastic value for such a great coin.
---
Why we love it: Behind the 19-D, 19-S, and 21-S, the 1921-D Walker is one of the key dates in the Walking Liberty Half series. Typically poorly struck and rarely seen with the coveted CAC sticker, this lovely example is perfect for the discerning collector who appreciates high-quality, attractive originality.
Value: The CPG reflects a value of $16,300 and with CAC-stickered examples selling so rarely, we expect this piece to find a new home quickly. Regularly priced at $15,500, we are offering it this week for a far more reasonable $14,000.
---
Why we love it: An incredibly rare gem with the CAC seal of approval, this first year of issue from the Carson City mint is very difficult to find in higher grades. With aspirations to MS67, this coin is destined for an advanced Morgan Dollar collection. Nicer than any MS66+ that we've handled previously, this superb gem would soothe even the most discerning tastes.
Value: Comparable CAC-stickered examples have consistently brought about $14,000 in auction. This piece is available for direct sale for exactly $14,000.
---
---
Why we love it: Matte Proof Lincoln Cent issues are rather elusive, let alone in Gem Proof grades. This piece survives from a mintage of 2,405 pieces and with less than five coins graded finer, is certainly a desirable issue for a registry set collector.
Value: The PCGS Price Guide seems rather aggressive at $4,500, with the super-wholesale Bluesheet pricing at $3,050. Typically priced at $3,300 on our website, we are discounting this to our rock-bottom wholesale price level of $2,900.
---
Why we love it: Seldom offered in higher grades, this rare variety is without a doubt the most famous Large Cent variety. Getting its name from the 94 tiny stars on the reverse, this date is typically seen with damage or a defective planchet.
Value: The PCGS Price Guide rests at $40,000 on this elusive piece with finer grades doubling in price. Listed for $42,500 on our website, we can further discount this hard to obtain, famous piece to $38,000. Please give us a call or shoot us an email to reserve this famous rarity!
---
Why we love it: From a mintage of just 10,945, this popular issue from the Dahlonega, Georgia mint is a flashy, attractive piece. The quality of the strike on most examples from the mint in the North Georgia mountains is typically very poor, but this piece would be the exception as it displays quality details with nice eye appeal.
Value: The PCGS Price Guide reflects a value of $8,000 and with the most recent PCGS example selling for over $7,000 in 2011. This piece with a reserve of just $6,750 is a fantastic value for a nice coin!
---
Why we love it: Roll Tide! This popular issue has two things we love: PCGS Old Green label quality and CAC approval.
Value: Despite the flat lining prices for silver commems, we continue to see solid sales across the board for all issues as most collectors don't see any downside risk to adding to their collection at current levels. List price of $425, offered this week at $385.
---
Why we love it: Easy way to jump start a collection with a matched set of Proof 69 DCAM coins. Perfect gift for a young numismatist for the upcoming holiday season.
Value: This pre-assembled set saves both time & money versus building from scratch. List price of $550, offered now at $495. That's under $10.50 a coin!
---
Until next time, thanks for stopping by and sharing some time with us to browse our Coins We Love.
Check out all of the available "Coins We Love" from past newsletters