Coins We Love - October 27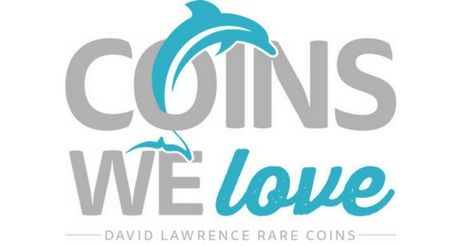 This has been an active week for us at DLRC as we continue to sort through many packages that have arrived on our doorsteps this week. In fact, last week's CWL message certainly must have struck a chord as we had far more inquiries and comments than normal! To those loyal readers, I'd like to say thank you for the feedback! I tried to respond to each message personally, but if I missed yours, I apologize.
On a more personal side, I had to travel for some family business this week, followed by a quick trip to the headquarters of CAC and an auction lot viewing in New York City. While speeding through (or rather waiting in) nearly a dozen airports in 7 days, it gave me a lot of time to think about what we do at DLRC. We have some rather interesting projects that we're working on in the coming months, but we also want to make sure that we're providing the service that all of you have come to expect. We don't actually view it as something special that we offer, but something that every customer deserves, so if there's anything that we're missing currently, please let us know!
Along those lines, we have finally unveiled our slightly modified and improved Want List feature to the website. Once you login, you will see it under the "myDLRC" menu. If you had an old Want List with us, it's still there and you're more than welcome to edit it. Of course, if you're new to us and need some help entering coins, feel free to emails us at coins@davidlawrence.com and we'd be happy to enter them for you. Please take a look and if you have any questions, you know where to find us!
Sincerely,
John Brush and Your Friends at DLRC
---
Why we love it: The 1827/3 Original Strike Capped Bust Quarter is nothing less than a landmark rarity of United States numismatics. Exactly nine coins are known from this issue, a mintage that was originally recorded as 4,000 coins but later thought by numismatic scholars to be comprised of 1828 dated pieces.
At many points, the 1827/3 has been compared to the 1804 dollar in terms of sheer rarity and desirability. As early as the late 1850's, these coins were recognized as considerable rarities in the numismatic community, and they have risen in fame and value ever since. Restrikes were produced that stemmed from collector demand of that time period and were made using the same obverse dated die but mated with a reverse from 1819 characterized by a square based 2 in 25c. Their appearance with the extensive rusting makes for a much less refined viewing experience, and even the novice would be apt to pick the more desirable Original Strike when compared side by side with a lesser expensive Restrike.
Our example hailing from the Parmelee, Col. E.H.R. Green and James Stack collections are only exceeded in quality by three coins, two of which may be the same example (the PCGS PR65 and PCGS PR65CAM). Nevertheless, this coin is a lovely full-mirrored example with a sharp strike and pleasing golden surfaces with no substantial marks to make note.
Value: The most recent sale of a piece in a similar grade was a PCGS-certified piece with the CAC seal of approval. It realized over $410,000 in June of 2014. This opportunity to own a trophy of United States numismatics is truly rare, and we are able to offer it for just $325,000.
---
Why we love it: We had lunch with John Albanese, the President of CAC, this past week, and one of our conversations centered around the more popular coins of the early 1980s. He particularly brought up Proof-Only issues from 1877 and how unusual it was to see the 3-Cent and Nickel Proofs back then. It's still unusual to see such nice gem-quality issues in today's market, but these issues certainly seem to be under-appreciated compared to a generation earlier.
Value: This highly attractive gem is reserved for just $6,250 in this week's auction. While there was one less attractive piece that auctioned for a bit less, the average piece with a CAC sticker has typically brought in the mid $6,000s over the past two years. We expect that this coin might bring a similar amount, but consider the reserve to be a conservative starting point for such a nice coin!
---
Why we love it: When we bought this coin, we actually thought that it was under-graded and should certainly re-grade to at least a MS66+ FH. Unfortunately, after an attempt at doing so, we were unsuccessful in this venture, but we certainly would suggest that a potential collector/investor should consider doing the same thing. It's a beautiful coin and certainly should be considered to be at the very top end of the grade scale!
Value: The Greysheet value of a MS65 FH example sits at $11,500 and the PCGS Price Guide lists a MS66 FH for $15,000. Regularly listed for $13,750, we can offer a further discount to just $12,000 via Make Offer this week. At a hair over the price guide of a lower graded example, we view this to be an excellent deal for the astute collector.
---
Why we love it: Considered by most to be America's Most Beautiful Coin design, the High Relief Double Eagle has always been popular amongst even non-collectors. Despite being unobtainable by most, these have long been a great store of value for investor-types and have also been desirable amongst collectors who have longed to own such a beautiful piece of art.
Value: Unfortunately for dealers, these also trade at very small premiums and are considered by some to be "expensive Krugerrands," but with a much prettier design. We can't offer a fantastic deal on these due to the tight price spreads, but at $24,750 via Make Offer it's an excellent opportunity to own a piece of collectible art.
---
Why we love it: The 11-D is the key to the Indian Gold Quarter Eagle set and has long been popular amongst collectors, investors, and dealers. Over the past 10 or so years, this date was heavily promoted by telemarketers due to the rarity, and the prices sky-rocketed due to the demand. Fortunately, these have adjusted back to their long-held price levels in recent months. This particular piece was acquired from another dealer, and we were able to get a very good price which we're happy to pass along to our customers.
Value: In recent months, public auctions have reflected final prices between $7,600 and $8,800. This is a rather wide disparity, but we are happy to offer ours at a relative bargain of just $6,850 via Make Offer this week.
---
Why we love it: We're constantly asked what's "Hot" in today's coin market. The fact is, all coins have a home, and it's hard to pinpoint what exactly moves the fastest as we carry such a diverse inventory. However, one thing that we can never seem to hold on to or acquire is early gold, especially with the coveted CAC sticker. We're sure that this beautiful coin will move quickly. It is the only 63+ graded example by PCGS and despite it being a "type coin" for the Capped Bust Left series, it's a gorgeous piece and is sure to excite almost any collector.
Value: Reserved for $30,500, which is only $1,500 more than the PCGS/CAC MS63 example that we sold quite recently. We simply wish that we were able to replace these for this price as these coins are simply not available in this kind of market.
---
Why we love it: The 1911-S Gold Half Eagle is relatively common in circulated grades but becomes increasingly difficult to locate as the grades rise. In fact, it is downright scarce in MS63 and higher grades. This piece was acquired from a long-time collector and displays the quality that even the most particular collector would appreciate.
Value: PCGS lists the date and grade with a value of $5,750 and recent auction records have settled more in the $4,200 range. Considering these price points, we're happy to offer this lovely piece for just $4,000 via Make Offer, a 30% discount from the prevailing price guide values!
---
Why we love it: Type Two Gold Double Eagles aren't particularly scarce, but they have been continuously popular amongst collectors and dealers. This particular date is one of the slightly tougher ones and is not usually found with such nice luster.
Value: The Greysheet bid price sits at $8,000, but we're offering it this week for just $6,750 via Make Offer. It's a super value for the long-term collector/investor.
---
Why we love it: A loyal viewer of our commemorative listings might notice that we currently offer a plethora of Oregon commemoratives. We actually acquired a complete set (or two!) in a huge deal at the ANA World's Fair in August, and these have gradually been making their way to the website. This lovely piece is one of the nicer examples that we've been able to offer and is a splendid gem example of this beautifully designed issue.
Value: PCGS lists this grade with a price guide value of $2,000. While eight pieces are graded as MS68, the values of those are well into the 5 figures, making this far more affordable piece quite a bit more desirable. Available for just $1,450 via Make Offer, this piece is sure to please the most value-conscious collector!
---
Why we love it: We have always been known for our affinity for Franklin Halves. While we didn't write the definitive reference book, we did publish it years ago and have always carried a wide assortment of dates and grades. This gorgeous gem is as close to perfect as is humanly possible for a Franklin Half. The population of 151 coins in this grade seems a bit misleading as you would be hard-pressed to find another example, especially with anything close to this kind of eye appeal.
Value:The PCGS Price Guide lists this piece for $2,750, though only a single coin exists as graded by PCGS. However, the last NGC record shows a final price of over $2,200 from just two months back. This piece is just as nice (if not nicer!) and can be had for just $1,975 via Make Offer.
---
Why we love it: Flying Eagle cents have long been desired among collectors due to the limited production years of the design. The small letters variety is considered the scarcer of the two types of this date, and we generally love the collectability and popularity of this short-lived series.
Value: The wholesale Greysheet bid price lists these coins at $110 each. These are a few of the remaining pieces we have left from the large purchase of the 57th Street Hoard, and we'd happily part with them for a small loss at $950 via Make offer, or $95 per coin. That's a 15% discount from the current wholesale levels!
---
Until next time, thanks for stopping by and sharing some time with us to browse our Coins We Love.