Coins We Love - October 6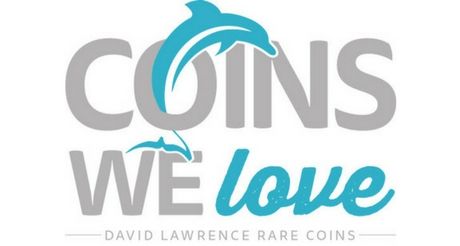 We've returned from yet another PCGS Invitational Show and are busy processing new purchases as well as evaluating a few smaller collections and packages that were sent to us by long-time customers. As always, it's been a whirlwind upon our return, and there are more coins here than when we left. Of course, we wouldn't have it any other way! Devin has been busy sorting several hundred rolls of recently purchased uncirculated Morgan dollars, I have been combing through over 1,000 coins that have recently passed through our imaging process, and Jason and Matt are setting up auctions and working with customers. It always feels like there are more coins to look at and more things to do, but this is exactly how we like things to work! The fall and early winter are typically our slowest seasons of the year, but it seems that this is not going to be the case this year!
As for everything else, we're putting the final touches on our updated Want List feature on the website we hope to have that live next week! You'll be able to edit, review, or create new listings easily through the "myDLRC" link on the website. We're excited to have this nearly finished, and we hope that you'll give this a shot once it's rolling! If you have any questions or comments about it, please don't hesitate to let us know via email at coins@davidlawrence.com or give us a call!
Once again, we appreciate your loyalty in reading our regular newsletter and hope that you've enjoyed checking out our newest Coins We Love!
Sincerely,
John Brush and Your Friends at DLRC
---
Why we love it: DLRC has long been known to offer the finest 1901-S Quarters available. While we have handled a finer example (PCGS MS68+), this piece is certainly as nice as the other MS67 examples and is the perfect fit for the Rare U.S. Coin Collector. Exhibiting splendid luster, a perfect strike and virtually flawless surfaces, this is one of the finest known of the "king" of Barber quarters.
Value: We have had the pleasure of handling this coin at least seven times previously. The PCGS Price Guide reflects the value at $250,000, and we know that this coin has previously traded for nearly $200,000. Available as a fantastic Coin We Love this week, it is available via Make Offer for $135,000. While it's not a fit for everyone, it is a fantastic addition for a collection of high-end rarities.
---
Why we love it: The 1881-S Double Eagle is a surprising rarity in higher grades with less than 30 pieces graded finer by both services. Frosty cartwheel luster and great eye appeal, this lovely, underappreciated date is a fantastic sleeper in the Type 3 Double Eagle series.
Value: The PCGS Price Guide lists this coin at a very conservative $6,500. Recently past sales in public auctions for PCGS-certified pieces stand at $6,500 to $7,600. Such limited offerings in high grades are unusual, and we're proud to offer this coin with a conservative reserve of $6,750 in this week's auction.
---
Why we love it: The 1902-O Morgan dollar is well-known for being a very poorly struck issue. There are a large number of well-preserved pieces that were released in the 1960s by the U.S. Treasury; however, surprisingly few MS67 examples were found, likely due to the storage and handling of the bags of dollars. This particular issue is mostly white with fantastic luster and eye appeal. No pieces are graded finer by PCGS or NGC, and CAC has blessed the coin with its coveted seal of approval.
Value: Very few CAC examples have sold due to the low populations, but recent sales reflect a value between $14,000-$16,000. This coin is reserved in this week's auction for a very reasonable $15,500 and is perfect for the advanced Morgan dollar collection.
---
Why we love it: The 1882 is typically associated with the more common 1883 and 1884-CC Morgans, but is quite a bit more difficult to locate. This MS67 example is a frosty, white superb gem with amazing luster. While there are four pieces graded as MS67+ or 68, there are none that look nicer aesthetically than this beautiful jewel.
Value: The Greysheet lists the wholesale "bid" price for an average coin at $6,000. This piece is certainly deserving of a dramatic premium, but can be purchased for just $6,500 this week via Make Offer. This is a 20% discount from the list price and is a great deal for such a solid coin.
---
Why we love it: A slightly better than common date issue, the 1959 Franklin Half commands large premiums in gem grades and higher, especially with the Full Bell designation.
Value: Large quantities of this date aren't something that we are often able to offer, but we recently acquired this set as part of a larger group of Franklins. Available for just $28 per coin ($560) via Make Offer, this is 10% less than the Greysheet "bid" price and is a fantastic value for a collector or dealer.
---
Why we love it: In celebration of the 100th Anniversary of the Renaissance of American Coinage, we wanted to offer this fantastically original key date quarter with gorgeous obverse rim tones. A treat to offer at any time, the 1916 quarter is a legendary key date that is popular amongst even non-collectors.
Value: Available for just $10,000 via Make Offer, this is in-line with the Greysheet "ask" price, which is unusually fair for a piece with the coveted CAC seal of approval.
---
Why we love it: The other legendary rarity from 1916, the king of Mercury Dimes is popular in all grades. This lustrous AU53 example with pleasing golden obverse tones is the perfect grade before the prices jump into five figures.
Value: The PCGS Price Guide lists the value of this example at $8,500, and we are able to offer this choice AU piece for just $8,000 via Make Offer.
---
Why we love it: The most popular of all varieties in the Kennedy series, the Accented Hair example is most often found in original 1964 proof sets. Brilliant with excellent mint frost, this is a near-perfect example.
Value: Recent auction records have reached to over $2,200, whereas the PCGS Price Guide sits at $1,700. This particular example is available via Make Offer for just $1,350, a significant savings over recent public auction records.
---
Why we love it: Widely available in grades up to MS64, the date becomes quite difficult in 65 or higher. This particular piece is boldly struck with nice luster and is housed in the special 30th Anniversary PCGS holder.
Value: The PCGS Price Guide and the Greysheet reflect the value of this date at $7,000. Recent public auction records have realized $6,200, but we are able to offer this piece for just $6,100 via Make Offer this week as a special Coin We Love price.
---
Until next time, thanks for stopping by and sharing some time with us to browse our Coins We Love.