Coins We Love: 😅Recovering from Baltimore😅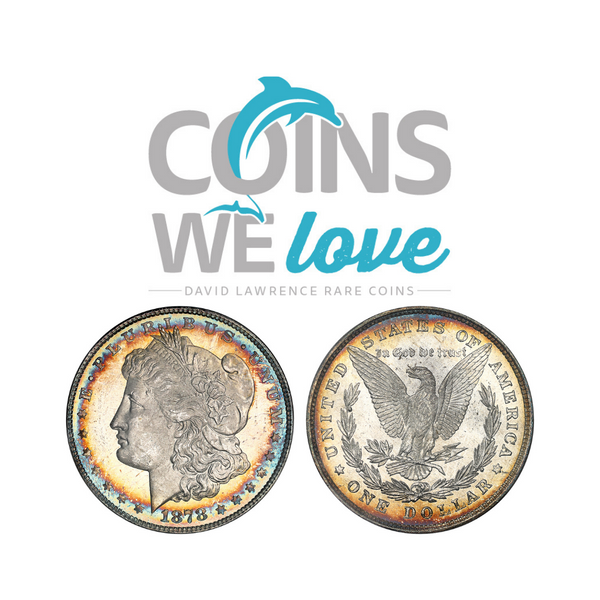 As a middle-aged adult, there are two things that I'm rather famous for not liking…one is self-promotion and the other is Zoom calls. Well, I have to do both on Friday in a presentation that I'm giving regarding the Hansen Collection for our friends at the NNP Symposium. So, I hope that you'll join me and ask some questions during the presentation on Friday morning at 10 am EST. If you can't join, please just register to support our friends there and check out some of the more interesting presentations running Friday through Sunday from 10 am to 5 pm…and if you have a question you want me to answer regarding the collection, email me tonight (john@davidlawrence.com) and I'll try to throw it in there. If the question involves the return of baseball and my World Series Champion Braves or the #1 ranked Tennessee Volunteer baseball team (with a tie to coins), I promise I'll get it in there…that's the price of allowing me to "volunteer"!
The Baltimore Show was a success for us at DLRC. Not because the buying was great (it was okay, but far from great), not because of the sales (again, they were ok, but not great), and not because of the attendance (it was mediocre), but because it was the closest thing to a normal Baltimore show that we've had in 3 years. Overall the show was average, but we'll take average any day. As I mentioned last week the prices that were being asked by most dealers were very strong and as someone said "they are pricing for tomorrow's market, not today's"… and we tried to price a bit more competitively, but it does depend on what we have been paying, so I'm not going to lie and say we were MUCH cheaper…we weren't. But the overall activity on all sides equaled out to a successful show for us.
After returning on Friday night, we still had a large number of coins to sort through, a huge group of coins to send out to CAC (they had not been allowing submissions at the economy level for over 30 days due to a backlog), and some more Hansen coins to prepare for the auction.
But, while we were in Baltimore working all of the angles, our photography staff at the office cranked out about 1,000 coins over my 2 weeks away, so when I returned I couldn't decide whether I should cry or jump for joy. Honestly, I'm still trying to figure out how I should react, but it can't possibly be a bad thing.
Lastly, to close out the Baltimore Show is the auction event that follows the show this week. There are times that I actively search auctions for inventory to purchase, but in this market, that's not the case as I find that privately transacted deals are better values, but I do have my obligation to the Hansen Collection to follow a large number of gold coins this week. As I write this at 9:30 pm, I've been listening to an auctioneer in the background since 3 pm. Frankly, it made me REALLY thankful that we do online auctions within a 3-hour window every Sunday night. These live auction events are stressful, tiring, and LONG. Even though I felt well-prepared going into the event, I didn't expect the prices that I'm seeing. Yes, the coins were fresh, high-grade, scarce pieces. The collection of Liberty Gold $5s, $10s, and $20s is quite exhaustive and has proven to have many opportunities to upgrade some coins, but has also shown that there are a thousand pits one can fall into value-wise. Honestly, the night has been long, we've won a few coins, but the prices realized for the collection (it's purely retail-driven due to the quality and scarcity of the coins) have been amazing. If this continues to be where the coin market is going, we're still in for a long, wild ride…and the time to sell has never been better.
That being said, we have a few new items coming up in this week's sale, with a newly listed Silver Commemorative Set, some amazing Proof Barber Quarters from the Hansen Collection, and an upcoming Morgan Dollar Collection featuring a unique group of proof issues. Overall, the market is still hot, coins are NOT easy to buy right now (at the right quality and levels), and we still see no end in sight. Hopefully, this trend continues and we will keep seeing lots of pluses when evaluating our own collection values!
Numismatically Yours,
John Brush
Click here to continue reading!