Coins We Love - September 1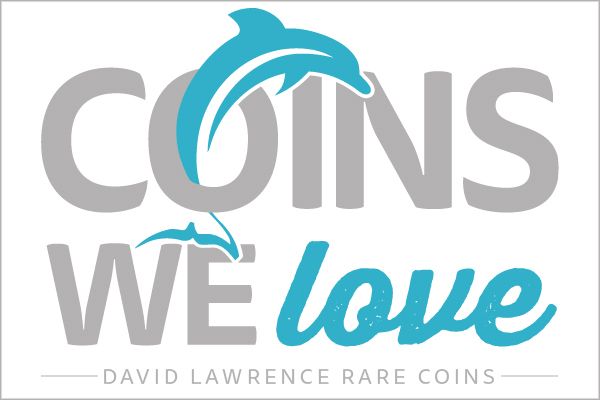 This week I was discussing our auctions with a customer of ours, and he was trying to compare what DLRC could offer him opposed to a few of our live auction competitors. In the middle of the conversation, the topic of Buyer's Fees came up. He asked me why they existed and why didn't we charge them. Our answer is simple: Why make things complicated? Hidden Fees, surprises, and complicated calculations aren't fun for anyone. That's why we decided to rid our auctions of buyer's fees. It allows the buyers to know what they are paying with their bid amounts, and it actually helps consignors as they can more easily figure their proceeds as well. All in all, it makes things more transparent and easier to figure as a buyer and a seller.
The question as to "why" is a difficult one. It's a fairly new phenomenon that auction companies decided to add as it typically helped their commissions rise a bit. Unfortunately that small change can make a world of difference for the auctioneer and can cause chaos for a buyer. Frankly, when the buyer's premiums have grown from 10 to 15 to 17.5% (sometimes even 20 or more!), it just becomes unwieldy and complicated. We at DLRC are very glad that we got away from that model and hope that you enjoy our auctions as well!
On the homefront, we've made it through the busiest month of our year at DLRC and are approaching a well-deserved holiday weekend. While we will be ending Part 2 of the Carolina Creek Collection on Sunday night, our office phone lines will be off on Monday, and we hope that you too are enjoying the symbolic end of summer. We're proud to offer some highlights from this week's auction and a few really neat items that we're pleased with, and we hope that you enjoy them.
Best Regards,
John Brush and Your Friends at DLRC
---
Why we love it: WOW! This piece is one of our favorite coins in the Carolina Creek Collection. In fact, it is one of our favorite pieces that we've offered in the entire Barber series in years. There's not a single detracting feature on this coin and while it's not as rare as several other dates in the series, we appreciate the date and think of it as an underrated issue from its modest mintage. We simply cannot say enough good things about this coin!
Value: Offered with No Reserve, this coin maintains no other peers in its grade level and the PCGS Price Guide of $22,500 may be too cheap for such an amazing coin.
---
Why we love it: This is exactly what a superb gem Barber Dime should look like! Nearly prooflike surfaces with gorgeous eye appeal, this finest known example (with its nearest rival being a lone 67+) is an absolute treasure.
Value: This piece has traded hands several times in the past decade with sales prices between $7,700 and $8,600. We expect this coin to garner something similar once again, and the winning bidder will assuredly have an excellent acquisition as this coin is the real deal!
---
Why we love it: Can you tell that we love coinage from the end of the 1910s? This is yet another lovely piece that would fit any collection of coinage focusing on this popular year.
Value: Offered with No Reserve once again, this piece is in the popular grade level as it is virtually unobtainable in higher grades and the price moves to a multiple of 10 (at least!) in a grade of MS65.
---
Why we love it: This is a solid example of this post-Civil War issue. The obverse surfaces are incredibly close to a prooflike finish and the luster is simply booming. A more brilliant example will not be found, and that is reason alone for us to love this piece – and we think that you will too!
Value: Reserved for just $11,750, this piece carries a PCGS price guide value of $15,000 and there are only 5 pieces graded finer by PCGS. An excellent value on an underrated, uncirculated issue.
---
Why we love it: The 1873 is the most dramatic doubled die in the Indian Head Cent series. The doubling is easily noticed on the lettering of LIBERTY and is popular due to the rarity of the variety. The finest example that we've offered at DLRC, this is a lovely and original coin with quality surfaces and nice eye appeal.
Value: Offered with No Reserve as part of the Carolina Creek Collection, we expect frenzied bidding activity on this rare mint error. The PCGS Price Guide of $20,000 is a fairly accurate representation of the scarcity of this issue.
---
Why we love it: A lustrous and well-struck example of this popular date, it is an elusive issue with such a strong strike. Truly an underrated piece when it comes to high quality examples, this is an exquisite example for the discriminating buyer.
Value: One of 17 examples in this grade with a single piece graded finer, it is one of only 4 pieces in this grade with the coveted CAC sticker. Offered with No Reserve, this is a piece that isn't likely to come available in this condition for quite some time.
---
Why we love it: This odd-shaped issue was never appreciated by the general public and because of this, very few gem examples were saved. The strike is also not ideal for gem examples to remain mark-free, thus this MS66-graded piece is an unusual appearance.
Value: The PCGS Price Guide lists this piece at $550, but we can offer it via Make Offer this week for just $465. With only 3 pieces graded finer by PCGS, we think of it as an excellent value for this rare coin of tomorrow.
---
Why we love it: In honor of the University of Alabama's 2015 National Championship football team, we're highlighting this commemorative issue. While we hope to see the Tide fall a few times this year (Tennessee has to be due!), the Crimson Tide deserve our respect, and we hope that you enjoy viewing this piece before the games start this evening! Go Vols!
Value: The Greysheet lists this date and grade at $1,100, and we can offer this underrated and popular issue for just $1,075 via Make Offer this week.
---
Why we love it: 1895 Morgan Dollars have long carried a gravitas that is unsurpassed amongst its brethren of other dollar denomination issues. This particular piece exhibits a frosted cameo effect with mirror-like fields with fantastic eye appeal. A true superb gem proof, we are proud to offer this piece in this week's auction.
Value: Our long term layaway plan is available on this elusive date and is offered with a reserve of just $97,500. The PCGS Price Guide levels this piece with a value of $120,000 and from our experience, most similar pieces simply do not carry the luster and eye appeal of this fantastic example.
---
Until next time, thanks for stopping by and sharing some time with us to browse our Coins We Love.