Coins We Love - September 13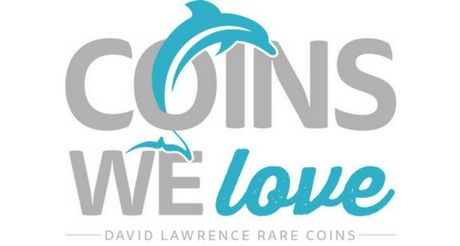 Well, when the week began, we didn't expect to be in the office today. However, Hurricane Florence took a slight dive further south, which spared us the direct hit this weekend. Our thoughts and prayers are with our friends in NC, SC, and GA as they deal with the angry winds starting on Friday.
Last week I had a few customers refer to some coins that we had bought at the ANA show in auction and asked for my opinions on their values. Well, based on my answers to them, I thought that it might be fair to share a few of my opinions and answers.
Live Auctions won't always get you the most money for your coins. When there are multiple auction events going on at a show, it's overwhelming for the buyers. At the ANA show, there was literally an auction going on during every waking moment it seemed. So, you pick your spots. I knew that I'd be able to attend the auction on Wednesday night, so I focused on being as prepared as possible and did my lot viewing a week in advance. While I didn't finish figuring my bids until halfway through the auction, I was listening intently and raising my paddle whenever something was selling too cheaply compared to my bids. In fact, there were numerous items that I had figured bids that I didn't even think were aggressive, and I won the coin 2-3 bids less. Yes, this is REALLY unusual, but it's what happens when you're prepared.
Why don't more people participate? A decade ago, the auction rooms were packed with people bidding. Now nearly all of the bidding is done online. When you attend in person you have some advantageous situations where you can "cut" bids and figure out where the underbidder is if there are odd amounts being used. This knowledge can help you save half of a bid increment if you participate often enough. However, the main reason more buyers don't do this? They are EXHAUSTED after a day on the bourse floor. I've always credited the fact that I don't mind working too many hours to be successful. While Uncle Scrooge said to "Work Smarter, Not Harder," I believe in doing both when I can.
How Aggressive Do You Bid? I'm a value buyer in auctions. I don't chase items. So, when we're offering coins that we procured in auction, it's because we think we got great deals on them. That's why we pour so many hours of preparation into these events.
Should I sell in Live Auctions? As I said, most bidding is done online these days. Live Auctions offer a few perks (catalog, more extreme marketing), but the answer isn't Yes. That's exactly why we believe in the Internet Auction System. It allows us to get the same results as a Live Auction, but faster. That's why every one of the major auction companies offer a form of online bidding now. It makes the auction event nights much shorter than they were just a decade ago and much more exclusive.
Why did I share all this information this week? Well, many of this week's offerings come from recent auctions. So, it fits the theme, and it shines a little further light as to how we source so many coins…
Sincerely,
John Brush and Your Friends at DLRC
---
Why we love it: This is THE key date in the Shield Nickel series. While it's not as popular and desirable as the later designs of the denomination, this piece is far rarer than any of its relative coins like the 1918/7-D and 3-Legged Buffalo. With a mintage of just 16,000 examples, the rarity is clearly there, and we think that this coin is a sleeper amongst the key date rarities.
Value: Only seven pieces are graded as such with two coins graded finer. In 2013-14, similar examples were selling between $73,000-$88,000 in auction. This piece fell into our laps below the non-CAC wholesale Greysheet level of $56,000. The CPG reflects a price of $67,800, but it is available for just under $60,000 with a reserve of $59,750 In this week's auction.
---
Why we love it: Produced in 1879 when J.W. Scott, a prominent numismatist at the time, purchased the original Confederate half dollar die from Ebenezer Locke Mason. Mason, in turn, purchased it from the former chief coiner of the New Orleans Mint, Dr. B. F. Taylor. Upon his purchase of the die, Scott produced 500 Confederate Half Dollar Restrikes by plaining the reverse off 1861-dated half dollars. Scott then produced 500 of these "store card" tokens in white metal. Truly beautiful examples of these issues are scarce, and this piece is an absolute 10!
Value: With a PCGS Price Guide of $7950, this piece is reserved for just $7,500 and is great for the Civil War collector.
---
Why we love it: Per our favorite gold expert, Paul Nugget, "To purchase any pioneer gold in mint state is a task unto itself, but a double eagle is an opportunity waiting." Lustrous with nice eye appeal, this popular issue was made during a seven-month period in 1853 before the establishment of the San Francisco mint.
Value: The PCGS Price Guide reflects a value of $13,000 and with the popularity of these territorial gold issues long being very high, this piece is available via Make Offer for just $11,250 and is a nice value for the advanced collector.
---
Why we love it: Not only one of the most popular key dates of the 20th Century, this piece is gorgeously toned. An unusually beautiful example, this coin is perfect for the key date collector.
Value: The CPG values this issue at $8,000 and this example is available for just that via Make Offer this week. It's certainly the prettiest AU we've had in many moons!
---
---
Why we love it: The coins of all denominations minted in the year 1895 are quite popular, and the Barber Dime is no exception. A very tough date to locate, especially in high grades, only four examples are graded MS67 with two pieces graded finer (MS67+). This lovely, colorful piece is perfectly original and would look great in an 1895 date set of rarities.
Value: The most recent auction record was at $13,200 for a similarly toned piece with a bit less eye appeal. This desirable example is available for just $13,500 in this week's auction. With a CDN Greysheet value of $15,000, this rarity is coming in at a bargain level for a superior coin.
---
Why we love it: One of the other most popular key dates of the 20th Century, this collectible piece is sure to please a collector who appreciates originality.
Value: The CPG comes in at $11,100 and the PCGS Price Guide sits at $10,000. Available via Make Offer this week for just $9,500, you could pair it with the 1916-D 10c and use our long-term layaway option!
---
Why we love it: I'm not sure that there's anything more collectible in today's market than CAC-approved gold. The reasoning? It's very difficult to find scarce dates with the coveted green football. This piece is a gorgeous better date example and is bested by only 11 other examples at PCGS.
Value: The CPG comes in at $16,500 and with a MS65 going for over $25,000, this piece, with a reserve of $15,250 is a much better value and is sure to appreciate based on the popularity of CAC'd gold coins at the moment.
---
Why we love it: This is one of our favorite dates in the series, outside of the 1921s. An incredibly pleasing piece, we ended up partnering on this coin with a dealer friend of ours who was convinced that the coin would grade as a MS65+. It fell to us at what we thought was a cheap MS65 level and we wanted to offer it here for a week before we sent it in for re-grade!
Value: With a CPG of $29,000, this coin is reserved for slightly less at $28,250, and we think that the coin is ideal for the grade with plenty of upside for the grade-involved collector.
---
---
Why we love it: A lovely type coin in uncirculated condition, the stories this coin could tell would likely be fascinating. How it avoided circulating during the Civil War, where it was likely hoarded, and the past century and a half of existence, this coin is a lovely survivor that would be perfect for the collector.
Value: With PCGS Price Guide coming in at $565, this piece is available for just $525 via Make Offer, and we think that the buyer will certainly enjoy the remaining red color on this coin.
---
Why we love it: Flashy, blazing white surfaces, Proof Walkers have long been popular amongst collectors.
Value: The CPG comes in at $598, but this piece is available via Make Offer for just $500 and would make a nice addition to any collection.
---
Until next time, thanks for stopping by and sharing some time with us to browse our Coins We Love.
Check out all of the available "Coins We Love" from past newsletters