Coins We Love - September 22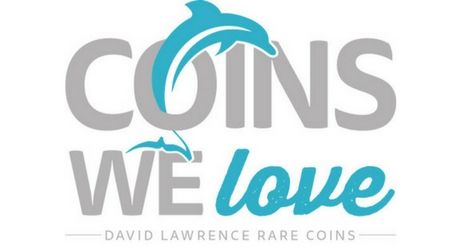 This week has been an active one for DLRC, both numismatically and otherwise. We saw the Mint remove the household limit on the gold centennial issue of the 2016-W Standing Liberty Quarter, the closing of the Carolina Creek Collection, and record rainfall earlier in the week that impaired our metropolitan area for a few days. However, we continued to crank through several hundred new coin images, process some coins that returned from CAC submissions, and prepare for our upcoming trip to the PCGS Invitational Coin Show next week.
Between all of these happenings, we pulled several of our favorite listings, both new and old, and wanted to share them with you here in our weekly CWL newsletter. We hope that you'll find something of interest and if you're simply looking for one of the Mint's new releases, we are offering those as well, but shipping may be delayed a few weeks as we await arrival of the coins. As always, we will be back next week to offer a few of our favorite coins, and we hope that you enjoy this week's edition of Coins We Love!
Sincerely,
John Brush and Your Friends at DLRC
---
---
Why we love it: We don't love this coin just because of what it is worth; we love it because of the inarguable quality that it presents. While other taler and crown sized coinage from various European and Spanish Empire countries can be frequently found in higher conditions including mint state, the fledgling United States mint operations were not able to yield enough production to enable these dollars to be saved in uncirculated condition in any large quantity. The Draped Bust dollars, which ceased regular business striking along with silver dollar production in general after 1803, were used to the point of exhaustion until the late 1830's when the Gobrecht Seated Liberty dollars made their first appearances. No doubt that this present MS62 example was intentionally saved by some well meaning individual, and we are thankful that was the case. The unadulterated surfaces are exceptionally clean for the grade, lustrous, and blooming in shades of golden and magenta toning. CAC approval on a coin like this is also quite the superlative, and we do not know of any similar examples currently on the market. Truly, this is a very special coin!
Value: We rarely get the opportunity to offer mint state examples of early Bust dollars. While the PCGS Price Guide only reflects a price of $36,000, it would be impossible to locate a similar CAC-stickered example for anywhere near $40,000! With an MS63 coming in with a Greysheet value of $54,000, we believe that the current reserve of $39,750 is a very fair price, if not conservative!
---
Why we love it: This coin is nothing less than a sparkling golden little jewel! 1856 saw the first year of issuance for the Type 3 gold dollar type for the Philadelphia and Dahlonega mints, while San Francisco continued to use the Type 2 obverse for the year. The Upright 5 feature is scarcer than its Slanted 5 sister from the same year, and there is only a single coin certified finer. Rich satin luster envelops both obverse and reverse, and the coin has the perfect "skin" for what you expect to find in this grade. Only one or two inconsequential contact marks on the reverse are what keep this coin from an MS66 designation. CAC agrees with our opinion that this coin is absolutely top end for the grade! Perfect for the Type 3 gold dollar specialist.
Value: Very underrated and nearly impossible to find with a CAC sticker, this lovely gem can be purchased for just $9,000 via Make Offer.
---
Why we love it: Coins like this are the ones that we say to each other at a coin show, "This should be a CWL coin." This specimen, from a small 16,400 mintage, was undoubtedly placed right into circulation in the port city of New Orleans where it probably went anywhere from Texas to the southern reaches of Florida during its life in use. The coins were obviously needed as evidenced by the staggering fact that there are only 3 coins total in Uncirculated condition and less than 30 in About Uncirculated. In fact, less than 100 coins have been certified in all grades combined at PCGS and NGC! Our present survivor is a delightful coin with rich golden yellow surfaces that betray only the slightest signs of gentle use. A viewer can note no singly distressing marks, and we believe that this coin will please even the most advanced US gold collector.
Value: A surprising rarity from an extremely low mintage, this coin is reserved for $8,250 this week. Comparable records are nearly impossible to find in any grades AU or higher as a PCGS example in any grade above AU50 has not been offered publicly in over 15 years!
---
Why we love it: The 1796 Small Eagle Draped Bust quarter is a favorite type of ours at DLRC, and it is one of the top five type coins based on overall rarity in standard issue US coinage. They are typically encountered in moderately to heavily circulated conditions with damage being the somewhat expected norm, so when we have a pleasing choice Fine example cross our desk with CAC approval, it certainly demands our attention! The present specimen has delightful "old silver" patina across the surfaces in predominately shades of gunmetal with touches of blue and gold. To our delight, this coin enjoyed a gently used purpose as evidenced by the complete lack of any serious or even somewhat notable defects acquired from circulation. This is a coin that we sincerely could not replace when it sells.
Value: One of our favorite pick-ups from the ANA show in Anaheim last month, this lovely Bust quarter can be purchased for just $28,750 via Make Offer.
---
Why we love it: The key date of the series along with the 1909-S, the 1877 enjoys popularity in every grade. We see collectors chasing any examples between About Good and About Uncirculated, and certain awe is expressed by those same collectors when we are able to offer a gem like this. Our PCGS/CAC example here is a delightful specimen with ample luster and rich mint red color presiding over most of the surfaces. As readers will note, this has long been a favorite date of ours to offer!
Value: One of our favorite key dates that is underappreciated compared to the 09-S VDB and 16-D Mercury. We've had the pleasure to offer several in this grade recently and can offer this lovely piece for $14,000 via Make Offer, which is slightly cheaper than the recent auction sales of $14,100.
---
Why we love it: Three Cent Nickels in MS66 are a pretty scarce sighting because of the nearly inevitable friction that is acquired across Liberty's cheek on the obverse and the fields on the reverse that are prone to picking up at least one contact mark; both factors contributing to less than an MS66 grade. While the 1888 Three Cent Nickels are seen with relatively high frequency in proof format, the business strikes that were yielded from a low 36,500 mintage are not quite as often encountered. When you combine the condition scarcity with the mintage factor, the coin in our opinion represents an exceptional value.
Value: PCGS Price Guide points this coin to a value of $1,200, but recent auction records are just below $1,000. However, we can offer this coin via Make Offer for just $850 this week!
---
Why we love it: Barber coinage has been admittedly well publicized in the last six weeks of CWLs since our initial offerings of the Carolina Creek Collection began to hit the auction block, yet the coins are hard to ignore with their fantastic statistics of small survival. This second year of issue quarter from the New Orleans mint is one of about 300 coins total certified in mint state by the grading services, and there are few coins finer than this example in MS65. Delightful sea green toning and pleasing luster are the hallmarks of this notable gem, and as always, we are pleased to offer this purchasing opportunity to our customers for a worthy coin such as this.
Value: PCGS lists this coin with a value of $2,300, and the Greysheet ask sits at $1,550. This 5-star gem is available via Make Offer for $1,550 this week.
---
Why we love it: We have several investor lots in Lincoln Cents and Jefferson nickels spread throughout the website these days, and we think that these offer some excellent values for beginning collectors. If this group of nickels isn't for you, there may be some other dates and denominations that can help spark the interest of a new collector.
Value: Individually these are valued at $25 on the PCGS Price Guide. We can offer this group of 6 coins this week for just $110 via Make Offer.
---
Until next time, thanks for stopping by and sharing some time with us to browse our Coins We Love.