Coins We Love September 26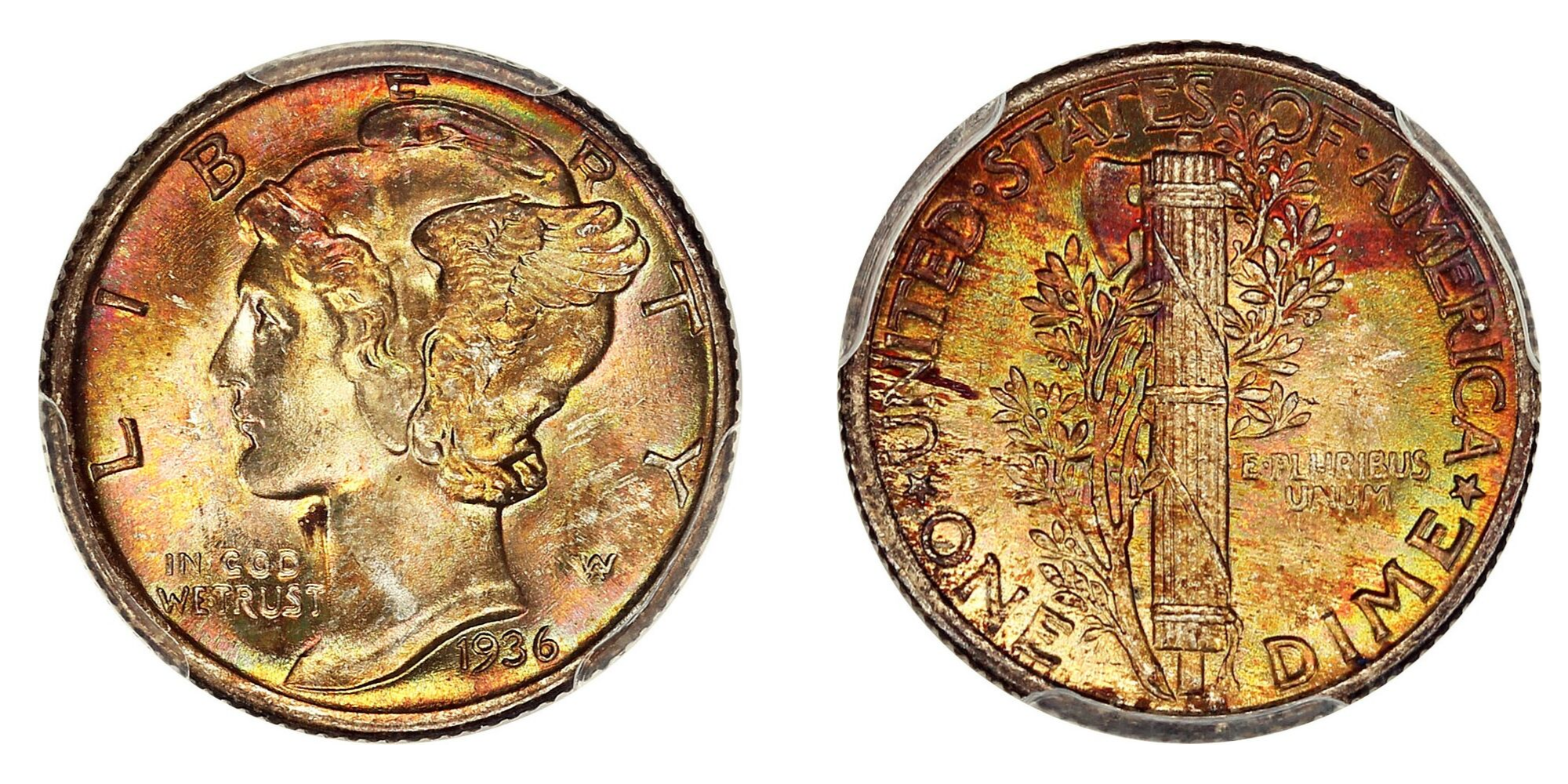 While it's our intention to send these emails out on Thursdays, it seems that things have simply become so busy and hectic that we're just glad to be able to get this out before the weekend! This week's delay comes from our active travel schedule as I've been hopping around the west coast this week and returning home as this is sent.
The travels this week have taken us to the golden state of California for a day where we picked up a sizable collection, a last minute stop-in to visit the Hansen Collection in Utah for a day (as well as an MLS Soccer game), and the final destination of Las Vegas for the PCGS Members Only Show where we broke out the checkbook. These events are typically the most efficient shows for us to attend and buy coins. At this particular one, there was decent attendance from dealers that had coins for sale, but a noticeable lack of buyers. When that's the case it does develop into the perfect storm, and we return home with quite a large assortment of spoils. Having spent over $1 million this week, we'll have quite the load of new coins coming in the next few weeks. If you ever have a chance as a collector to attend these shows it's worthwhile for the experience. Not necessarily to buy as the selections are more wholesale-focused with most dealers not having a setup to deal with collectors, but from a relationship one. There's not another event on the calendar that allows collectors to truly get to know dealers, and we always get to spend more time one on one with our customers at these shows than any other events.
Overall the market continues to push along and while things aren't incredibly exciting as it's a slower time of the year, it's been an active month as collectors are returning to the hobby as their summer obligations have relaxed. As the tourists leave our cozy little city (it's really not so little as it's the largest city in Virginia) the coin collectors return. We see the fall and upcoming winter seasons as being rather steady, and we hope that the variety of coins we are able to offer widens the net of collectors.
We'll be off from the show circuit for the next month as there aren't any major events before the PCGS New Orleans Show in October, but don't fret as we're well stocked and ready to go as we enter October. We hope that each of you have a wonderful weekend and that you enjoy some of our musings on our most recent Coins We Love newsletter.
Sincerely,
John Brush and Your Friends at DLRC
---
Why we love it: One of our favorite key date issues from the early 20th Century, this is a grade that is scarcely seen for the variety. This piece displays lightly worn, original surfaces with wholesome original toning throughout the coin. For its grade, this coin has surprisingly nice luster with well-struck surfaces and premium eye appeal. A perfect AU example with the toning, luster and incredibly strong detail in the devices.
Value: This coin is listed in this week's auction with the starting bid set at the fair amount of just $17,500. With the CPG price of $19,500 and PCGS Price Guide at $20,000, we think this is a great value for a scarce and popular overdate Buffalo Nickel with plenty of remaining luster and well-deserved CAC approval.
---
Why we love it: The 1856 Flying Eagle Cent is a famously popular key date rarity desired highly across all of numismatics. It comes with the Eagle Eye Photoseal and a CAC sticker, and hails from a low original mintage of just 1,500 coins struck. This near-gem example displays wholesome eye appeal highlighted by its lovely brown tones and mostly pristine surfaces that are free of any notable marks.
Value: The most recent sale of a comparable example brought $24,000 at auction. The PCGS Price Guide and the CPG Value are comparable on their respective estimates of $20,500 and $20,300 for this coin. Even with its CAC approval and Eagle Eye Photoseal, this famous, rare Flying Eagle Cent is being offered for outright purchase via our Make Offer function for just $19,500.
---
Why we love it: A gorgeous finest known proof Liberty Seated Dime that is tied with just two others at this PCGS Grade. The eye appeal of this pristine gem is perfect between its gold, blue-green and magenta obverse toning and mostly entirely golden reverse. A true stunner belonging in a high-end registry set.
Value: With a starting bid of just $6,850 for this finest known Seated Dime even with CAC approval, we feel we have left bidders with plenty of room to obtain this piece at an excellent value. A CAC-stickered, plus-graded finest known toner has no real ceiling to its potential value.
---
---
Why we love it: An underrated P-Mint, this piece has two others graded as such with only a single PCGS MS68 graded finer. Incredibly lustrous and a lovely overall satiny look. Beautifully pristine surfaces with light rose tints, this piece is certainly one of the finest examples of the date that we have seen.
Value: We have beaten the PCGS Price Guide by $250 on this stunning quarter. The price guide values it at $9,500 but it can be yours for just $9,250 via our Make Offer function.
---
Why we love it: A nearly perfect ultra-gem full bands example of this Mercury Dime issue that is out-graded at PCGS by just three plus-graded pieces. The surfaces are as pristine and beautiful as it gets between having basically no visible marks, perfect luster and colorful eye appeal. Rainbow tones on the obverse around 10 o'clock that carries over into the reverse with beautiful lime green highlights and splashes of red. This piece is certainly one of the prettiest Mercury Dimes we've handled of any date.
Value: The starting bid we have set is equal to the PCGS Price Guide at $5,000. This sort of toning and mind-boggling rainbow eye appeal is deserving of a healthy premium. Our start leaves bidders with a fair shot at a fantastic value.
---
Why we love it: A popular and scarce early Gold Eagle type coin that originally comes from a mintage of just 37,449 coins struck. A notably strong strike for the issue with notes of peripheral luster highlight this lightly circulated Capped Bust eagle, a rare early piece that hails from the Anthony J. Taraszka Collection. The eye appeal and grade level make this piece perfect for both the advanced type collector and early gold enthusiast.
Value: Early gold pieces with CAC stickers are still among the most highly desired items in today's numismatic climate and this piece is truly high-end for the grade and is perfect for the advanced collector. We are proud to offer this incredible piece at the reasonable price of just $33,000 via Make Offer.
---
Why we love it: Truly original surfaces and toning on this rare Franklin half dollar, of which CAC has approved just three at this level. In addition, it is tied for the finest known for the date. This coloring is that right out of the original mint set packaging with gorgeous light rainbow speckles. Pristine and lustrous, this coin is certainly deserving of its CAC sticker.
Value: With the wholesale Greysheet Bid level of $16,000, this piece is listed with a starting bid of just $14,500 for this finest known FBL Franklin Half. With no other examples graded finer or more attractive in our eyes, we are optimistic that this coin will find a new home quite quickly in this week's sale.
---
Why we love it: This scarce Charlotte Mint Liberty Head Quarter Eagle displays flashy, lustrous surfaces and ideal yellow-gold coloring. Typically an affordable low mintage Charlotte issue, this piece is boldly struck and extremely eye appealing. With only a handful of pieces graded finer, this example becomes one of the nicer ones from a mintage of 23,226 coins. Nicely lustrous with frosty mirrors and stunning eye appeal.
Value: The PCGS Price Guide has this coin valued at $15,000. The bidding starts at just $14,500 at $500 less than the price guide. That is an excellent potential value for this scarce, low mintage Liberty Head Quarter Eagle from the popular Charlotte Mint in lovely, choice uncirculated condition.
---
Why we love it: All Capped Bust Eagles are scarce, no matter the grade. This unusually affordable version of this scarce type coin has far fewer than 1,000 estimated survivors from its original mintage of over 44,000. This piece would find a nice home in a type set or with any collector looking for a relatively more affordable early gold issue.
Value: This coin is listed in this week's auction with the starting bid set at the fair amount of just $10,000. The CPG price of $10,300 and PCGS Price Guide at $12,000, we think this is a great value for bidders looking for Bust gold at a relatively affordable price.
---
Why we love it: An ultra-gem toner example of this fantastic type coin in the Barber Dime Series. Gorgeous satiny surfaces with blue, rose, and golden tints with splashes of green. Stunning for the grade with seemingly perfect fields. There are just two finer pieces known.
Value: This coin is available for outright purchase at a best price via Make Offer of the reasonable amount of just $6,250. The CPG price of $8,750 and PCGS Price Guide at $9,000, we think this is an extremely good value for our price, as it is so much lower than both price guides and the premium for the color is nonexistent.
---
Why we love it: A scarcer gem type coin within the Liberty Seated Quarter series that features lovely eye appeal. This captivating eye appeal comes from its beautiful underlying luster combined with its light rose-colored toning that covers the entire coin. This slightly better date gem Liberty Seated Quarter issue has only one other example in existence graded finer by PCGS.
Value: The CPG has this coin valued at $6,880; however, it is available for outright purchase via our Make Offer function for just $5,500. With only one graded finer in existence and at over one thousand below CPG, this CAC'd piece is sure to go quickly.
---
Why we love it: This sparkling red gem type coin for the Indian Cent series is true to the grade as it displays pristine surfaces nearly without any sign of blemishes. Lovely ruby-red surfaces that are covered in stunning luster make for perfect eye appeal. There are only 27 other examples of this issue in existence graded finer by PCGS that also possess the Red color designation.
Value: The PCGS Price Guide has this coin valued at $2,450. The bidding for the Vault Value coin starts at just $2,000 at $450 less than the price guide. That is an excellent potential value for this beautiful gem Indian Cent type coin.
---
Why we love it: An affordable yet original example of this much better date in the Shield Nickel series. This coin features attractive, original coloring and even wear with clear, visible details in the devices making it a nice example of this lower grade.
Value: The PCGS Price Guide has this coin valued at $525. It is available for purchase at the reasonable price of just $425 via Make Offer. That is a full $100 discount off the PCGS Price Guide value for this affordable example of this low mintage, much better date Shield Nickel.
---
Why we love it: A famous, highly desired key date whose rarity and popularity transcends the Mercury Dime series. This example is true to the assigned grade and features evenly worn and completely original surfaces. This incredibly popular and rare issue comes from a smaller, original mintage of just 264,000 coins struck making it the lowest in the entire series.
Value: This relatively affordable example of this famous key date has a PCGS Price Guide value of $1,000. We gladly match that number in order to offer this amazing coin at a fair price to the key date collector who does not want to break the bank.
---
Why we love it: A popular and desirable Key Date Barber Quarter from the San Francisco Mint that is famously known as being part of the "Big 3" along with the 1901-S and 1913-S This fully original VG example provides a great method for acquiring this scarce date for relatively affordable price. This Barber Quarter comes from a low, original mintage of just 188,039 coins struck.
Value: Valued at $1,500 by the PCGS Price Guide, this famous key date Barber Quarter is available for $1,300 via Make Offer and is ready to be added to mostly any numismatic collection in this price range.
---
Why we love it: A popular Peace Dollar that is known to be quite common making it an affordable and desirable type coin in gem level grades. This example is nicely toned mostly on the reverse and as expected for the grade and issue displays perfect blazing luster. The eye appeal of this piece certainly does not disappoint.
Value: The PCGS Price Guide has this coin valued at $400 and the CPG at 370. It is a No Reserve lot in next week's auction. We feel it is worth at least $325 especially with the reverse toning that is not seen too often on Peace Dollars. Good luck bidding!
---
Check out all of the available "Coins We Love" from past newsletters