Coins We Love - September 28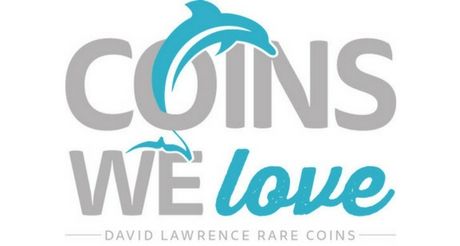 As the third quarter finishes up this week, we look ahead to a slower show schedule through the Fall and Holiday season. This is the time of year that we can concentrate on some put off website upgrades, tackle larger coin deals of lessor value items, and re-think some internal policies and procedures here at the office. All of these "little" things help us run smoother throughout the year and provide customers with the best service and selection in the business. Don't worry though as we have plenty of great coin deals we're working on and you'll continue to see fresh material hit the website weekly. We encourage collectors who are looking to clean up their collection to contact us during this period as we have great options for consignment or quick outright purchase of any size deal.
Sincerely,
Jason Smith and Your Friends at DLRC
---
Why we love it: Silky smooth example with great luster. Much prettier than the majority you will find of this single $1 classic commem issue.
Value: Reserved at $6,350, this example will round out any level classic commem set nicely!
---
Why we love it: Rare and very popular variety within the Capped Bust design (Small Size). Exceedingly rare in higher grades. Perfect for the grade with smooth surfaces.
Value: With an original asking price of $5,850, this coin is offered this week at $5,250 via Make Offer.
---
Why we love it: Beautiful red surfaces with fantastic eye appeal. One of only seven graded as such by PCGS with none finer.
Value: Asking price of $10,500, offered this week at a hint over recent auction sales at $9,700 through Make Offer.
---
Why we love it: Great draped bust type coin. A condition census example of the B-3 die variety, it was struck from clashed dies and is rather weakly defined in the central devices, as is typical for the issue. Pretty pink tones highlight the rim with gorgeous, lustrous fields overall. An ideal example for the type coin collector!
Value: List price $33,500, offered as a Buy Now coin at $30,000 with layaway terms available.
---
---
Why we love it: Beautiful example of this classic key-date Lincoln. Strong look for the grade as many in old green holders typically are.
Value: Recent auction records vary between $7,637 - $10,575 depending on the look of the coin. With a reserve of $9,250, we feel this is a very compelling piece.
---
Why we love it: Gorgeous orange-gold tints with beautiful surfaces that compares favorably to others that have auctioned recently in this grade. Tough to find with full head strike. Registry quality piece with steep jump to next grade.
Value: The wholesale Greysheet bid price sits at $9,500 with the CPG price resting at $11,400. Reserved in this week's auction for a very reasonable $10,750.
---
Why we love it: Popular Double Date coveted by most Lincoln Cent collectors. Superb doubling and rich red tones make this example a choice selection. Plus graded and CAC approved for quality.
Value: Strong argument that a 64+ with CAC would be equal to or more desirable than a straight MS65 grade. It has been an active lot with a reserve of $5,350 showing that it will not last past Sunday closing.
---
Why we love it: We are thrilled to offer an iconic note of South America, and one of the earliest examples of a commemorative banknote in history. Various nations and kingdoms have used coins to commemorate important events since at least the 17th century, but commemorative banknotes are a relatively new phenomenon. This 1 Peso note from Uruguay was issued to commemorate 100 years of independence of the nation. For this special milestone, the nation decided to issue a three-note set (1, 5, 10 Pesos), and they enlisted the Bank of France to create a beautiful note, with a helmeted woman on the obverse and a maritime scene on the reverse. While it is not known how many of these notes were issued, they are very scarce today. When they do show up, they are usually heavily circulated. Our piece, graded a problem-free PMG XF40 showing little in the way of actual circulation, and the grade is most likely due to how this note was stored over the years. PMG has graded only nine examples of this note.
Value: List price $925, offered this week as a CWL special for $850 via Make Offer.
---
Why we love it: This is a beautiful note from a fascinating part of the world. French Guiana became a French colony first in 1763, was lost to the Portuguese and then regained by France in 1814 via treaty. This note, based on the signatures of Halleguen-Constantin-Collat was issued starting in 1940 and was designed by Clement Serveau, a very famous painter and designer. The obverse is one of the most colorful one will find and is a classic example of French banknote design. With a wreath of tropical flowers draped at the top, the center is dominated by an allegorical maiden wearing a laurel wreath holding an olive branch. Below her is a collection of fruit. The reverse is a detailed jungle river view of an anchored ship. This note type ceased to be legal tender in May of 1959, and the note is scarce today. Our offering is graded PMG VF35EPQ, one of just ten graded by them. French colonial notes are often plagued by pinholes, tears, rust, and other defects because of the delicate paper used, and this note is free of such imperfections. It was therefore awarded the Exceptional Paper Quality designation.
Value: With a list price of $550, it is offered this week at $500 through Make Offer.
---
Until next time, thanks for stopping by and sharing some time with us to browse our Coins We Love.
Check out all of the available "Coins We Love" from past newsletters