Coins We Love - September 29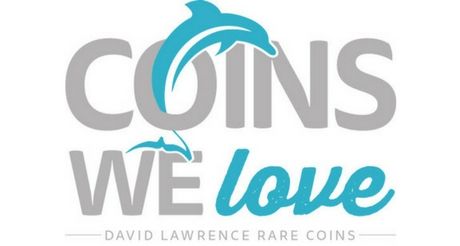 This week, Devin Hipp and I traveled to Las Vegas for the most recent installment of the PCGS Invitational. While not as well-attended as most, it's still a fantastic show for us to source new material and shake hands with our many dealer contacts. Due to the multitude of shows occurring on the west coast, we expected a smaller attendance here as dealers continue to digest their recent purchases. We are still processing new coins from all of these events and continue to receive packages of coins in our offices, so there is certainly no lack of new offerings.

You may ask if it's a good time to sell your coins with the latest activity; however, as we continue through the winter months, the shows are far less frequent, and we're still in need of new coins. So if you're thinking of selling, it's actually a great time at DLRC as we continue to offer new coins throughout the year. We'd love to see if we can help you in the sale of your entire collection, duplicates that you don't need, or just the odds and ends that you're ready to trade! Please feel free to contact us at any time, we're always happy to help. All of this being said, we hope that you'll find something of interest in this week's CWL or on our website. If there's anything that we can do to help you or you'd like to discuss any coin, please feel free to give us a call or an email! Thanks for reading, and we hope that you enjoy this week's Coins We Love!

Sincerely, John Brush and Your Friends at DLRC
---
Why we love it: Just before the Civil War, the New Orleans mint was active in producing coinage that was typically widely circulated. While the mintage of this date was held to just below 500,000 pieces, there are very few gem examples. The surfaces and strike on this piece are splendid, and the luster is particularly flashy beneath the gorgeous obverse tones.
Value: Tied with two others at PCGS as the finest graded, this is the only piece to have garnered a CAC sticker. Reserved for just $8,000 in this week's auction, it is an excellent opportunity to snag a coin with a very high PCGS Price Guide value of $12,500 for a fraction of the price!
---
Why we love it: Beautiful, early red Lincoln cents have long been a favorite of DLRC. This gorgeous, fiery red coin is a very underrated date, and there are only 2 pieces graded finer (66+).
Value: Just two or three years ago, this date and grade would garner $9,000 at minimum in auction, but the recent price adjustments have settled into a much better value category, in our opinion. This coin is reserved for just $6,750 in this week's auction. Please don't miss this gorgeous coin!
---
Why we love it: Considered by many to be America's most beautiful coin, we have always been partial to High Relief issues at DLRC. This particular example, housed in an older, collectible NGC holder is perfect for the grade and certainly deserving of the coveted CAC sticker. While it is clearly not a "cheap" acquisition for most collectors, it is certainly a prized example for many, and we know that the buyer will certainly appreciate this piece!
Value: We have always found it difficult to obtain CAC-stickered examples of High Reliefs, but we have somehow come upon a few pieces recently and are thus offering this piece for a fantastic price of just $24,000 via Make Offer!
---
Why we love it: This coin is a real beauty. The surfaces are pristine with fantastic reddish-brown colors throughout. While the surfaces are more reddish than most, the designation is correctly stated by PCGS. This coin belongs in a high end type set and would be perfect for even the most discriminating collector!
Value: It is the only MS65 RB example graded by PCGS, and there are only 2 MS65 Red examples that would be considered "finer." There is no PCGS price guide for this grade and color, but the PCGS price for a Red example stands at $7,500, and an example has not been offered since 2010! Available this week for only $4,150, we think that this coin is a fantastic deal and is likely to move quite quickly.
---
Why we love it: A Civil War issue with a blundered date, this coin is a fantastic conversation piece, even amongst non-collectors. Housed in an old PCGS holder, this collectible mistake by the US Mint hails from a limited mintage of just 16,700 pieces.
Value: Available in our auction at a reserve of $4,850, it is certainly one of the most affordable examples of this popular date and seems like an excellent value to us!
---
Why we love it: Much scarcer than the Plain 4 variety, the Crosslet 4 is very popular amongst collectors and difficult to find in this higher grade. The present example is as close as you can get to an uncirculated grade without quite reaching it. Very light wear on the high points limit the grade to AU58, but it is a gorgeous piece nonetheless at a far better price!
Value: The PCGS Price Guide lists a value of $18,500 and the Greysheet bid rests at $14,600. Available via Make offer for just $15,250, it's a fantastic offering at a wholesale price.
---
Why we love it: A gorgeous rainbow crescent across the bottom of the obverse is a fantastic highlight above pristine surfaces. Perfect for the Washington Quarter collector or someone who simply appreciates toning, this piece is more than a gem quarter: it is a work of art!
Value: There are only two pieces graded finer by PCGS (MS68) and the beginning price level of the higher grade is nearing 5 digits. This is the perfect grade before the big jump, and we can offer it below other recent sales of the same grade. Available via Make Offer for just $650, this is not only a great value, but a perfect showpiece as well!
---
Why we love it: As the Major League Baseball playoffs approach and Vin Scully rides off into the sunset as the legendary announcer of the Dodgers retires, we thought it was appropriate to highlight one of baseball's longtime heroes, Jackie Robinson. When it was first issued, the Jackie Robinson commem did not sell out; however, the premiums sky-rocketed on the various silver and gold issues after they were no longer available from the mint. Perfect for the baseball-loving collector, it is actually under-rated as the population of 130 at PCGS is actually quite low compared to several of its other relatives from the same time frame.
Value: Available for just $375 via Make Offer, it is a substantial discount from the PCGS Price Guide value of $525.
---
Until next time, thanks for stopping by and sharing some time with us to browse our Coins We Love.