Coins We Love - September 8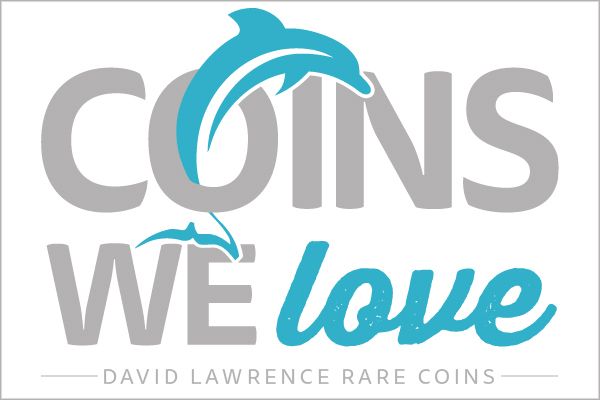 This is a shortened week for us at DLRC. We had anticipated a trip to the Long Beach Show in California, but had to cancel at the last minute due to simply having too much to do at the office. With the closing of Part 2 of the Carolina Creek Collection and the continuing recovery from the ANA show, we simply needed a breather to allow our inventory, sorting, and general management of the office to keep up. There never seem to be enough hours in the day, but we definitely think that we made the wisest decision for now, and we're going to focus on getting ready for the upcoming 4th quarter of the year.
Next week we have our 3rd and final offering of the Carolina Creek Collection. We'll be writing more about it next week, but it is certainly the one not to miss! A plethora of key dates, gem quality better dates, and an overall fantastic grouping of coins will be offered, and we're looking forward to that. In the meantime, we have a few more highlights for your viewing this week and hope that you find something of interest!
Numismatically Yours,
John Brush and Your Friends at DLRC
---
Why we love it: The 1908-D is one of the rarest of the 1908 issues in the Ten Dollar Indian series. Most closely comparable to the 1908-D No Motto, the populations of both issues are nearly the same, with the Motto issue reflecting a price of nearly half that of the No Motto. This alone makes us favor this issue, and the quality of the actual coin is simply immaculate. A finer piece cannot be found, and we absolutely love the complete lack of noticeable marks and the overall appearance of this superb gem.
Value: Only 4 pieces are graded finer by PCGS. This piece is offered with a reserve of just $41,000 and with recent sales records from $41k-$48k, we think that there's a lot of room for appreciation for this particular issue simply due to the rarity of the date and grade and the popularity of the $10 Indian series.
---
Why we love it: Twenty-Dollar Saint-Gaudens issues have long been sought after amongst collectors and investors. Due to the Wells-Fargo Hoard of 1908 issues, many gem quality and higher examples exist of this popular date. This gorgeous piece is most likely a piece from this famous hoard and exhibits all of the bells and whistles you would expect for such a high-grade example of this issue.
Value: In the last 15 years, MS67 Saints have never garnered less than $8,000-$9,000. In the recent market adjustment, we have seen these pieces drop all of the way into the mid $6,000 level. We think that the bottom is here due to the lack of supply that we see on the market, but are able to offer this lovely piece with a reserve of just $6,500 this week.
---
Why we love it: We've offered this coin for the past few months, and we are absolutely shocked that it has not found a new home. It is the finest piece that has been approved by CAC and is in general, a fantastic coin.
Value: The No Arrows type is rarer than its sister issue, the "Arrows and Rays" type, but lags behind in recent sales prices. The infrequency of appearances that similar types and grades prove the rarity and the overall value of this high-end piece. Highlighted as one of our Vault Value items, we have reduced the reserve to $33,500. With the PCGS Guide value at $41,000 and the lack of peers in any similar grades, we view this as an excellent value and a great coin that you'll love!
---
Why we love it: Early Walkers have long been a favorite amongst collectors due to the overall scarcity of the dates. A gem quality 1917-S Reverse Half is something that we don't often have to offer, and we are particular pleased to offer this CAC-stickered example. Original surfaces with nice luster, this specimen would fit almost any set and is a particular favorite of ours, making it a great CWL candidate this week.
Value: These have consistently brought in the $12,500-$13,000 range historically for us at DLRC, and we're pleased to offer this piece at the lower end of that spectrum as an outright purchase for just $12,500 this week via the CWL.
---
Why we love it: We had the opportunity to re-acquire this gem key date at the ANA show in Anaheim and jumped at the opportunity. A more original, lustrous example is difficult to find and combined with the fact that we hadn't offered an example this nice in quite a while, it was an easy decision. Surprisingly, only 5 pieces are graded finer by PCGS (and only a single by NGC), making the D-mint much rarer than the S-mint, despite similar mintages. Overall, it is simply a quality key-date issue from a very popular 20th Century series.
Value: Offered with a reserve at $9,950, it is nearly 20% below the Greysheet bid value of $11,750. Just 10 years ago, a similar piece would garner north of $15,000, but as the value has settled around this level in recent years, we think that this is an excellent purchase at a near market-low price.
---
Why we love it: Three-Cent Nickel proof issues have been mostly ignored by collectors and investors for years and have reached a new low in pricing where they have leveled out in recent months. This lovely, original gem example is a perfect type piece or the beginning issue for an underrated value set that we think is perfect for any collector.
Value: Available for the Greysheet bid price of just $420 via Make Offer, we're sure to see this excellent value move quickly.
---
Why we love it: A completely under-rated series from the 20th Century, the Jefferson nickels have long been over-looked by serious collectors. Lovely gem examples are available for a fraction of the cost of some comparable issues, and this lot of 1950-dated pieces seems to fit the bill of an underrated and under-valued group that is perfect for the CWL!
Value: Listed for $550, these pieces carry an individual PCGS Price Guide value of $110 each. We were able to acquire these for a phenomenal price from another dealer, and we can offer this lot of 5 coins for just $400 via Make Offer. This is an excellent deal for the long-term collector or the vest-pocket dealer who appreciates a small quantity of undervalued coins.
---
Why we love it: The Panama-Pacific gold commemorative issues have long been popular amongst US coin collectors, albeit mostly unaffordable due to the rarity of the issue. With a mintage of just 645 pieces, the Octagonal has a slightly higher mintage than the Round, but is a little more popular due to the odd shape of the coin. This lustrous AU example is the cheapest example that we've ever had the pleasure of offering, and we hope that a value-conscious collector will enjoy it as much as we enjoyed the hunt for such an offering.
Value: We're able to offer this special issue at an extremely reasonable $51,500 via Make Offer this week on the CWL.
---
Until next time, thanks for stopping by and sharing some time with us to browse our Coins We Love.