Coins We Love - Special Layaway Edition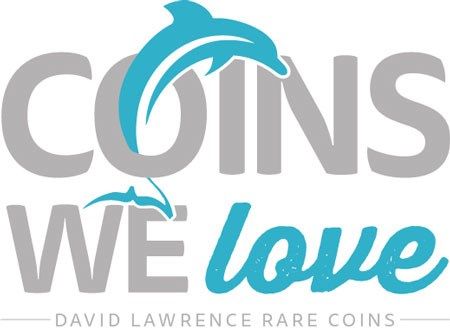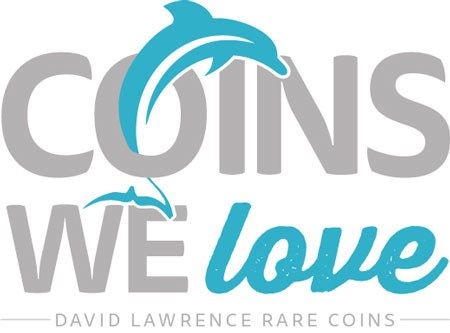 Last week's CWL came to you from about 35,000 feet up as the clock struck midnight on our return from the Central States Numismatic Society Coin Show. This week is not as glamorous since we've been in the office playing catch-up with the coins that have been accumulating. Our families enjoy having us home for this brief respite as well. In two weeks, the schedule picks up with a couple of coin shows, major auctions, and the general business as school concludes for summer break. We will continue to hand-pick fresh items from our hundreds of sources, including a special collection of Morgan Dollars, the Twin Cities Collection, which will conclude its run in auction on May 15th. Between now and then, we hope you'll take advantage of our layaway offer mentioned below and find something entertaining, interesting, or worthy of your collection in this week's Coins We Love newsletter.

Special Expanded and Extended Layaway Offer
We understand that tax time has come and gone, and sometimes we need a little flexibility when it comes to our hobby. With this in mind, we're happy to offer an additional 30 days to our usual layaway program (90 in total!), and for the first time ever, layaways on auction orders to all of our customers for the rest of May. All orders over $1,000 qualify for our 90 day layaway plan - with no interest! (All usual terms apply.) If you need longer, please let us know and we'll do our best to work with you!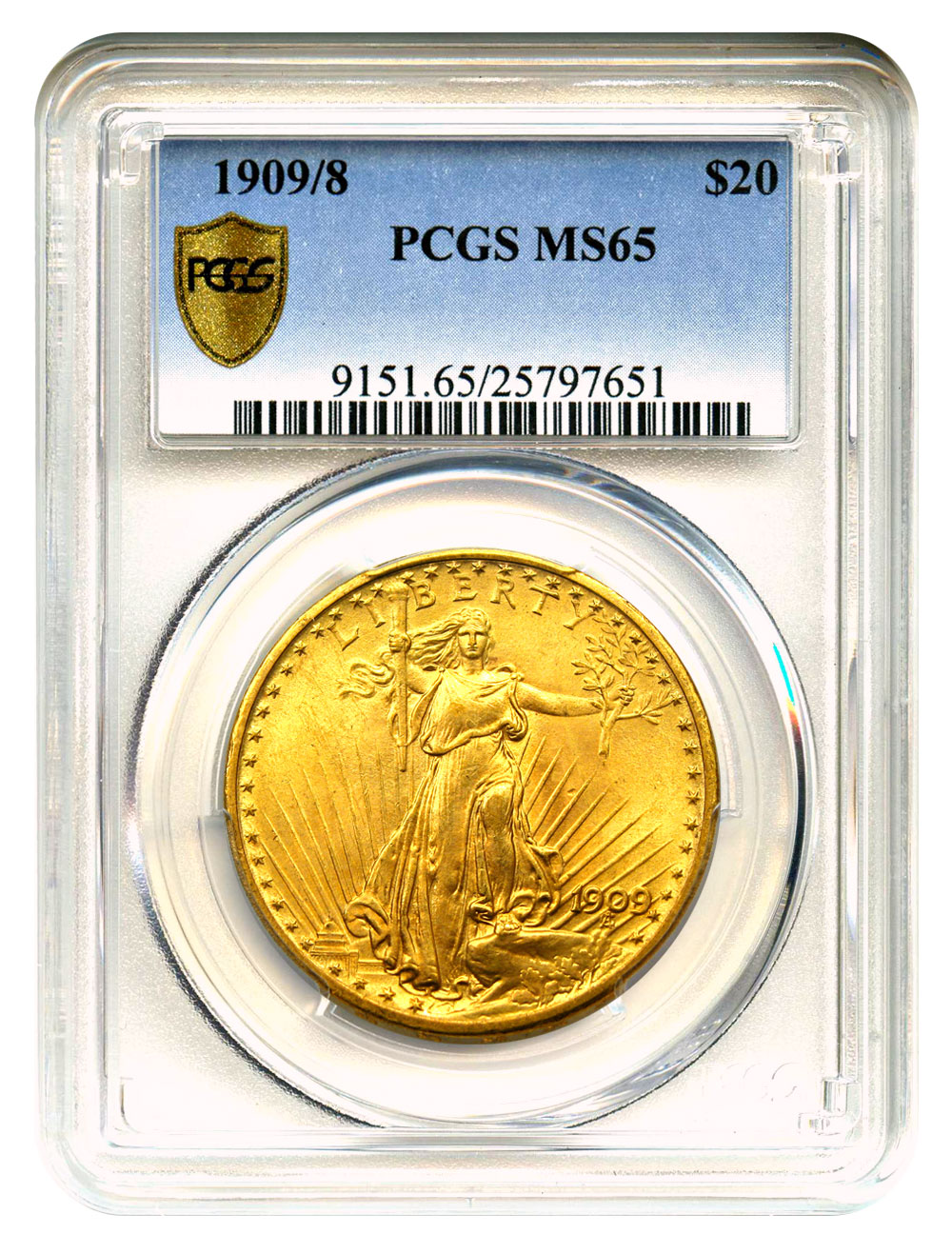 1909/8 $20 PCGS MS65
Why we love it: The famous overdate of the $20 Saint Gaudens series has always been recognized as an absolute condition rarity in gem conditions. This context has even been maintained as the numbers of this variety have increased from the last thirty years of U.S. gold repatriation from Europe. PCGS has certified a miniscule 18 coins in this condition with only five finer, all MS66. For the registry collector, improving this coin would be virtually impossible and would likely put you into six-figure territory.
Value: The Greysheet "ask" price is $41,500 and we are making this gem available for just $41,000 via Make Offer. A prohibitively rare grade for a very difficult coin.
No longer available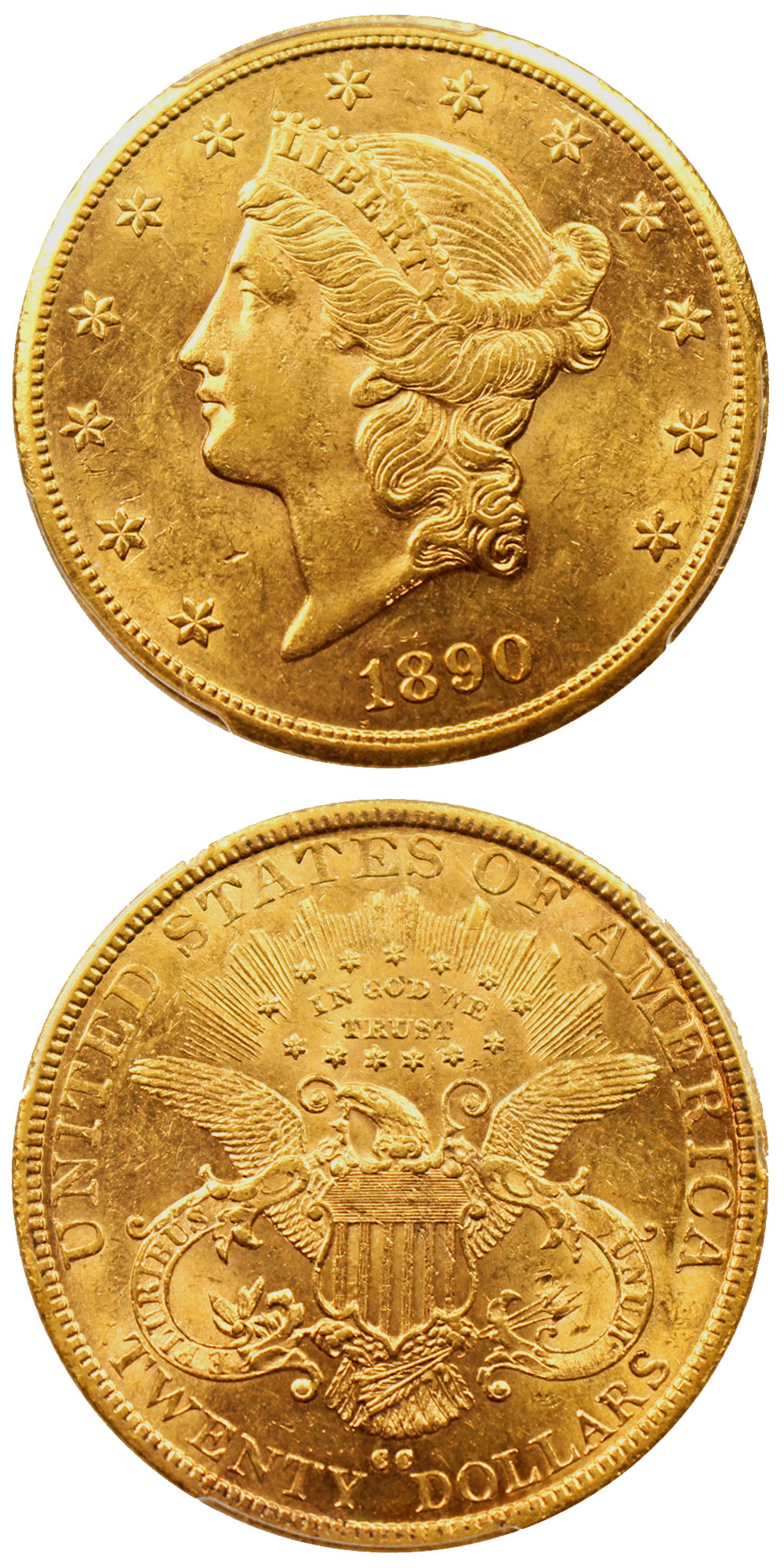 1890-CC $20 PCGS AU58
Why we love it: The Carson City minted $20 Liberty's enjoy a distinction from other gold coins minted there, since they are similar in size to the perennial favorite silver dollars that also hail from the facility. The 1890-CC issuance is more accessible than most of the other dates from the series and can be had for 50% less money in the present AU58 grade compared to the MS60 condition. Beautiful yellow surfaces are devoid of significant contact marks that you would expect for the grade, and we are happy to offer this appealing example.
Value: Carson City Double Eagles have long been a fascination of beginning and advanced collectors and investors. This excellent piece can be bought for just $7,950 via Make Offer this week, a 10% discount off our regular price and a nearly 15% discount off the already conservative value from the PCGS Price Guide.
No longer available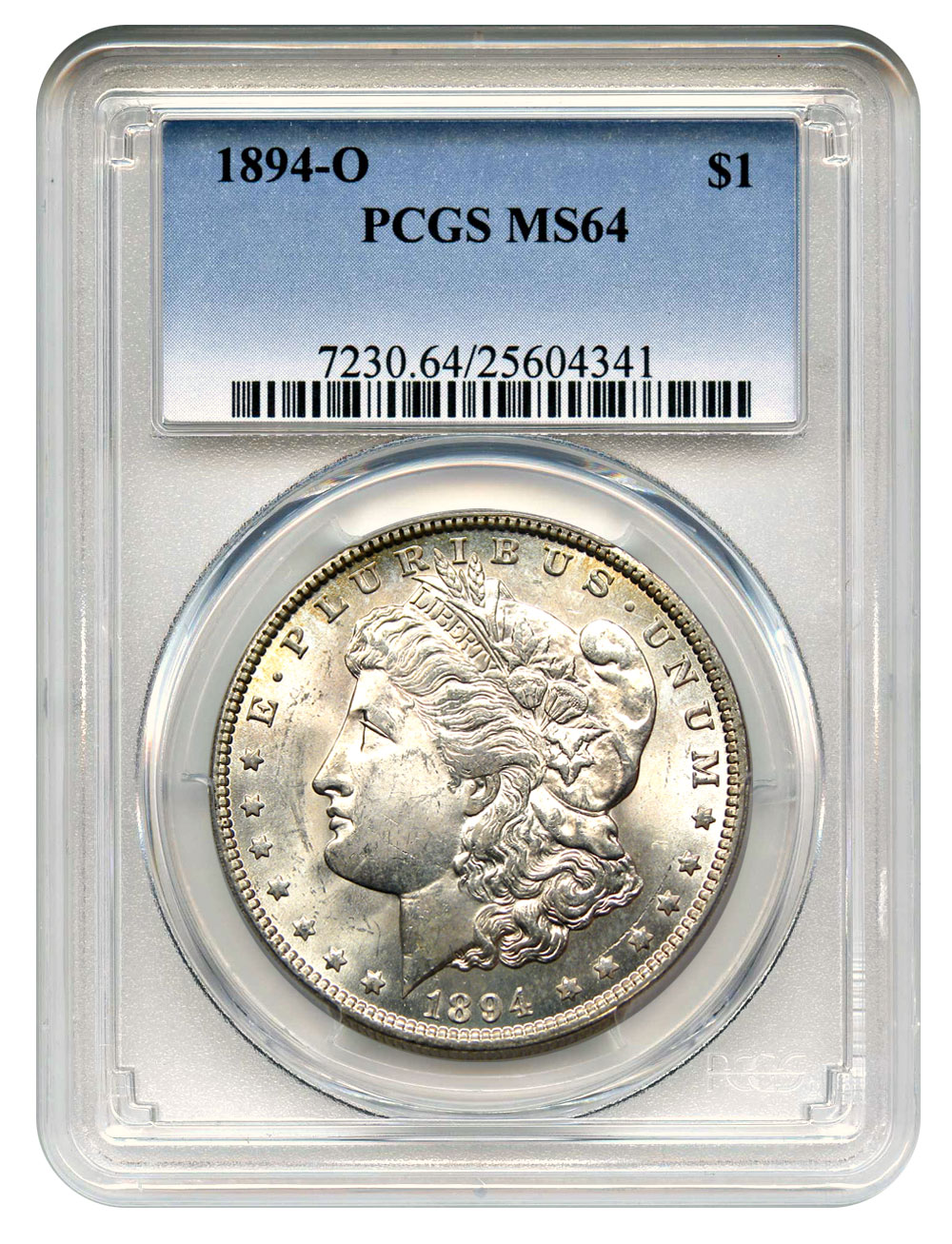 1894-O $1 PCGS MS64
Why we love it: Morgan dollar collectors usually get excited about the 1893 to 1895 dates from all mints, and for good reason since the mintages were largely unsaved and are scarce in uncirculated conditions. We like this 1894 dollar from the New Orleans mint because it represents an excellent value for the year in this grade. Only a few minor contact marks prevent the coin from obtaining the gem status (and accompanying $60,000+ price tag), so this condition would make sense for most collectors.
Value: The Greysheet lists this piece at $10,000 as the wholesale price, but we're able to offer this recent find for just $9,750 via Make Offer.
No longer available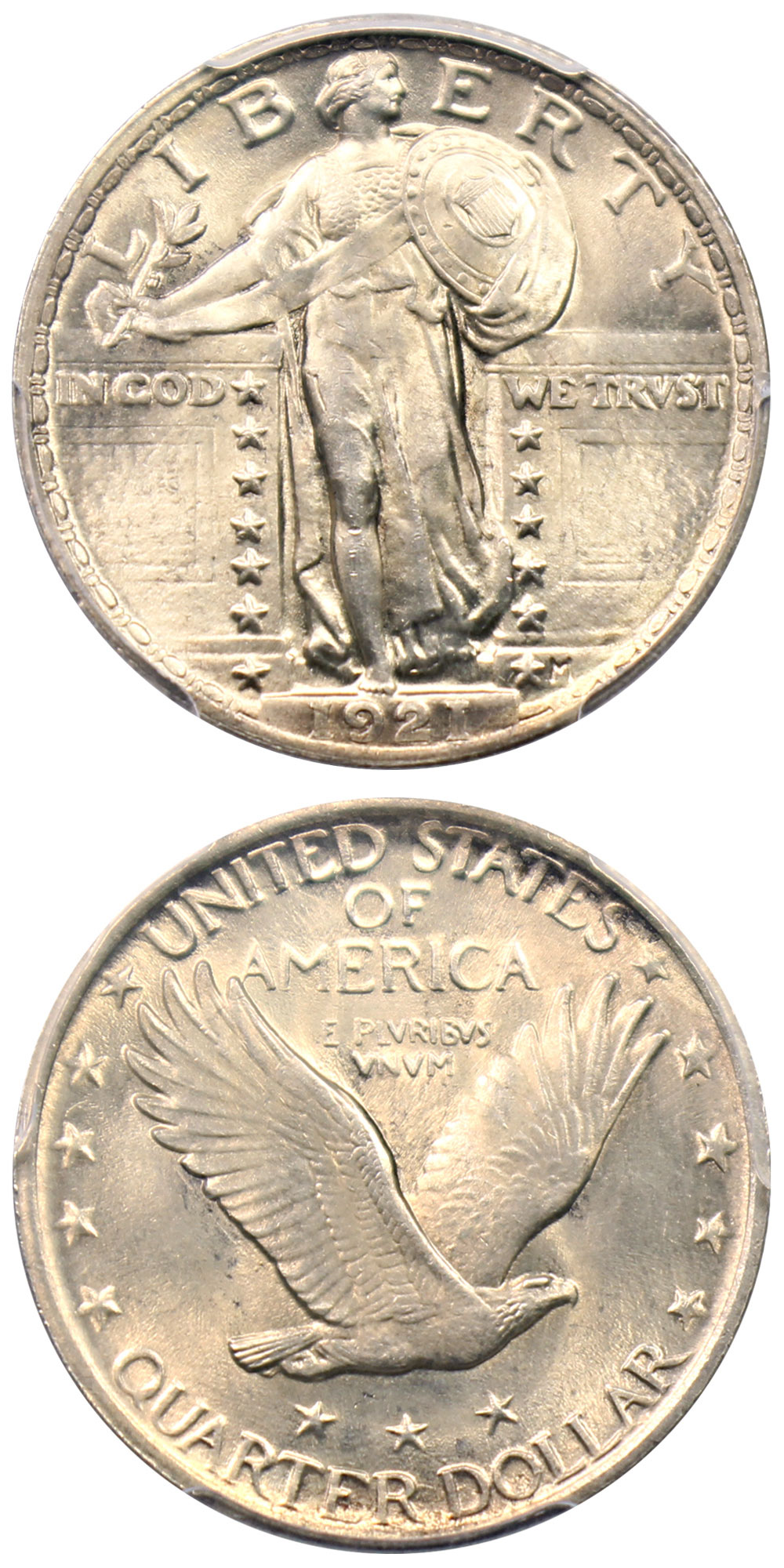 1921 25c PCGS MS66 FH
Why we love it: We love this date of Standing Liberty quarter in all grades, so we particularly have an appreciation of when it comes available in such superb condition as this coin. Beautiful satin luster envelops both sides of the coin and shines through faint shades of apricot and cream toning. All of its full head designation attributes are sharp and unquestionable. Considering there are all of four coins finer at PCGS, this coin is the final stop for most collectors seeking the date.
Value: With only four coins graded finer by PCGS, this is a prohibitively rare grade on one of our favorite dates. It's reserved for just $11,500 in this week's auction and at that price, we expect it to find a new home.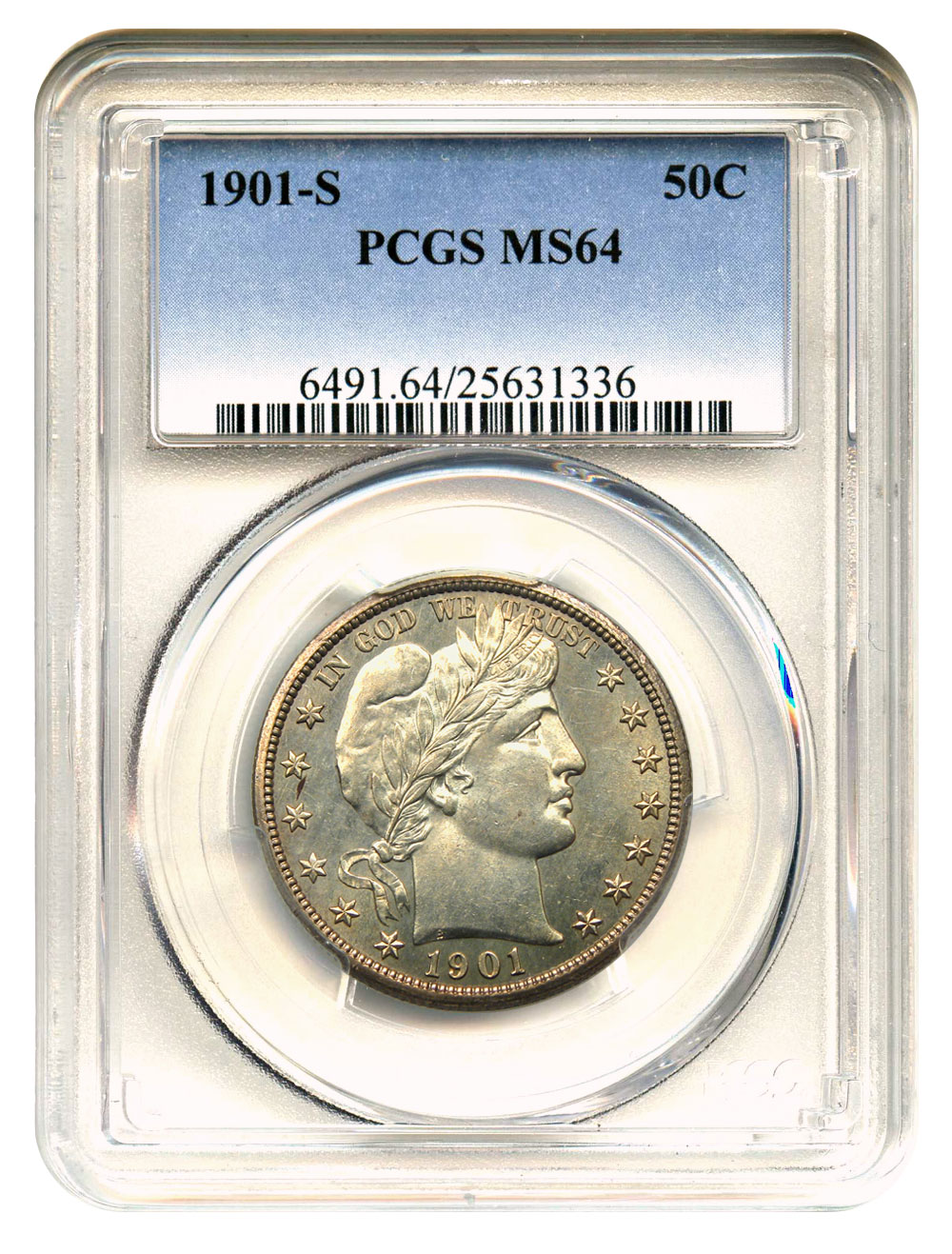 1901-S 50c PCGS MS64
Why we love it: The Barber halves as a series are condition rarities in choice uncirculated and finer conditions, and then you occasionally find dates that are almost unseen in uncirculated condition at all. This 1901-S hails from a healthy 847,044 mintage and is one of only 53 coins total certified in all grades of uncirculated for the date. Our near gem has a lovely strike and luster that makes up an eye appeal you would want to see for the condition. A scarce opportunity for the astute numismatist!
Value: At DLRC, we've long thought that the 1901-S date is far underrated simply due to the difficulty of locating nice pieces for the Price Guide values. We were able to acquire this piece and are auctioning it with a reserve of just $9,750. With a Greysheet value of $10,000, this is an excellent value for the rarity.
1883 1c PCGS Proof 65 RD (OGH Rattler Holder)
Why we love it: Proof Indian cents from the 1880s are not commonly seen in the Red designation, so this sparkling gem is certainly a welcome exception. This original example glistens very attractively in its first generation PCGS rattler holder and would be a great addition for the collector of Indian cents or gem type coins.
Value: Greysheet lists this coin at $1,050 with the PCGS Price Guide at $1,400. Based on our price this week of $1,100 via Make Offer, this is an excellent deal for a high quality coin.

Mexico: 1751-M Silver 1/2 Real PCGS MS63 (OGH, KM-67.1)
Why we love it: While some larger denominations for the Spanish colonial coins can be found in higher grades, typically the smaller coinages from the time are exceptionally rare in uncirculated conditions due to their extreme necessity in America's fledgling economy. Considering they were legal tender and could circulate alongside the U.S. Mint's coinage until 1857, an example like this coin is nothing short of a prize. Excellent detail with original surfaces and the "old silver" patina make up this half reale's appearance, and it is hard to imagine a nicer coin to be found.
Value: Happy Cinco de Mayo! After spending a summer in Juarez while in college, our President, John Brush, came back with a passion for the people and the coinage of Mexico. While this piece pre-dates the Battle that we commemorate on this date, we couldn't miss the opportunity to highlight this scarce offering of a beautiful ½ reale. Available this week for $575 via Make Offer, this is a perfect example of the type of world coins we love to handle that are undervalued compared to their U.S. counterparts.
No longer available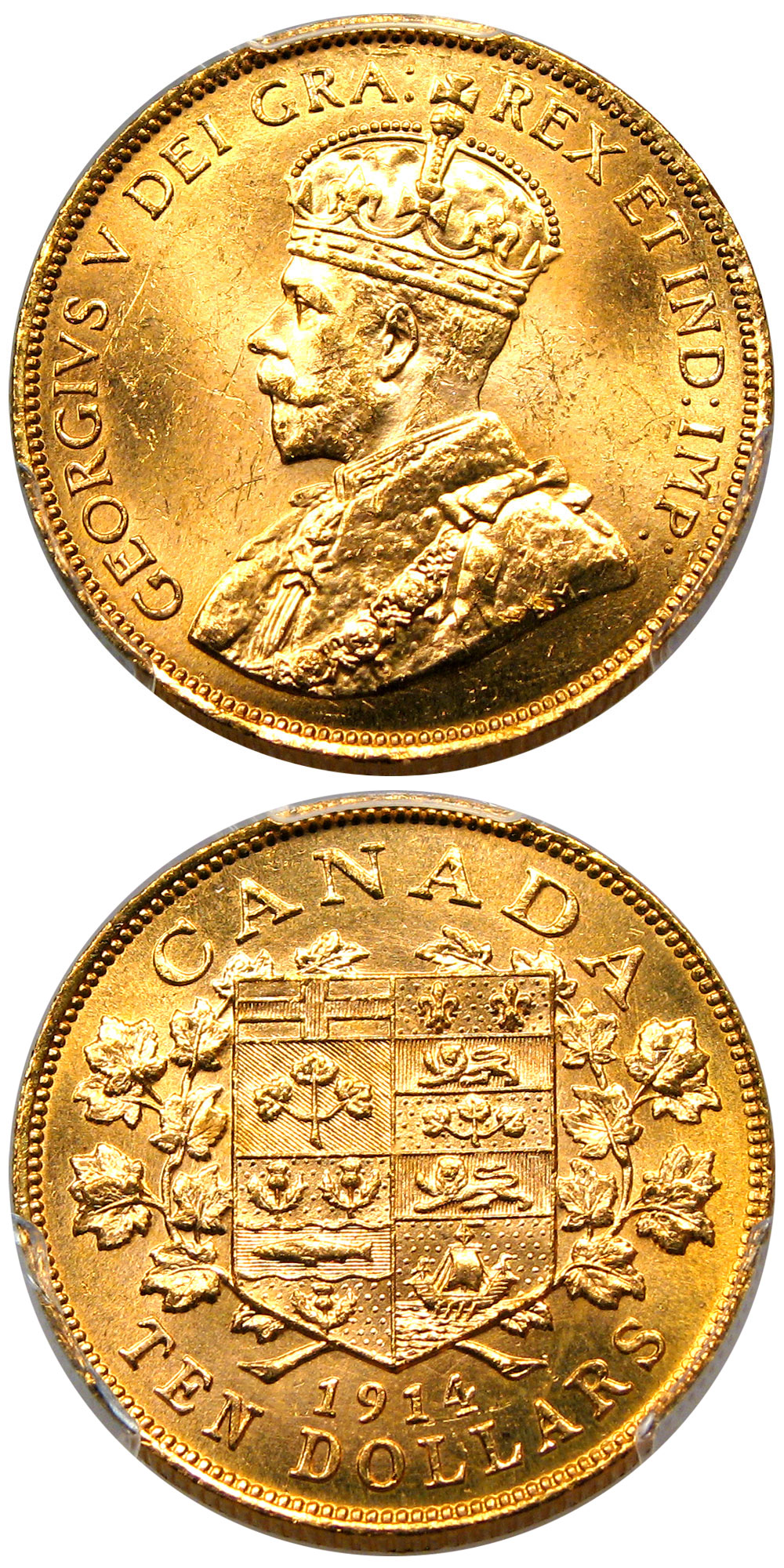 Canada: 1914 $10 PCGS MS63+ (KM-27)
Why we love it: Before some recent releases of this type by the Canadian government's gold reserves, these coins were virtually unheard of in mint conditions. Thankfully, now collectors have the chance to buy examples for prices that are considerably less than their former levels. A beautiful design of King George V and the Canadian shield grace the obverse and reverse. These coins offer a neat alternative to some of the more traditional manners of owning bullion related gold coins.
Value: A limited amount of these are available to the general public, but we're able to offer this opportunity to our collectors as we received a small quantity from one of our dealer-suppliers. This coin is available for just $1,025 via Make Offer. There will certainly not be many pieces available in the coming months as these disseminate into the marketplace.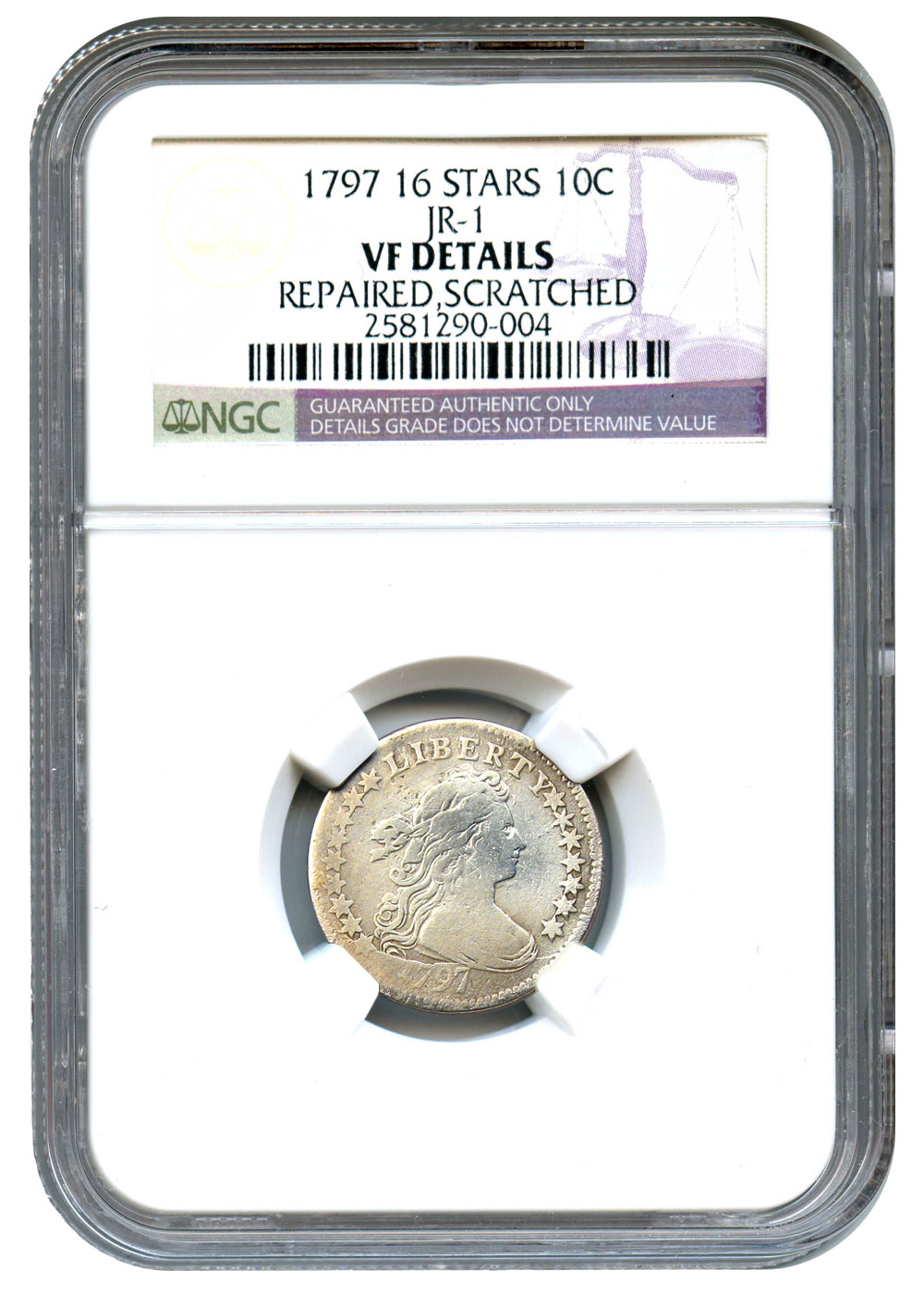 1797 10c NGC VF Details (Scratched, Repaired, 16 Stars)
Why we love it: As a type, the small eagle Draped Bust dimes are virtually never seen in any condition, so when any example appears, it's a highly desired coin. The present 1797 example exhibits decent detail on the obverse and reverse, and it also demonstrates the failing obverse die typically seen on this variety around the date. Some small scratches on the reverse and light smoothing on the obverse are mentioned by NGC, yet the coin presents itself in a still satisfying manner.
Value: This is the perfect piece for a value-conscious collector. Available for just $2,800 via Make Offer, it's below the price of a damage-free Good example, which is nearly impossible to locate as well.
No longer available