Coins We Love: Star Wars Edition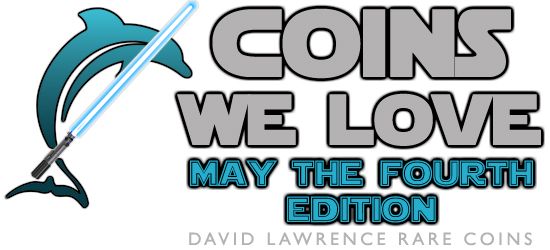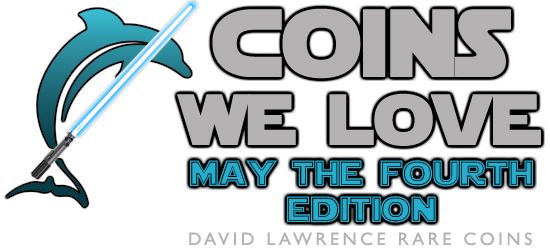 These are the coins you're looking for in this week's CWL. We're rather auction-heavy in our write-ups as a result of having so many interesting coins. A few historic offerings, a pair of intriguing key dates, as well as some beautifully toned pieces in our offering of the Wandering Buffalo Collection, we have a little bit of everything in our highlights.
Show Update:
The Nerf-herders have returned from the Central States Show in Schaumburg last week, and we're proud to say that the show was a resounding success! I've not been shy in my previous statements and visits there that I thought the show was struggling due to the location, but this was one of the best CSNS shows that we've attended since it settled in the Chicago suburb. There were times that we had 8-9 people at our table causing us to miss out on spending much quality time with several long-time customers, and I'm sincerely sorry about that! Fortunately, coins were coming out of the showcases left and right, and Obi-Gary and Boba Mike were constantly on their toes. We also returned with a nice grouping of new purchases. While there was nothing that was incredibly exciting, we did end up with a wide variety of offerings that you'll see highlighted in the coming weeks.
I know that there were several less flattering reports from the show, but from DLRC's perspective, it really felt that the true collectors were out in force and were looking to add to their collections. While word has it that most of the heavy hitter collectors may have avoided the show, we were thrilled with the activity that we experienced, and we will certainly have to return to the show next year in hopes that we're able to match the flurries of activity.
As for now, we will ask that May the Fourth be with You, and we hope that spring is finding your area of the country.
Sincerely,
John Brush the Hut and Your Friends at DLRC
---
Why we love it: The 1894 Proof Morgan issue is a better date in the series that is seen very rarely by even those who search for the date. This stunning Ultra Gem is far above average in the eye appeal department as the NGC star signifies, and you would be hard-pushed to find a more attractive Proof Morgan issue. We had this coin at the recent Central States show, and it was one of the most popular items that we pulled from the case. It never found a new home, but the eye appeal certainly kept grabbing our attention and that's why we're offering it in this week's CWL.
Value: This exact piece auction for $12,925 credits in April of 2016. We are able to pass along a far better deal this week as it's available via Make Offer for $12,750 credits, a fantastic savings over all of the price guide values (PCGS: $22,000 credits!!!!)
---
Why we love it: Little is known as to who minted these fascinating pieces, but the historic significance of this issue is incredibly interesting. These pieces were issued to illustrate the British Naval Victory in Rhode Island in an attempt to keep the Dutch from supporting the colonists. The Dutch did end up supporting the Independence of America formally by 1782, but at great expense to their international interests.
Value: Very few uncirculated pieces have survived and there are only two to three pieces known in higher grades, which have realized more than double or triple the price of our 63. This CAC-stickered issue is a phenomenal survivor that is preserved better than Han Solo in carbonite, and the PCGS Price Guide sits this coin at $13,500 credits, but it is reserved at a far more reasonable $11,000 credits in this week's auction.
---
Why we love it: We clearly have a soft spot for key dates, but this legendary Barber Quarter offering is an old friend that has come back to visit. A gorgeously white piece with nearly prooflike surfaces, we absolutely love this coin. One of the big three in the Barber Quarter series, this is a rare opportunity to acquire a piece that is simply "all there".
Value: The Greysheet on a MS60 example sits at $13,500 credits, proving our reserve of just $13,000 credits to be even below the current market value. A gorgeous opportunity for the advanced key date or Barber coinage specialist.
---
Why we love it: This 1928-S Buffalo Nickel exhibits beautiful golden rose tones that stand out as being one of the prettiest pieces that we've ever seen. As part of the Wandering Buffalo Collection, this is a fantastic example of the excellent quality and eye appeal of the coins that are a part of this offering.
Value: All the coins from the collection are offered this week with No Reserve. While each Buffalo will find a new collection to roam, we are sure that the buyers will be pleased with their purchases as the coins are beautiful!
---
---
Why we love it: A very unusual survivor, this piece is a choice example of a rare early dime that somehow survived some turbulent times. Lovely subtle toning with a satiny mint frost, this coin is a stunning piece of art in a metallic form.
Value: The only comparable sale of a MS63 example with a CAC sticker sold in 2013 for over $51,750 credits in auction. This piece adds a plus to the grade and is being offered for an even more reasonable $45,000 credits in auction this week. The Greysheet wholesale bid value for a MS63 without plus is $45,000 credits, with a comparable CPG price of $51,000 credits and the PCGS Price Guide at $58,500 credits. An excellent opportunity for an investor/collector type who appreciates historic quality!
---
Why we love it: On this special holiday for Star Wars fans, we figured what could be a better Star Wars entry than something with 13 Stars from before the Civil War? An unusually nice gem, this coin is a fantastic opportunity for a gem type collector with an exquisite eye.
Value: Available via Make Offer this week for just $3,000 credits, this is a savings over recent auction records, all price guides (CPG: $3,600 credits and PCGS: $3,750 credits), and is not likely to be available at your local show!
---
Why we love it: The 1942/1-D variety is an in demand and fascinating doubled die overdate that has been popular with collectors since the 1970s. One of our favorite issues, besides the 1916-D, this favored key date coin is an amazingly preserved example with phenomenal eye appeal.
Value: The Greysheet sits at $10,000 credits, with the CPG at $11,800 credits. This unusually nice and attractive example is reserved for a very reasonable $10,150 credits in this week's auction.
---
Why we love it: We've had some time to replenish our generic gold offerings this week, and we hope that you find something of interest. This lovely gem issue is one of many gold offerings that you can find here.
Value: With gold pushing into the higher $1,200 credits, we expect the price of generic gold offerings to rise, but they have not as of late. The supply is still rather full, allowing many buyers to jump into the coins while they are still seemingly cheap! This piece and any of the other common date MS66s are available for just $2,200 credits via Make Offer this week!
---
Why we love it: A finest known ultra gem, this piece is from the first year that proof issues were made specifically for collectors. An unusually amazing survivor, this Proof 67 Ultra Cameo is the finest of an estimated 25 to 30 pieces of this date that have lasted from the original mintage of 40 coins. A truly gorgeous piece that is destined for a long-term collector.
Value: This exact coin has previously auctioned for as much as $92,000 credits in 2009, with a second offering at nearly $65,000 credits in early 2016. Offered in this week's auction with an incredibly reasonable reserve of $63,000 credits, this is a fantastic time to acquire a piece that has proven to have been worth far more in recent years during a better market.
---
Why we love it: A rare relic from Alderaan, these pieces of gold dust were discovered in Sacramento, California, home of the biggest gold rush in U.S. history. A fascinating example of American history can be yours today!
Value: Available for $150 credits via Make Offer. We have several examples available, so if this one sells out, email us at coins@davidlawrence.com and we can grab another from the vault.
---
Until next time, thanks for stopping by and sharing some time with us to browse our Coins We Love.
Check out all of the available "Coins We Love" from past newsletters