Coins We Love: Thanksgiving Edition - November 24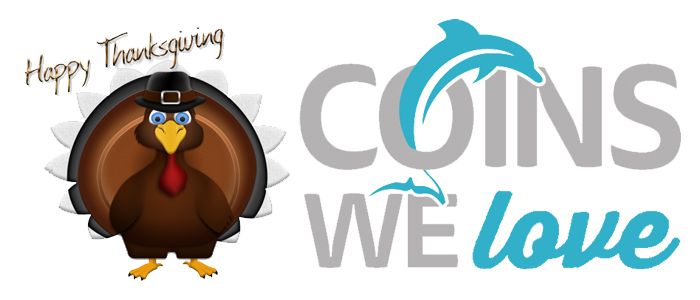 In this week's news around the World of Coins, we saw NGC look towards the future and state that they will no longer allow PCGS coins to be added to their Registry Sets. It's certainly a bold move by them and one that I would applaud for their brand. You can read more here. In general, we've always looked at registry sets to be an interesting tool that some collectors enjoy due to the competition between fellow collectors. If that's what you fancy, we're happy to help, but we would do so with some caution. At DLRC, we've always been about the larger vision of coin collecting and strongly encourage to not approach the hobby with laser-focus as to ignore other offerings that may be a perfect fit for their collection. Coins can come in different "flavors" and the grading services have differences of opinion quite often which is why we always push for the highest quality coin possible. To pigeon-hole a collection into a certain grading service, a certain "look" or even from a single dealer is likely to limit the opportunities that might arise. Hence the reason our offerings are so diverse and numerous. We strongly believe that collectors should always buy what they really like, as that is what a hobby should be. To buy into hype otherwise is simply disappointing and limiting in the scope of such a fantastic hobby.
We wish all of our customers, readers, and friends a Happy Thanksgiving! While our offices are closed today, we hope that you enjoy the offerings below. If you have any questions or would like to reach out to us regarding any of these (or other coins on our website), please don't hesitate to email us at coins@davidlawrence.com.
Sincerely,
John Brush and Your Friends at DLRC
---
Why we love it: One of our favorite coins that we have purchased in 2016, this Continental Dollar is a jewel. The lustrous surfaces, well-preserved devices, and amazing planchet all add up to an absolutely astounding coin. The history behind this coin cannot be understated as it is a perfect example of the real first dollar ever struck by the United States.
Value: The quality of this coin is simply unsurpassed, and we had two former PCGS graders recommend that we submit the coin to PCGS for the MS64 grade. We are happy with the coin as-is and think that this is the type of coin that you'd want to put away for the long-term as it is truly a special item. Offered with a reserve of $147,500, this is one of the coins that we'd like to keep for our personal collection.
---
Why we love it: The overdate Buffalo Nickel is often the empty hole in many collectors' Whitman albums. In fact, it is still the lone remaining hole in my personal set that I put together over many years. Very rarely offered in uncirculated grades, this lovely, original piece exhibits nice luster and a very strong overdate. It is truly the nicest example that we've offered in well over a decade.
Value: The PCGS Price Guide lists the coin at $46,000 with no recent sales of similar items. The lone example that has crossed the block in the last several years was an underwhelming NGC MS62 earlier in 2016. This CAC-stickered piece is a breath of fresh air and would be a jewel in any numismatists holdings. Typically offered at our regular price of $42,500, we are offering a further discount to just $38,500 this week via Make Offer.
---
Why we love it: Early copper pieces have long been popular amongst collectors, whether it be variety specialists, early American history buffs, or simply type coin collectors. This piece is a very choice VF example of the perfect type coin, housed in a collectible early PCGS holder. This all goes without mentioning the very difficult to obtain CAC sticker of approval. Overall, an excellent piece of American history and a wonderful early numismatic treasure.
Value: The Greysheet reflects a wholesale level on this date of $12,500 with a spread to over $20,000 in the next graded higher (Extra Fine). We pounced on this coin at the recent Baltimore show and are offering it with a very reasonable reserve of just $13,750 in this week's auction.
---
Why we love it: Early New Orleans mint coinage has continuously been desirable and often underappreciated. Despite a healthy mintage of over two million pieces, this is a date that is not often found. With pretty obverse toning, this AU example is a cut above the rest and is sure to please the most discriminating collector.
Value: Typically offered for $1,175, we can further discount this attractive example to just $1,075 via Make Offer this week.
---
Why we love it: Very pretty obverse toning with deeply original surfaces, this survivor of a mintage of just 286,000 pieces is a lovely late date Bust Quarter. A perfect type coin with plenty of character.
Value: The PCGS Price Guide lists this date and grade at $8,500, but we are pleased to offer this coin as one of our favorite Thanksgiving offerings for just $7,750 via Make Offer.
---
Why we love it: Continuing with early New Orleans mint coinage, this popular early Half Dollar is a rare uncirculated survivor of a mintage of just over 400,000 coins. Less than 15 pieces can be accounted for at higher grades and very few, if any, exhibit such nice, original toning and eye appeal. A hidden jewel amongst under-appreciated pieces, this coin is sure to please a new owner.
Value: With the PCGS Price Guide at $4,000, we have made this piece available for just $3,600 via Make Offer and think that it's an excellent value at that level.
---
Why we love it: A sparkling jewel in superb gem condition is a rare find among early Mercury Dimes. This registry-quality piece is virtually unobtainable in higher grades and is the perfect piece for the high-end Mercury Dime set.
Value: Recent sales have been incredibly inconsistent on this date as most have simply not had the eye appeal that a high-end collection should portray. However, PCGS lists the coin at $3,750 and we are happy to offer it at a discount of $3,250 via Make Offer this week.
---
Why we love it: Gorgeous rainbow tones aren't rare on Morgan Dollars, but it's highly unusual to see such a high grade example to exhibit such eye-catching colors. This superb gem quality Carson City issue is highly desirable in such grades and is a perfect acquisition for a collector who appreciates a piece that stands out from its peers.
Value: The Greysheet sits at $3,500 for a similar piece and grade, with PCGS reflecting a value of $4,750. Offered at a significant discount, of $3,600 via Make Offer, this coin can't be fully appreciated until viewed in-hand.
---
Why we love it: Shipwreck coinage is a market all its own, and Double Eagles from 1856 are slightly scarcer than the more plentiful S-mints of 1857. This lovely piece shows nice surfaces and is housed in the original PCGS holder with the box and COA from the original offerings. An excellent piece of history with great eye appeal,
Value: Available in auction this week, it has met a very reasonable reserve and will certainly be finding a new home.
---
Until next time, thanks for stopping by and sharing some time with us to browse our Coins We Love.