Coins We Love: What's Hot & What's Not!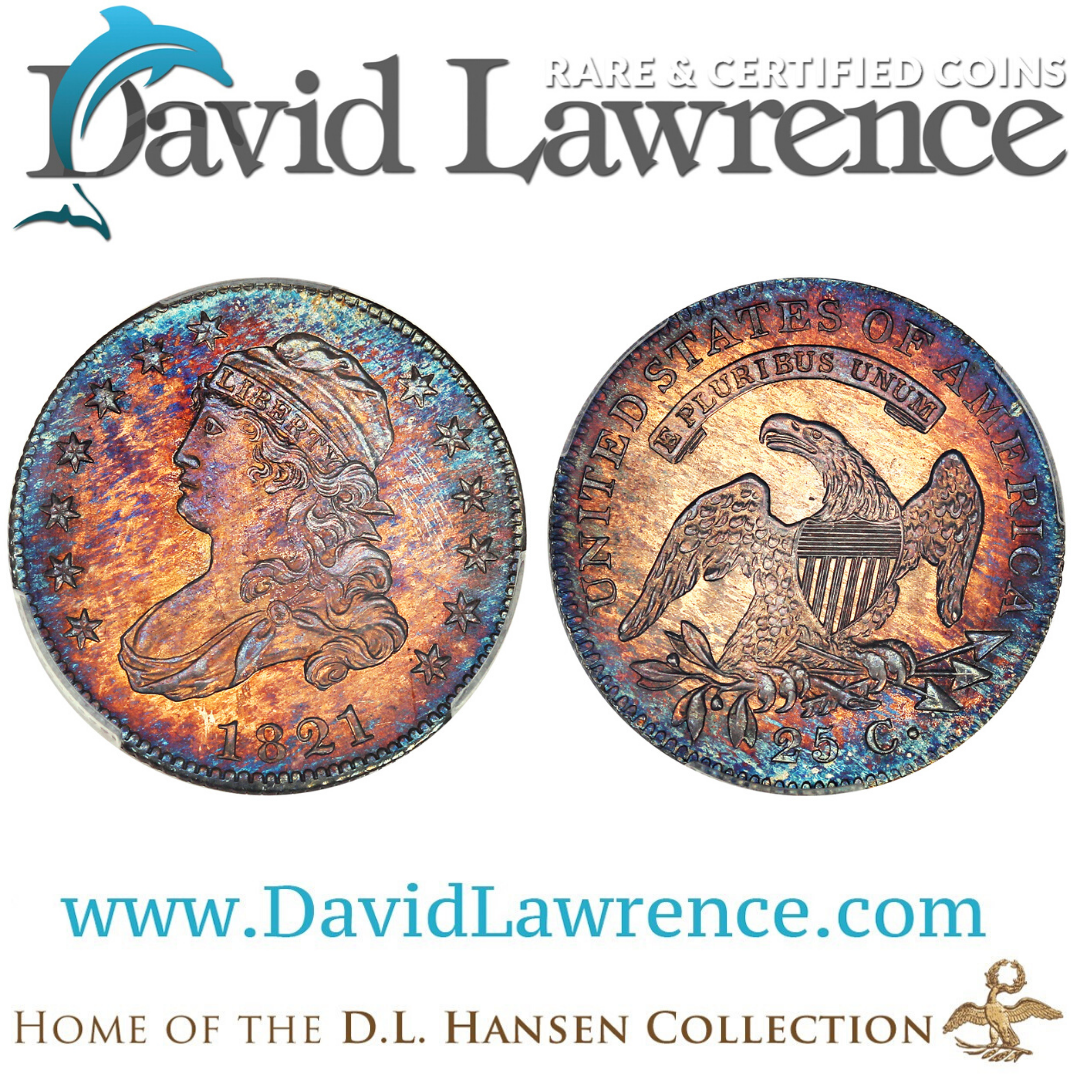 So, a few of you have asked if we're attending the Long Beach Show next week. The answer is a rather complicated one as it's been "No. No. No. Maybe? YES, but not really." So, do we have a table? Yes, we do. But, we won't be attending the show in a normal capacity. In fact, if you see us there, it'll just be for a short visit. Turns out, we have a few things to do on the west coast and we'll be popping into the show to do a little buying and bidding, then heading back home. I'm sorry that we won't get the opportunity to set up a large coin display this time, but we hope to do so in the future.

On the other hand, we will be in Atlanta for the ANA's National Money Show the next week, so if you're going to be there and there is a coin you'd like to see, just let us know and we'll bring it along! If that's the case, simply shoot us an email at coins@davidlawrence.com.

With that out of the way, I have a small comment to answer a very popular question that we've had from customers recently. What's Hot…What's Not? This is a loaded question as we can attempt to answer it to the best of our abilities due to our well-rounded numismatic nature, but it does change on a daily basis here at DLRC. The question that we'll try to tackle in the next week or two is "what's happening with coin values?" Yeah... that's another touchy one, but it deserves mentioning, so we'll tackle that when we've had some time to ruminate on the subject. In the meantime, what's hot and what's not? Let's give it a shot.

What's Hot:
High Quality Rare Coins
Rare CAC-stickered coins
Dated Gold is doing much better, so that's on the improving sector.
Collector-based material. This has never changed for us. The real collector that buys coins in the $250-$5000 range has remained consistent and we can never keep enough of these.
Key Dates. Always. Love these!
Denominationally, we sell more Lincoln Cents and Morgan Dollars than we do any other series. So, I have to always say they are hot, but that's never changed for us.
Scarce collections in auctions.

What's Not:
Modern Issues: Sure, some things will always move, but recent silver eagles, modern commems, coins with a large bullion premium. These aren't hot, nor should they be.
Walking Liberty Half Dollars: I have no idea why! I've been an active buyer of these as I think it's a great contrarian play.
Proof Type? Dead. A great buying opportunity, but very small market otherwise.
Common Classic Silver commems. Yeah, this has been the case for years.  Now, there is a segment of these that we'll buy all day, but do we really need more York or Elgin commems (without a fully struck baby on the reverse)? That being said, we have a ton of them…why? Because collectors still like pretty ones.
Low quality material in auctions.

What's Not Moving:
Modern issues with autographs. Well, they are moving for some, but that's another soapbox stand for another day.
Modern Proof and Mint Sets (but we unloaded a truckload this week!)
Weather in Virginia Beach. It's been BEAUTIFUL with a touch of rain. While they are getting snow far south and north of us, we've enjoyed the 60-degree weather for a while.

So, this list is not at all conclusive…frankly, this has been shooting from the hip really. But, it's a start. If you want a comment on your favorite series, let me know! Always happy to throw out ideas.

Sincerely,
John Brush and Your Friends at DLRC
---
---
Why we love it:
This stunningly toned early quarter is an incredible eye-catcher – vibrant blue rims fold into rose tints and a golden center, perfectly matched between the obverse and reverse. A surprisingly tough date to locate in a VERY difficult series, it is well-struck and would be perfect for a type collector, a happy balance between top notch eye appeal and a reasonable price tag.
Value:
The PCGS Price Guide suggests $12,000, while the CPG is at $10,000. We're starting this beauty at just $10,500, though we fully expect it to end closer to the PCGS Price Guide value. In the past decade only three examples of this date/grade have sold, with a less appealing issue garnering $900 while the other examples realized an excess of $12,000 and $29,000!
---
Why we love it:
The 1920 S is one of the top two or three rarities of the buffalo nickel series in gem grades. Even more, most examples of this date were very poorly struck. This piece is very much the exception, with a strong strike on both sides and a clearly visible horn on the buffalo. Factor in the grade of MS65, golden toning, and vivid luster, and you have a truly remarkable coin destined for a high-end collection.
Value:
The PCGS Price Guide puts this piece at $12,500, and the CPG suggests $12,200. If you use Make Offer, this gem could be yours for only $9,750, an absolute steal for this crisp strike rarity.
---
Why we love it:
The prototypical coin for a Coins We Love email, this date and mint is very rarely seen in MS, and an AU example is still an impressive addition to a Morgan Dollar collection! This piece is nicely frosted and original white with no distracting marks or toning. Evidence of light circulation is visible, but it has very strong eye appeal for the grade. Difficult to find in AU grades or higher, this example found us at a recent show and we're proud to offer it this week!
Value:
A date always in demand in all grades, the PCGS Price Guide puts this piece at $20,000 and the CPG suggests $20,600. We're starting it at $19,000. The last AU50 example we sold was in 2017 and realized $19,500.
---
Why we love it:
One of the most popular issues in American numismatics, the high relief St. Gaudens double eagle is breathtaking in any grade. This piece features frosty fields and even color, giving it excellent eye appeal for the grade. Approved by CAC, this is a fantastic opportunity to get a stunning example of one of America's most beautiful coins at a reasonable price.
Value:
The PCGS Price Guide puts this issue at $15,000, while the CPG suggests $13,000. We're making this satin beauty available for just $12,750 via make offer. A fantastic piece for a type set, this one won't last long.
---
Why we love it:
This 1936 half dollar proof is one of the rarest proofs issued from 1936 to date, second only to the 1936 Washington quarter. Only 3,901 were struck, very few of which have survived in PR67 or higher. Only eight pieces are graded finer than this stunning example, which has sharp yellow-tinted mirrors and hints of blue near the rim.
Value:
The PCGS Price Guide recommends $8,500, while the CPG suggests $8,440. We're starting this stunner well below both at $7,250, leaving plenty of room for bidding. Auction records from the past year have had an incredible spread, topping out at $15,275 in October, so there's no telling where this one will go!
---
Why we love it:
Issued by the US Assay Office of Gold after a reorganization, this piece founds its way onto the SS Central America when it sank in a hurricane in 1857. The ship was found in 1988, along with its cargo of 30,000 pounds of gold. Produced from gold discovered in the Gold Rush, this famous territorial gold coin is dripping with history.
Value:
The PCGS Price Guide puts this piece at $13,000 without the SS Central America pedigree. We're willing to sell it for just $12,000 via Make Offer, below book value for an above-average example. This is a chance to own a truly remarkable piece of history.
---
Why we love it:
This blast white satiny gem has a light golden tint over the well-struck devices and mirrored fields. With only three graded finer, this ever-popular Carson City issue is sure to intrigue high-end Morgan collectors.
Value:
The PCGS Price Guide puts this piece at $22,500 and the CPG suggests $17,500. We're starting this auction well below both at just $15,500. The most recent auction for an MS67 example realized $20,400 in September of 2019, so we expect to see some strong competition for this registry-quality piece.
---
Why we love it:
This high grade buffalo nickel is vividly toned with light rainbow tints around the rim that quickly fold into wide golden rings. With only nine graded finer at PCGS, this is an excellent registry-quality coin just waiting for a place in a high-end buffalo set.
Value:
The PCGS Price Guide recommends $6,000 and the CPG puts this piece at $6,380. We're willing to let it go for just $5,100 via Make Offer, well below either price guide. Don't let this vivid gem slip away!
---
Why we love it:
This silky gem is bested by only one piece in MS67+ at PCGS. Subtle streaks of color highlight the obverse in shades of pale green, rose, and gold. With a population of only eight in MS67, this is surely one of the best examples out there. As a member of an exclusive CAC population of only four coins stickered amongst the nine graded by both services, the buyer can be assured of high-end quality!
Value:
The PCGS Price Guide puts this issue at $7,000, while the CPG suggests $6,250. The last public auction record came in December of 2019, where the piece sold for $7,200, so our starting price of $6,250 is definitely on the low side. There's plenty of room for bidding on this coin, so don't miss out!
---
Why we love it:
One of the rarer dates in the Standing Liberty series, this offering is an absolute gem. With a population of ten and none finer, this top pop beauty pops with frosty lime and gold tints. Sharply struck with smooth surfaces, this piece demands a new home in a registry set.
Value:
The PCGS Price Guide puts this coin at $9,500 and the CPG suggests $5,000. The last auction record is from 2017 when an example realized $7,931. We're offering it as a special this week for just $7,500 via Make Offer.
---
Why we love it:
Only 12,000 half dollars were struck in 1890. This piece has managed to survive in excellent condition with rose, blue, and golden highlights. The fields are clear with no distracting marks, and it is quite high-end for the grade. The reverse is particularly striking with a bright spattering of blue around the eagle's head.
Value:
The PCGS Price Guide puts this coin at $4,000 and the CPG suggests $4,120. We're willing to let this beauty go for $3,950 via Make Offer. Sure to be an excellent addition to any seated half dollar collection or type set, don't let this gem slip away without some careful consideration.
---
Why we love it:
Most 1908 No Motto $20 pieces have low eye appeal, but in the early 1990s, a hoard of 9,900 coin was discovered. Initially sold out of a Las Vegas Wells Fargo Bank, this was called the Wells Fargo Hoard and it included some of the nicest double eagles ever found. Ten issues were graded MS69 by PCGS, with many coming in at MS68. This example is all but flawless with smooth, satin surfaces and no distracting marks.
Value:
The PCGS Price Guide puts this piece at $18,500, the NGC Price Guide at $24,000, and the CPG at $18,900. We're starting this gem at only $14,950, an absolute bargain according to all three price guides. Don't miss out on the chance to own not only a fantastic high grade piece, but a piece of history.
---
Why we love it:
Very popular and very scarce, the 1893 CC is found in higher grades more easily than other CC Morgans of similar rarity, but they're often poorly struck with many bag marks. This lustrous piece is mainly white with very subtle hints of rose and gold. With a massive jump in value between MS64 and 65, this coin is an opportunity to get a strong example with solid eye appeal at a reasonable price.
Value:
A blue chip in the Morgan Dollar series, the date has a PCGS Price at $12,500 and the CPG suggests $15,700. It could be yours today for just $10,000 via Make Offer, well below the most recent auction record of $12,000.
---
Why we love it:
From a mintage of only 108 pieces, this example features richly reflective fields and lightly frosted devices. With no distracting marks, we believe this example would grade closer to MS63 if resubmitted. The Hansen Collection includes an example in PR64, one of the finest known for the date.
Value:
The PCGS Price Guide suggests $7,500 and the CPG is at $5,310 in PR60 or $14,200 in PR63. We're making this one available at $8,650 via Make Offer, which leaves plenty of opportunity for you to make a tidy profit if you resubmit it in pursuit of an upgrade.
---
Check out all of the available "Coins We Love" from past newsletters