Coins We Love: Why Should I Care? 1863-S Seated Liberty 10c PCGS/CAC MS63+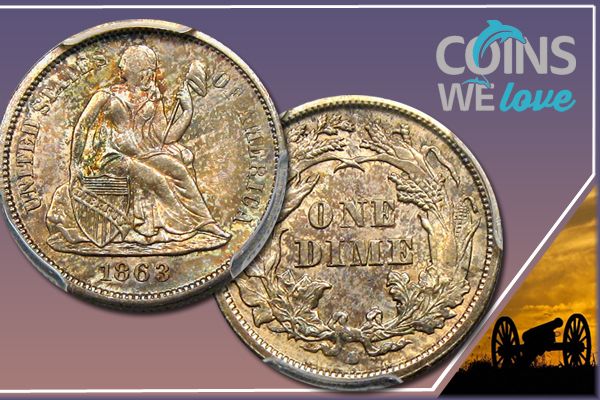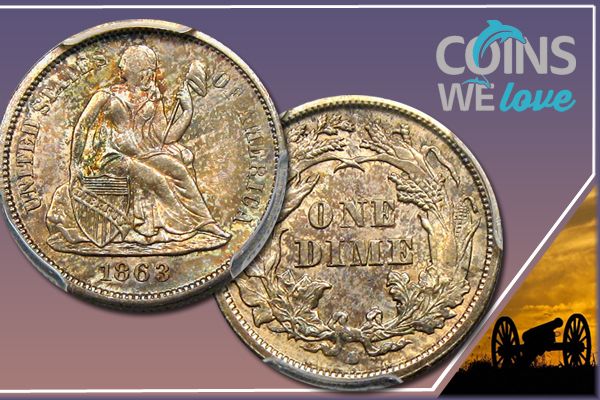 John Brush and I have had many hours of discussions about coins that are undervalued in the current coin market. When you deal in the quantity of coins that we have coming in and out of DLRC, you are in a unique position to start getting a feel for what dates in certain series are scarcer than the pricing guides would indicate. I know that for me as a buyer, when I am going through another dealer's inventory at a show something in my mind will "ping" when I see a common date coin in exceptionally fine condition, or one that isn't seen in any condition in the marketplace. It is these coins that spark those mental moments of recognizing "outliers" that we especially try to offer our select customers.
Our Coins We Love newsletter serves this purpose to an extent, and our goal of writing that weekly piece about certain coins is really to answer the question from a collector's perspective, "Why Should I Care?" The nuances of a number of these different coins are very subtle even to an advanced numismatist, and as a collector, it can be very intimidating to navigate the pricing structures of coins. I am never satisfied when I am writing about certain coins explaining their values if I leave any impression that a coin is more expensive in MS66 than MS65 just because "it is a higher grade."
All of this is to say why we pride ourselves on being different than other coin dealers in the marketplace. I don't like to make a blog self-serving, and in some ways this is unavoidable, but that is why serious collectors like to deal with John and I here at DLRC. John started collecting coins in 1985 and has been professionally buying and selling coins in massive quantities since 2003, and I started collecting and studying grading in 1998 and have been submitting coins to PCGS and NGC in large quantities since January 2013.
Our experience has put us at the forefront of the numismatic business. We have both been fortunate to find ourselves in experience-rich situations that have enabled us to draw upon that knowledge so we can answer a question from the collector's perspective about "Why I Should Care" that a Liberty nickel in MS66 is worth so much more than an MS65, or why a 1976-S Eisenhower 40% silver $1 in MS68 is a rare coin, or why a Peace dollar in MS66 is actually a lot scarcer than a Morgan in the same grade.
We dig into the data of populations and values on these coins, pull out relevant statistics, and explain why these coins exist in the numbers that they do in certain grades. In this current marketplace that is unsure about values on many things, we have seen that the coins that consistently go up in value and sell quickly are the ones that have small total survivorships and coins that are extreme condition rarities in all grades of uncirculated. When you combine both of these elements, a bidding war typically ensues between knowledgeable collectors that recognize these coins' true rarity.

1863-S Seated Liberty 10c PCGS MS63+ CAC
This 1863-S Seated Liberty Dime is one of my absolute favorite coins that has come across my desk recently.
About the coin's appearance: One of my favorite features about this example is the absolute originality of it. Shades of apricot and yellow are reflected out of the surface's patina, which is largely mottled in an appealing mix of dusky grey and brown. I've seen this look on coins that have come out of old collections that were stored in the two inch manila envelopes, and that is probably how this coin had been preserved before it was certified.
Grade: Based on my experience of submitting Seated Dimes for grading, PCGS was conservative when they graded this coin. My eye immediately goes to the right and left obverse fields for judgment of contact marks, and then to Liberty's leg to search for any friction that would dictate less than a gem grade. The surfaces are largely mark free, and with a 7x magnification, I am pressed to find any contact mark that is at all distracting. The luster is unbroken on the highpoints, yet it is a touch subdued from the patina.
1863-S dimes have been historically noted to have weak strikes that manifest in a lack of detail in the hair and ribbon, but I have had MS66 Seated Liberty Dimes with similar detail constraints so this touch of weakness doesn't bother me in the least. The eye appeal is that of an original gem, and perhaps it is because of the rarity of this issue in uncirculated that PCGS was weary to give it a more aggressive grade.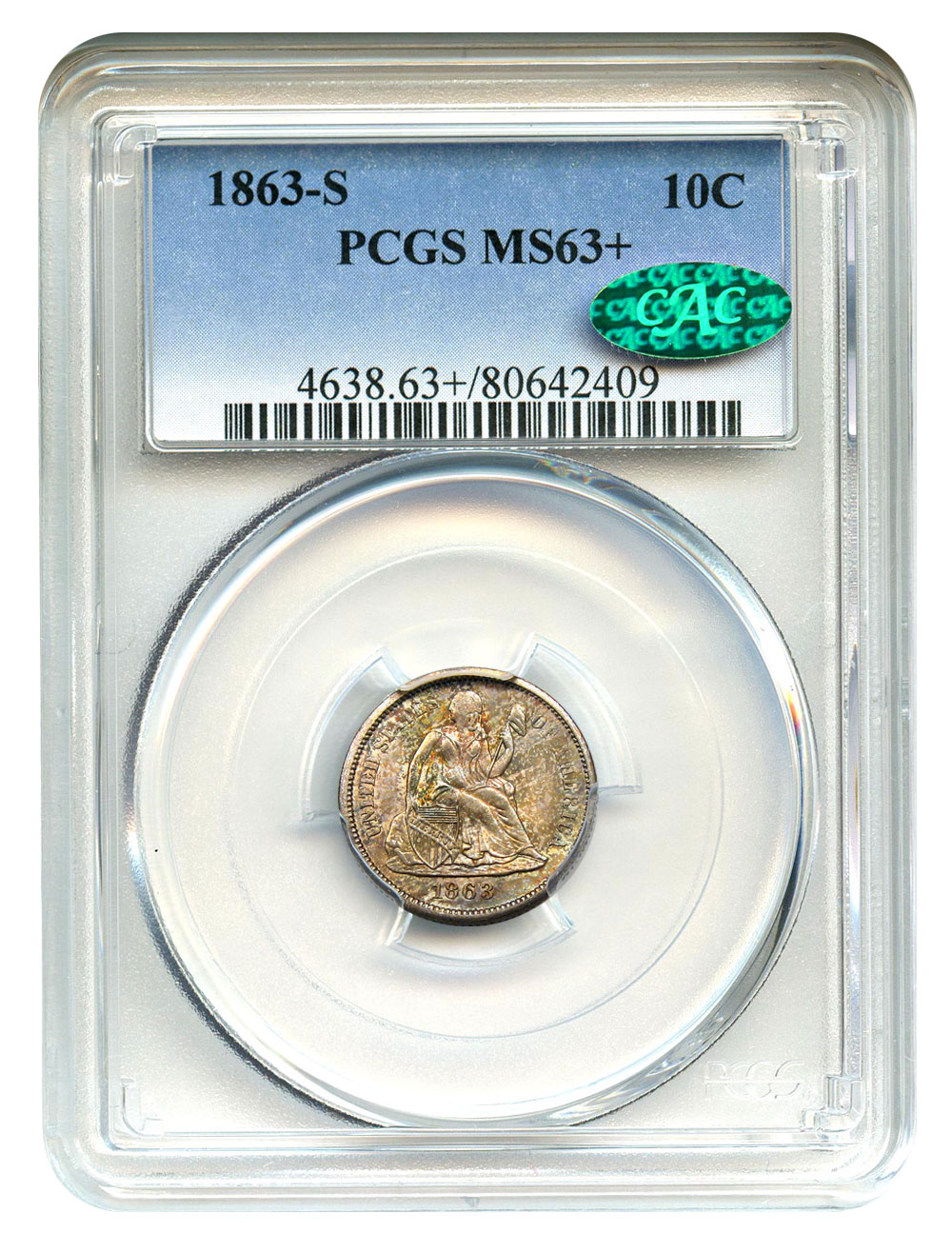 Why Should I Care?
1863 yielded a mintage of 157,500 dimes from the San Francisco mint, which is by no means a small amount. However, the population reports reveal a startling story of the coin's survival.
Out of those 157,500 coins, there are 21 pieces that have been certified as uncirculated. You have better chances of winning certain lottery jackpots than finding more of these coins in uncirculated condition. If you expand the range to all grades from Poor-1 to MS66, PCGS and NGC combined have certified 101 coins. Not much better odds…
This kind of rarity could almost be compared with something like a 1931-D $20 Saint Gaudens where it is survived by around 100 coins, yet most of those are in uncirculated condition since they were presumably all from one bag that was not used for commerce. The difference is that the entirety of the 1863-S mintage was spent and found its way into circulation, and that is why this coin is so spectacularly rare in all grades, yet alone uncirculated.
Value: This coin is reserved in this week's auction (#914) for $12,500.
To give a little more perspective, it has been five years since we have handled this date in any grade. Before that, it had been another three years. If someone asked me to replace it… well, I don't know when/if I could.
Some special coins take more time and space than the Coins We Love newsletter to explain "Why You Should Care", and yet they are usually the most worthwhile ones for us to offer. Keep an eye out for more "Why Should I Care" articles about a great coin or series that has come across my desk. You will be glad you did.
Devin Hipp and your Friends at DLRC