DLRC Acquires Historic 1794 Silver Dollar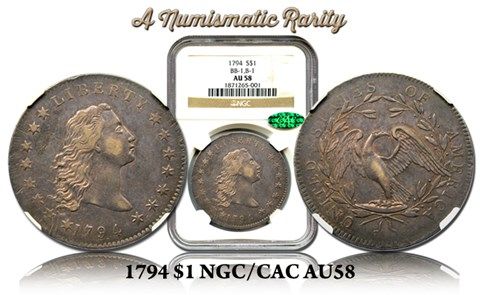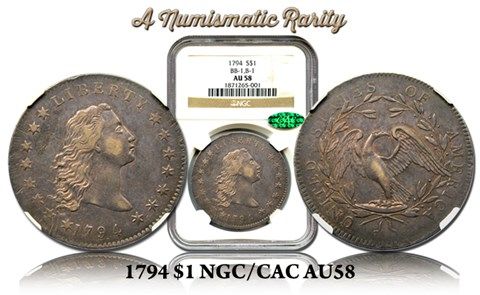 DLRC Acquires 1794 Dollar Graded NGC/CAC AU58 One of America's First Silver Dollars Virginia Beach, VA: David Lawrence Rare Coins has acquired one of the top condition census examples of America's first silver dollar. Graded by Numismatic Guaranty Corporation of America (NGC) as an Almost Uncirculated 58 and verified by Certified Acceptance Corporation (CAC), this 1794 silver dollar is among the twelve finest examples known of this exciting and rare issue.
John Brush, President of David Lawrence, says, "When the coin was offered to DLRC, we knew that this was a purchase we needed to make. Historically important classic rarities of this nature simply do not become available every day, and DLRC jumped at the opportunity to acquire it."
The 1794 silver dollar has been a recognized major numismatic rarity for over 160 years. Hailing from an original mintage of 1,758 pieces, these coins were the first examples of the "dollar" denomination that would ultimately become a predominantly traded currency in international commerce.
"The historical importance of this coin cannot be overstated," continues Brush. "We have seen that rare and important coins have been popular amongst investors once again and record results are being seen in many auctions. We think that this will be a million dollar item in the near future, so the current market conditions have made it a great value proposition."
John Albanese, founder and chairman of CAC, has been familiar with this coin for some time. "This particular specimen is one of my favorite for all-around quality, aesthetics, and value. It's quite unusual to see an AU58 example of such a rarity that is truly worthy of the CAC verification sticker."
As the grade of AU58 indicates, this coin exhibits a trace of obverse wear on the cheek of Liberty and on the reverse eagle. It is remarkable in many respects, but in particular it is one of the few high-grade examples known without major planchet "adjustment" marks. These marks, as made at the mint and confined to just the obverse periphery on this example, are almost always seen on 1794 dollars as minters would deliberately scratch the pre-production planchets to adjust their proper silver weight to regulation. While such adjustment marks are considered market-acceptable, astute collectors and dealers prize examples with such minimal disturbances.
David Lawrence Rare Coins was able to acquire this coin via private treaty for an undisclosed sum. The coin is now available for viewing on the website of David Lawrence Rare Coins at www.davidlawrence.com. Serious inquiries should be directed to John Brush at john.brush@davidlawrence.com, or his direct phone line of 757-962-7502.
About the 1794 Dollar
The 1794 silver dollar is a legendary piece among historians and coin enthusiasts alike as it was the first year that the newly independent United States of America produced the dollar denomination, the principal unit of coinage for its monetary system. All of the 1,758 silver dollars produced in 1794 can be traced back to October 15, 1794 when David Rittenhouse, the first Director of the United States Mint and close friend of Thomas Jefferson, supplied his personal silver for the minting process.
As American numismatics matured in the mid-19th century, collectors realized the rarity of the inaugural silver dollar and began to seek them out from circulation and inevitable assayer's melting pot. Estimates for the surviving number of specimens range from 130 to 150 coins, a fairly healthy percentage survival rate and likely due to the early desirability for the issuance.
The present coin's provenance can be traced back to the 1964 sale by Numismatic Enterprises at the California State Numismatic Association. It proceeded to find its way into the Queller Family collection, a comprehensive gathering of high quality and important early American coins that has since been dispersed. This is the first public appearance of this coin in nearly eight years.
About David Lawrence Rare Coins
David Lawrence Rare Coins, founded in 1979, is an industry leader in the trading and auctioning of U.S. rare coins certified by PCGS, NGC, and CAC. The company has handled legendary rarities of United States numismatics including two examples of the 1894-S Barber dime, a gem 1876-CC twenty cent piece, the finest known 1901-S Barber quarter, one of the twelve known 1870-S Seated dollars, and the finest certified 1796 No Pole Liberty Cap half cent. They also helped to assemble and sell the Richmond Collection, a group that realized $25 million at their public auction. DLRC holds weekly Internet auctions and offers sellers the options of direct sale or consignment to auction.
DLRC is located in Virginia Beach, VA, and offers products via their website (www.davidlawrence.com), trade shows, Amazon, and on eBay (davidlawrencerarecoins).
Contact information:
John Brush, President
David Lawrence Rare Coins
Email: john.brush@davidlawrence.com
Toll-free: 800-776-0560
Direct: 757-962-7502
web: www.davidlawrence.com