DLRC Show Journal: 2018 World's Fair of Money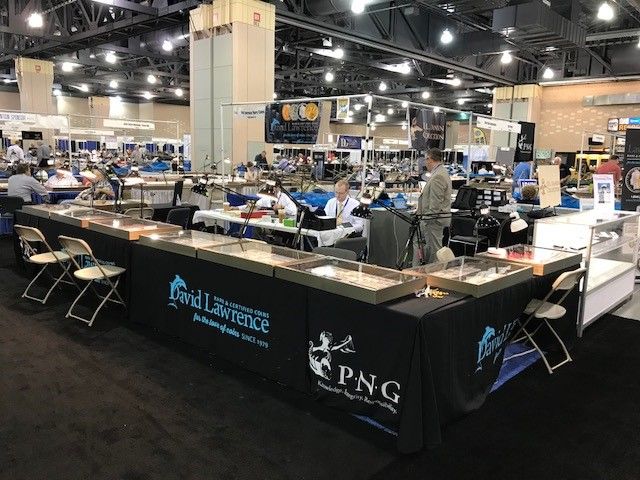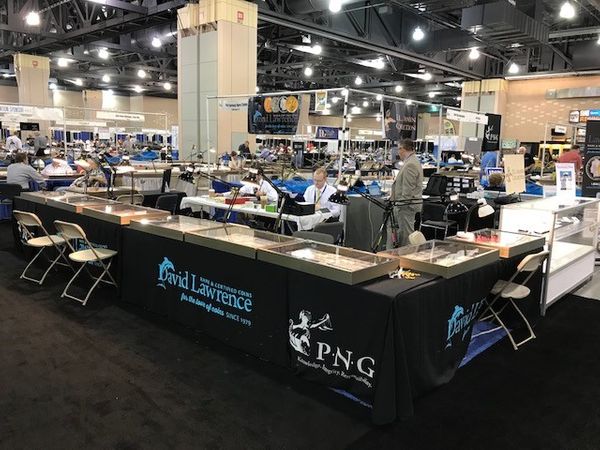 Sunday: Sunday morning my wife, kids, and in-laws toured the historic side of Philadelphia. A quick run through Independence Hall, the Liberty Bell, and the Museum of the American Revolution was a wonderful outing to start the week off right and to say goodbye to the family for a few days. The tours were fantastic and knowing that I'd be coming back to the museum in a few days made it "ok" to quickly read over the less-interesting displays. Sunday afternoon the work began. I had a PNG Board Meeting that lasted until 8pm and at the conclusion I ventured to a hotel near the convention center to view the coins of a dealer-friend. I walked out with a nice handful of coins before my 9:30pm appointment. Meeting with this client turned into quite a project. I perused 16 double row boxes of coins and selected 4-5 boxes of material to take home. I didn't finish until 1am, but this late night was to be the highlight of our buying at the show.
Monday: It started way too early. An 8am PNG Breakfast meeting followed by the PNG Day that precedes the ANA show. This day allows us to set up our booth briefly and get the earliest looks at several dealer inventories. We had purchased another box or two of new coins and started selling from the inventory we brought with us. Our first shot dealer, who always makes it worth our while, ended up spending well into six figures. Suffice it to say, the show started off with a bang. After lunch (with my first trip to the Reading Terminal Market for the Original Turkey Sandwich), things gradually slowed down from; however, there wasn't a dull moment the entire day. We received the last of our supplies that drove up from Virginia Beach and security reprimanded me for trying to get everything back to our table, but there was no stopping progress (or our ultimate safety).
As Monday concluded, we had to put on our Sunday best and head to the PNG Awards Banquet. Emily Bateman, Gary and Jeannie Adkins attended from the DLRC team, and I was honored to present a Significant Contribution Award to our friend, Kathy McFadden, for all of her work in recent year for ICTA (Industry Council on Tangible Assets). Thankfully the event ended around 9:30pm, and we were able to get back to our rooms at a reasonable hour. I, however, still had a few hundred auction bids to work on!
Tuesday: The real show set-up began. Dealers poured in from the streets running with their materials - as the loading dock areas weren't friendly to many (union issues). We threw our coins out into the cases and set up a display of some highlights from the D.L. Hansen Collection at an additional side booth. We have never occupied so much real estate at a show, but for this week, it was needed. We were fully-staffed but never overly-so. The place was just "hopping!" We were actively showing coins to the newly arriving dealers as well as viewing coins from other dealers who were selling. All in all, we probably added another two boxes of new coins on Tuesday that helped fill our safe! Lunch was once again from the Reading Terminal and was in the form of a Cheesesteak…I'm not a great local or a purist, but it was fantastic! The official opening of the show occurred immediately after lunch at 1pm and the floor certainly became much more crowded for the afternoon.
Tuesday night featured the ANA Kick-off event at the Museum of the American Revolution, of which we were a sponsor. This event consisted of a fantastic gathering of dealers and collectors and a night at the Museum to tour the exhibits. Unfortunately, dinner was of the late side this night…after the tour, the DLRC team grabbed dinner across the street from Independence Hall and had a coin-free evening of discussion. We walked home and enjoyed the brief exercise, though the humidity was thicker than one could imagine! After dinner and the walk, more auction bids had to be figured!
Wednesday: Wednesday was a day full of buying, trading, and selling…add in the fact that we got to see many old and new friends (collector and dealer), and it was an enjoyable day. Truthfully, we were busy the entire time, both showing and buying coins, and discussing our display. There truly was no downtime the entire day, but this was for the best. I was able to have lunch with my friend and mentor, Paul Nugget, who made the trip down from New York. We enjoyed some Mediterranean fare and a brief chat. We also discussed several rare gold coins appearing in auction that evening as Mr. Nugget has long been one of the foremost U.S. Gold experts for the last 50 years. His counsel was helpful, and he even brought us a few new items to offer.
Wednesday afternoon flew by as I had to finalize preparations for bidding in the evening's auction and to be frank, I didn't finish until I was sitting in the auction room figuring bids on the fly! I caught up around lot 200 and was able to take a breath. All in all, we made some fantastic buys on items that we thought slipped through the cracks and had to pay way too much for a few rare coins that we were surprised to see on the auction block. After three hours of live auction sitting, we grabbed a bite of dinner before heading home. However, the highlight of the evening's event was the auction of the 1913 V Nickel. We were actively pursuing it for the Hansen Collection, but it surpassed our limit and sold to our good friend, Laura Sperber. We congratulated her immediately after, and we are glad to see that the coin found a good home.
Thursday: Another day of coins…This day featured another auction in the evening, more new purchases at our table, and a fantastic lunch that I can't recall. Every afternoon in the Reading Terminal was a welcome respite from the show. It was not a quiet time, but it was a time that absolutely overwhelmed the olfactory senses, and we thoroughly enjoyed the variety. I'm not going to lie, I had one of the best cinnamon rolls ever concocted at the Amish kitchen for breakfast.
We tried to realize how many coins we had purchased by Thursday afternoon and lost count. Mike was begging me to stop, but when you're on a roll, what else can you do? You find the best coins that are presented to you and you try to buy them. So that's what I did. Immediately after the show, we had a brief reception with our friends from the National Numismatic Collection at the Smithsonian and then met with some friends at Fogo de Chao for dinner at 7pm. After a few visits from the servers, I enjoyed the pineapple for dessert before having to run back to the evening's auction.
Our partner, Dell Loy Hansen, and several of our friends from his office joined the auction festivities this night. We acquired a few pieces for his collection during this evening as well as the highlight of the night, the 1854-S $5 NGC XF45. You can read about it here. Yes, this was an amazing find and a coin that we had followed since it's discovery. In fact, we had made an offer to purchase it several months before, and we were able to capture it in the auction for a few bucks less! All in all, we thought that the piece was fascinating historically, and it fell into our laps. In the end, before we could even place it into our inventory, we received an offer to buy it. It wasn't the intention, but it was one that we couldn't refuse, so we sold it within 30 minutes of the purchase. Talk about unintended consequences! Anyhow, we owned a legendary numismatic rarity for less than a day and I wish we had taken more pictures of the coin!
Friday: By Friday, I was dragging. I made time for breakfast with our friends from Utah at the Dutch Eating Place, a fantastic breakfast counter in the-you guessed it-Reading Terminal. You'd think that the chickens were laying eggs in the kitchen. The food was fresh and fantastic. We knew that the day would be a short but wild one. Mr. Hansen would be joining us for a few hours behind our display and to know him is to love him. Dell Loy is a gatherer of friends, and his enthusiasm for people and coins is infectious. After a week of coin-dealering, it was encouraging to see such excitement, but exhausting as well. We wrapped up some transactions that morning before the PCGS Luncheon where Mr. Hansen's complete U.S. coin Collection (Eliasberg Set) was inducted into the PCGS Hall of Fame. It was a fantastic honor and to have been so active in helping him to put it together, it had special meaning to the DLRC crew.
After the PCGS event, we lingered for a few minutes, but the writing was on the wall. I'm wasn't sure I could buy another coin. I did, but only three more. An 1800 $1 PCGS MS64 was one of our last purchases and it was worth mentioning as it was just amazing. That and the 1835 25c PCGS Proof 66 Cameo were two of our favorite purchases the entire show. Unfortunately, they won't appear in this week's CWL as they sold IMMEDIATELY, but they were an interesting pair. That afternoon concluded my stay at the show. Jason, Julia, Mike, and Alan pulled the weight for the rest of the weekend, but we were worn out! All in all, it was certainly one of the most successful shows we've ever been a part of and even though some say that the market isn't what it was a few years ago, it was pretty darn good to us.
The fact is, the ANA belongs in major east coast cities on a regular basis. While it's a far less profitable venue for the organization, and there were some security issues that had to be addressed, it's simply better for the health of the hobby and for the diversity of the attendees. We're off to Rosemont, IL next summer, and I'm sure that the event will be fine. However, it's hard to measure up to these events when they are held in Boston, Philly, or Baltimore. It was simply one of the best ANA shows in recent memory that would have been only better if the market was the same as it was a decade ago. Alas, some would rate it a 7 or 8, I'd be hard pressed to not give it at least a 9 on a 1-10 scale as the activity was non-stop all across the board.