As our frequent readers already know, we've updated our website to a newer format in recent weeks. Not only were we looking to increase the speed for the user, but we were also looking to add new functionality. While we're still not done with the product, we've made some substantial progress and wanted to share four new functions that have returned due to popular demand.
Final Call Bidding Extension: No one enjoys losing an item at the very last second of an auction, and no consignor is properly served with a firm end time on their closing consignment lots. As a result we have re-introduced a function that has been recently absent from DLRC. Starting this Sunday, when a bid is placed in the final 3 minutes of an auction, an additional 3 minutes will be added to the auction timer. We know this adds a lot of anxiety to an auction bidder, but it redelivers on a promise that we've made for a long time when we promised "Live Auction Results at Internet Speed." We still encourage bidders to get their bids in early to prevent the addition of extra auction time, but for those of us who like to procrastinate or watch auction items close, it allows for a little bit more "action."

Make Offer is now live. Yes, we launched this last week, but for those of you who may not have found the function yet, we've brought back one of our favorite aspects of our past websites. Sometimes you just can't pay full price and you want to negotiate. We understand that and will always do our best to work out a deal, so please feel free to make offers of any type on the coins that are available for direct purchase on the website.

Buy It Now filter: Not everyone likes auctions. At DLRC, we understand that and that's why we allow for both auction participants and those who like to move forward with direct purchases. You can now ignore all of the auction coins (or include only auction coins) when you're browsing our website.

Search by Date: We've re-instituted the search bar (next to the shopping cart!) near the upper right portion of each webpage. We still have some additions and adjustments we'll be making to it as we are able, but for now, you can enter any date (with or without mintmark) and it will give you all of the entries for that individual date. It doesn't work in connection to other filters if you're browsing at the moment, but it's our first step and one that we hope is helpful!
We're still working on several other aspects of the new website in the coming weeks, and we'll do our best to keep you informed as we progress with the new www.davidlawrence.com!
In the meantime, please enjoy this week's offerings of Coins We Love and please don't hesitate to give us a call at 800-776-0560 or email us at coins@davidlawrence.com if you have any questions or would like to discuss these features or any coins that may be of interest.
Sincerely,
John Brush and Your Friends at DLRC

---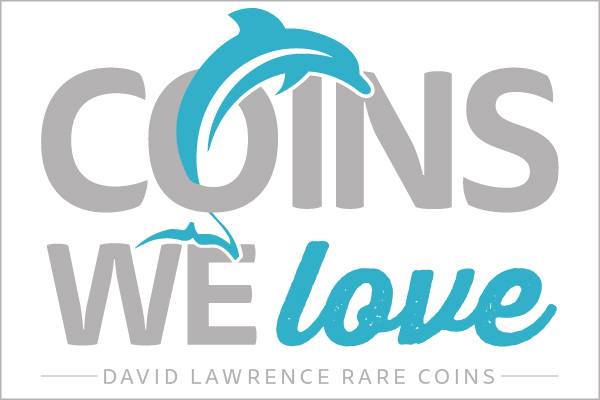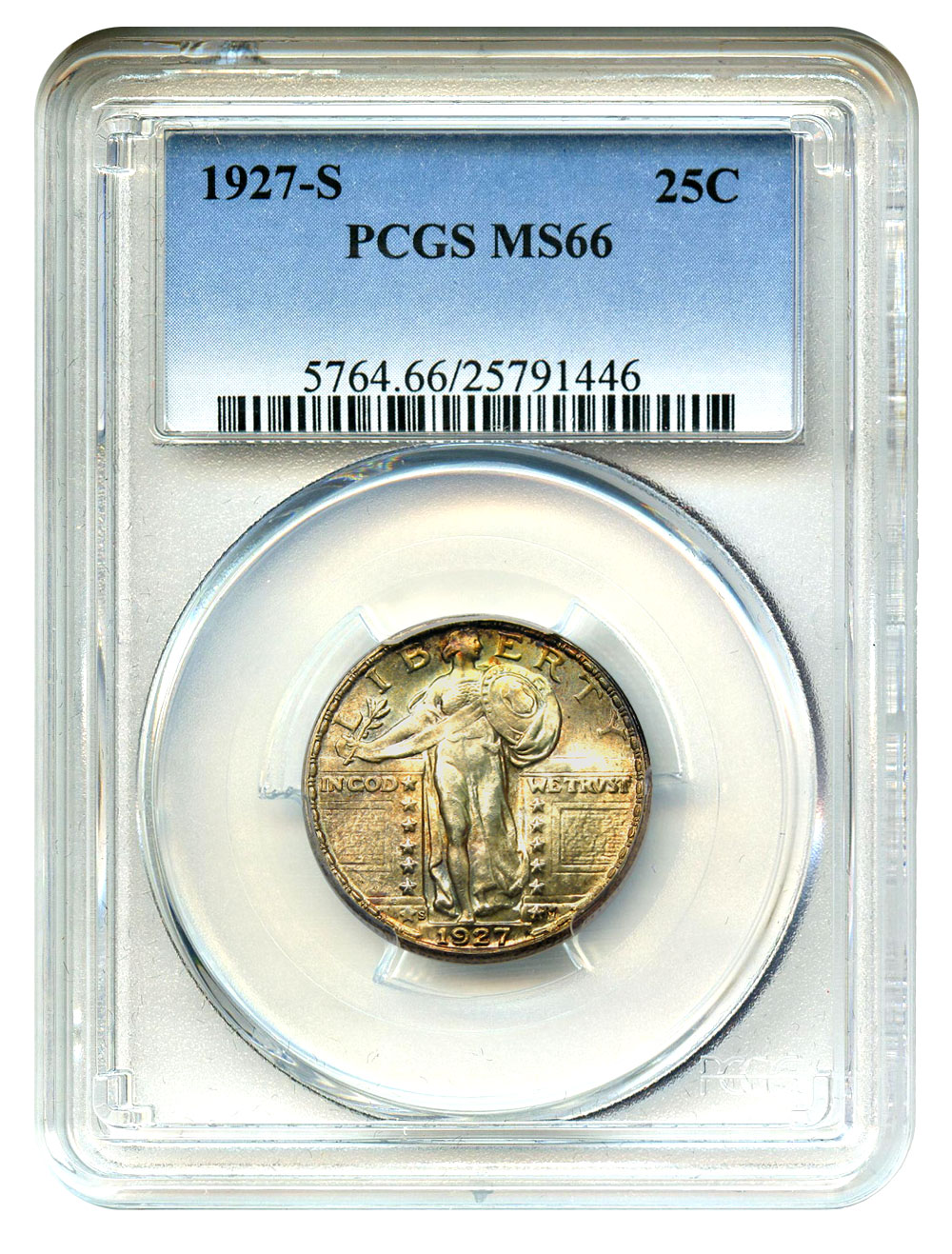 Why we love it: The 1927-S Standing Liberty quarter has made appearances in our newsletter more than once or twice. We keep featuring the coin because of the popular type, low 20th century mintage, and overall recognition as a key date. Our lovely gem displays a unique blend of colors in its toning that graces the surfaces, an unusual attribute for the type.
Value: This is the nicest example of this date (clearly one of our favorites) in over 10 years. With the Bluesheet reflecting a sight-unseen value at $14,000, this is a great deal at the extremely reasonable reserve of just $15,750 in this week's auction.
---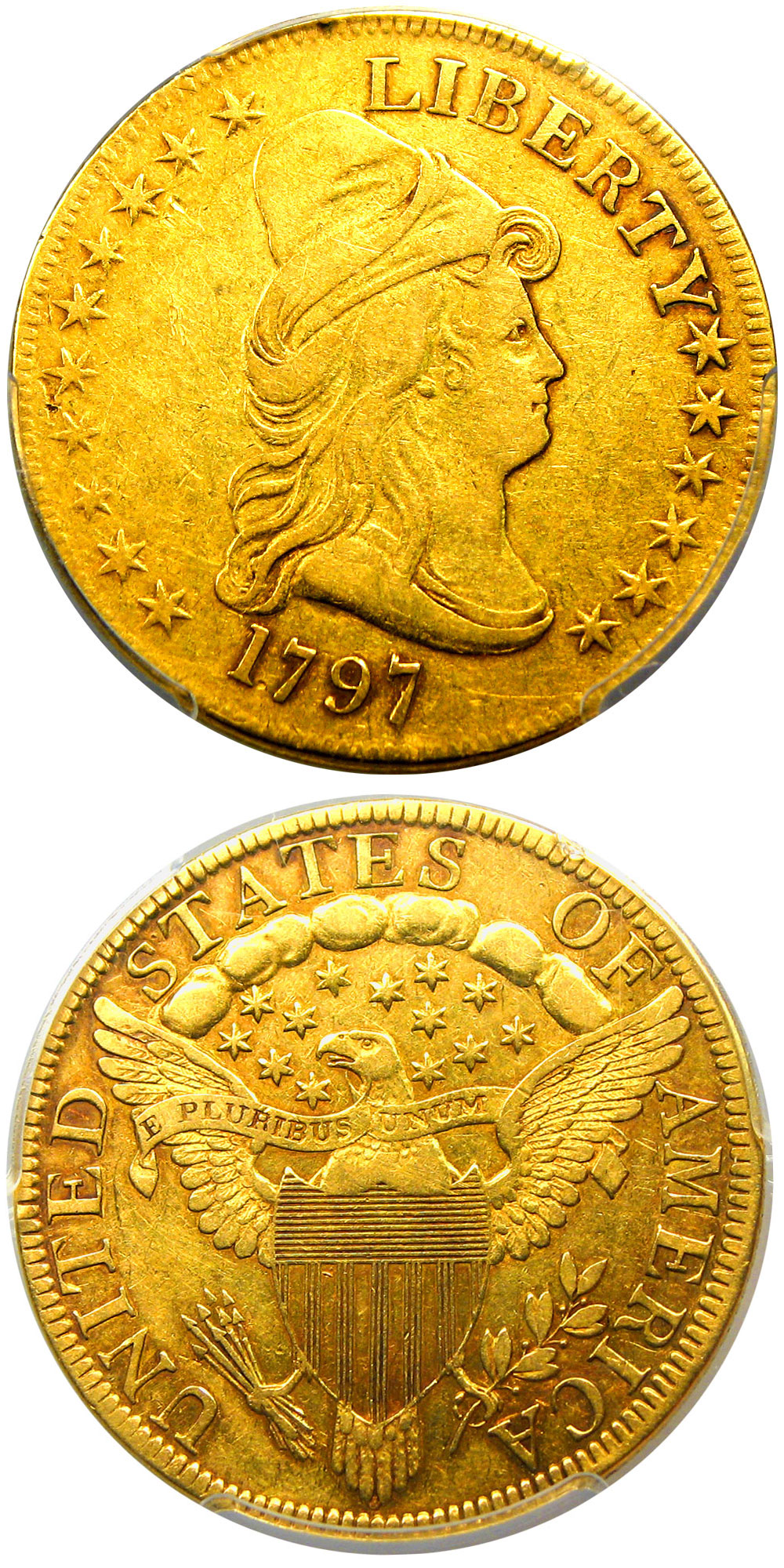 Why we love it: The $10 Eagle was the largest circulating specie denomination in the United States until 1850. After this type was stopped in 1804, it was not supplemented with more available coinage until the Liberty type debuted in 1838. Because of this, the vast majority of these coins were heavily used or melted. Our pleasing Very Fine example is a lovely survivor with fresh, old gold surfaces and no single distracting marks.
Value: It's very unusual for us to be offering an example of this late 18th Century issue in an "affordable" grade range. However, this piece would fit the sets of many advanced collectors and investors who don't want to fork over an additional $20k for a higher grade example. It is reserved in this week's auction for just $15,500.
---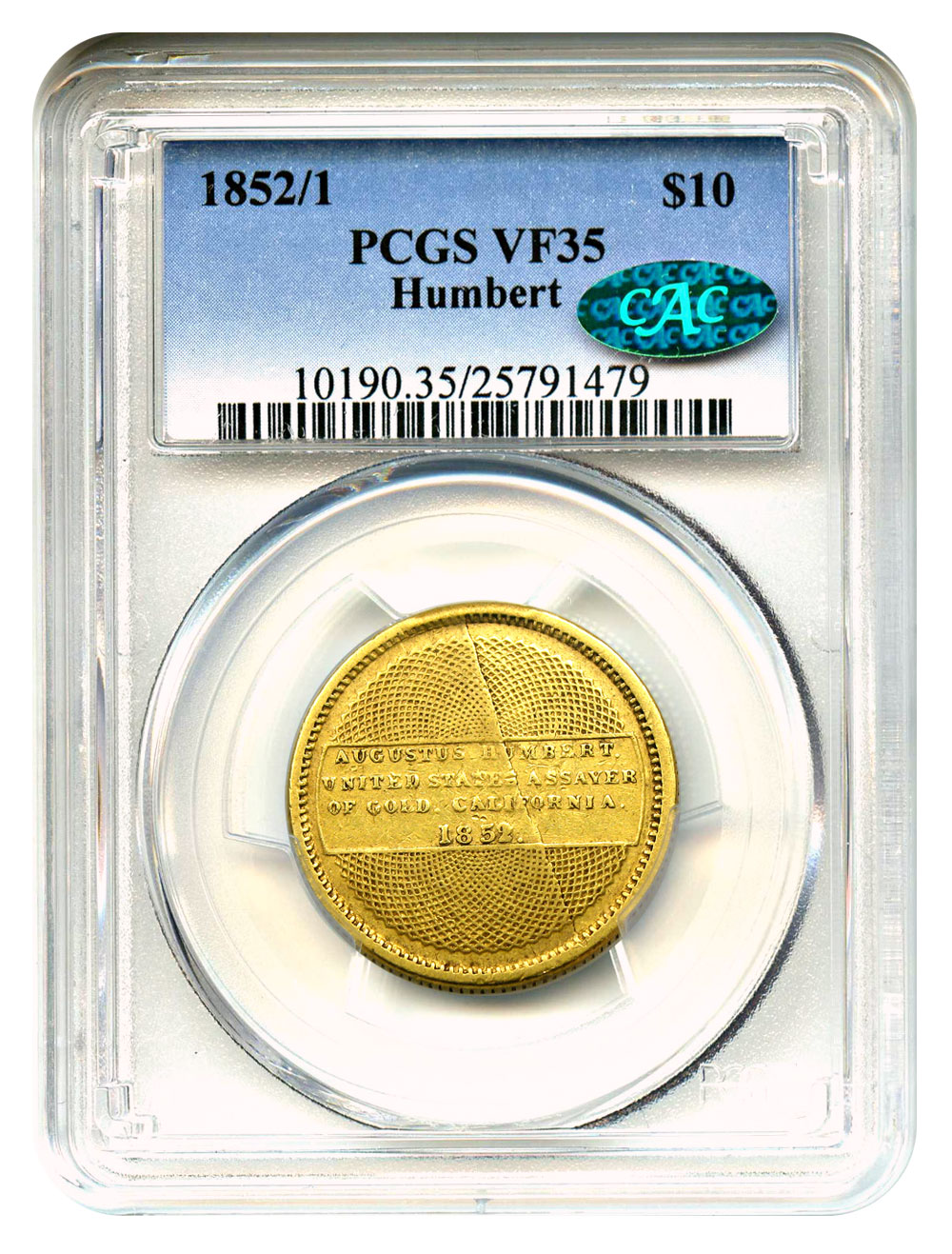 Why we love it: While the California Gold Rush raged from 1849 to 1853, there was no U.S. Mint that was geographically convenient for this newly mined gold to be assayed and produced into coinage. Therefore, a number of establishments were created to fulfill this immediate need. These coins like our Humbert $10 were used profusely and largely reclaimed by the U.S. Mint starting in 1854 when they established their official branch in San Francisco. In addition to its overall rarity, this example is a stunning original specimen with surfaces that have warranted the coveted CAC approval.
Value: Available on the DLRC website for $9,975, we can further discount this historic numismatic item to $9,250 via Make Offer. An offering of these types of Gold Rush items does not occur frequently and even rarer is a high-end example with a CAC sticker. We will not be able to replace this coin for a long, long time.
---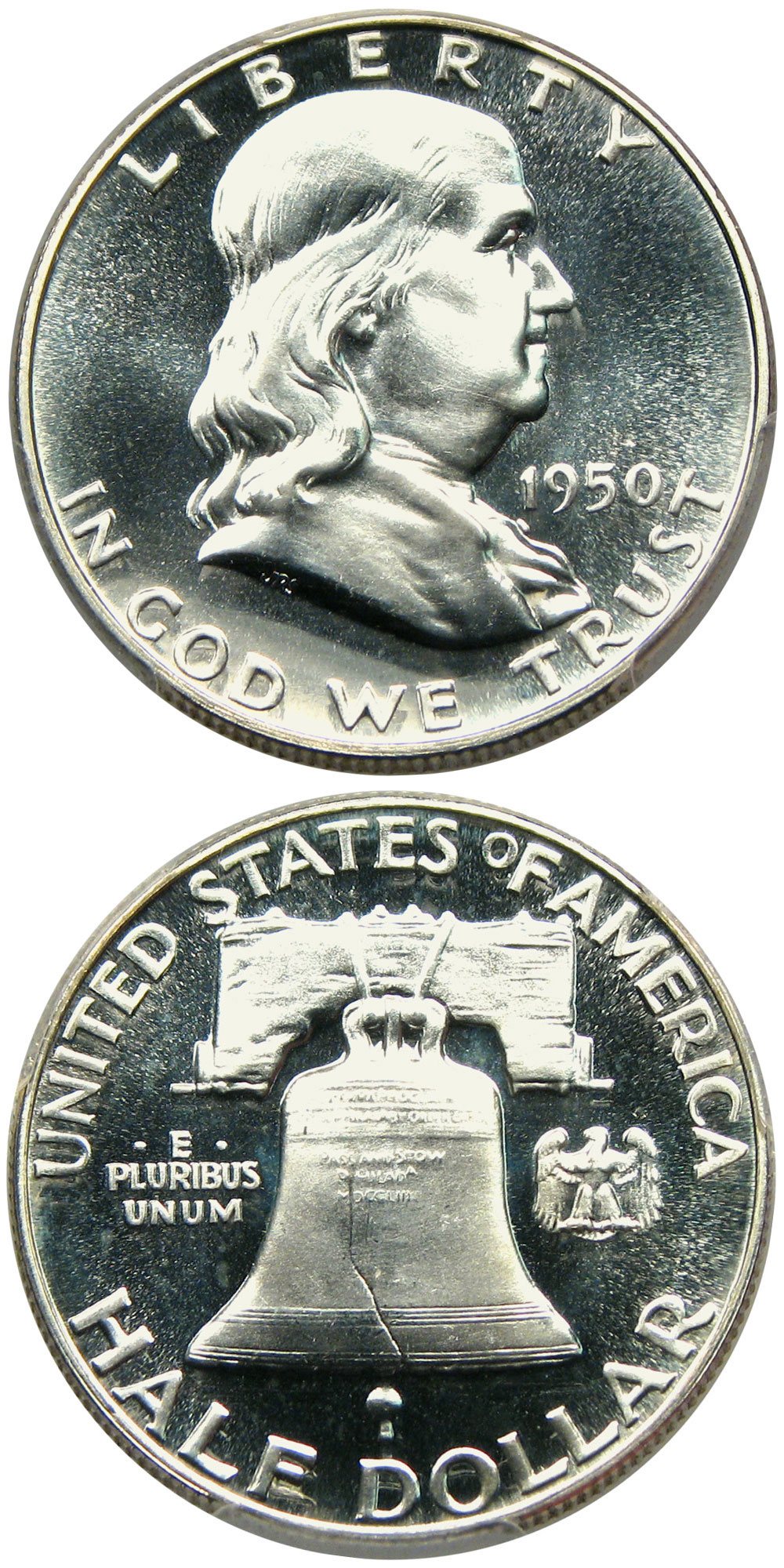 Why we love it: The return of annual proof sets for the numismatic community in 1950 was a milestone for collecting, and the 51,386 mintage for the included Franklin half was a good foundation for availability for collectors. Perhaps because of the new manufacturing process that had not been employed since 1915, the dies were not frequently finished to the extent that was needed to display the frosted "cameo" effect on the coins. This factor, along with the way that the coins were stored in Mylar sleeves, explains why a coin like this is to be recognized as being a superb rarity and delightfully contrasted gem.
Value: One of our favorite years for proof issues in the modern category, this coin stands above other examples that we have seen. Reserved in this week's auction for just $10,750, that's more than 20% less than the PCGS Guide value of $13k. Add in the CAC seal of approval and it's a phenomenal offering at a great value.
---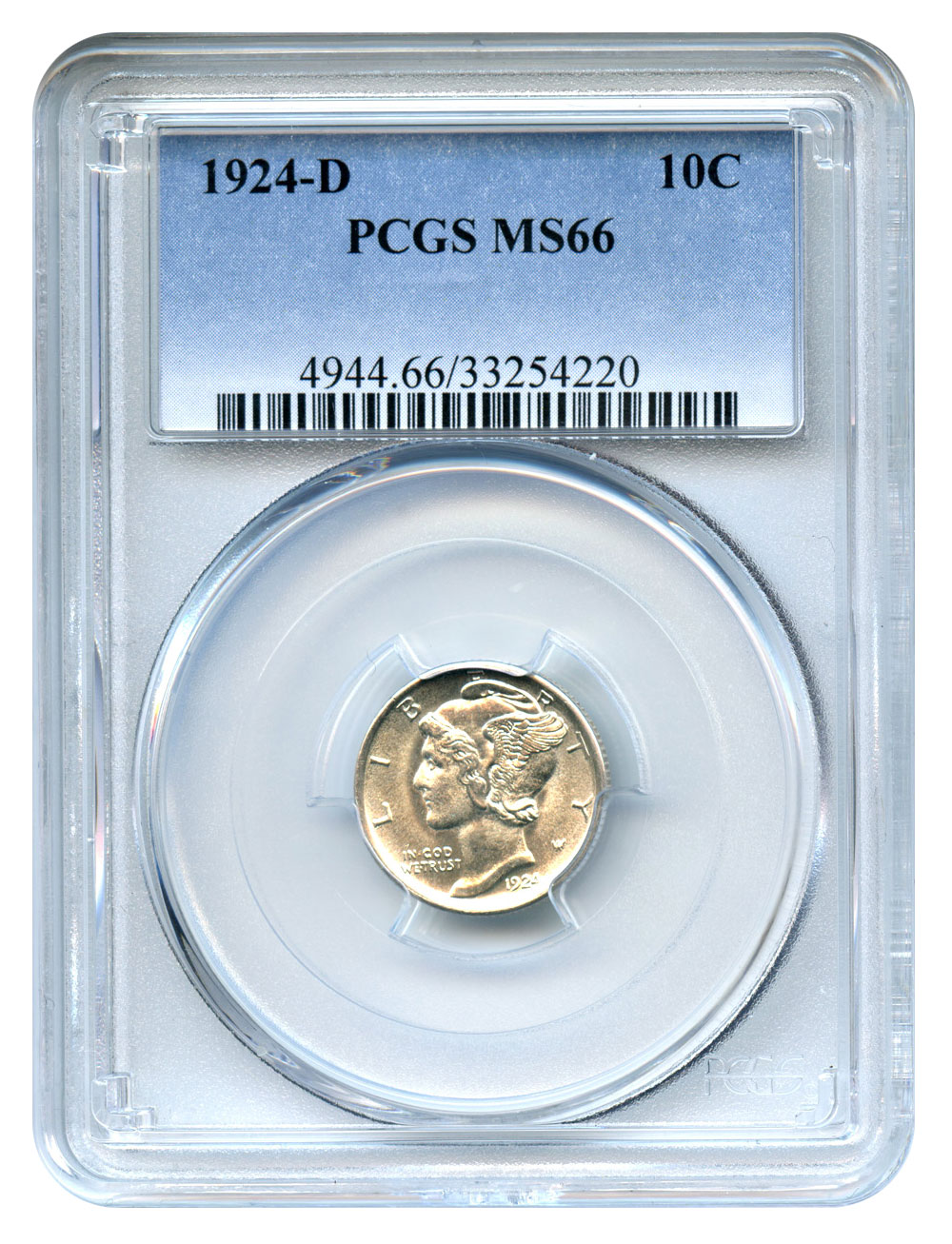 Why we love it: This coin's superb quality has made it one of our favorite Mercury dimes in current inventory. Our example from the 1924 Denver Mint issuance displays that grainy satin luster you see in the earlier years of the type, in addition to a needle sharp strike. It has only the slightest weakness of detail in the split bands on the reverse; otherwise, it would qualify for that designation as well.
Value: We simply love this coin and have seen many coins of this quality with the Full Band designation. Typically available for $1,575, we've discounted this coin in this week's CWL to just $1,375 via Make Offer. With the Bluesheet levels at $1,200, this is an excellent deal in the current marketplace.
---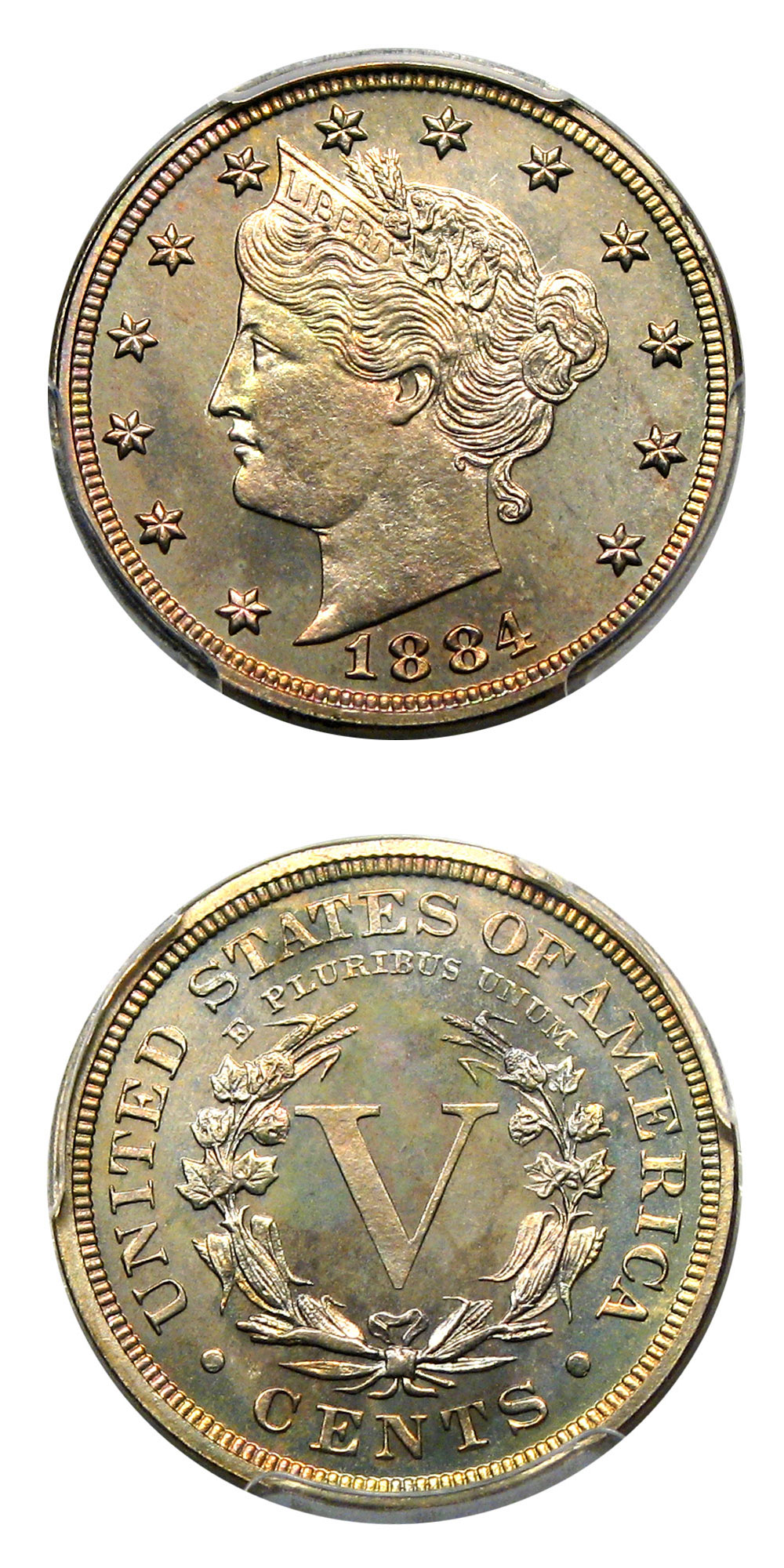 Why we love it: This second year of the type Liberty nickel has all of the right ingredients for a long term play: nicely reflective mirrors for the date, blushes of gorgeous multi-color toning, and CAC approval. Considering that gem type coins like this can be had for considerably less than the $1,000 threshold, it would indicate that now is the time to look at these for their good value.
Value: Available on the DLRC website for $650, we can further discount this beautiful gem to $575 in this week's CWL. A slight premium for the color is certainly deserved for this piece as they rarely come this vibrant.
---
Until next time, thanks for stopping by and sharing some time with us to browse our Coins We Love.