Navigating the DLRC Website
As you know, we revamped our website last year and have been working diligently since the launch to make continued improvements. We appreciate everyone's input on this ongoing process and are very happy with results so far. We wanted to take a minute to point out a few things to make navigation on the new site easier.
The Home Page: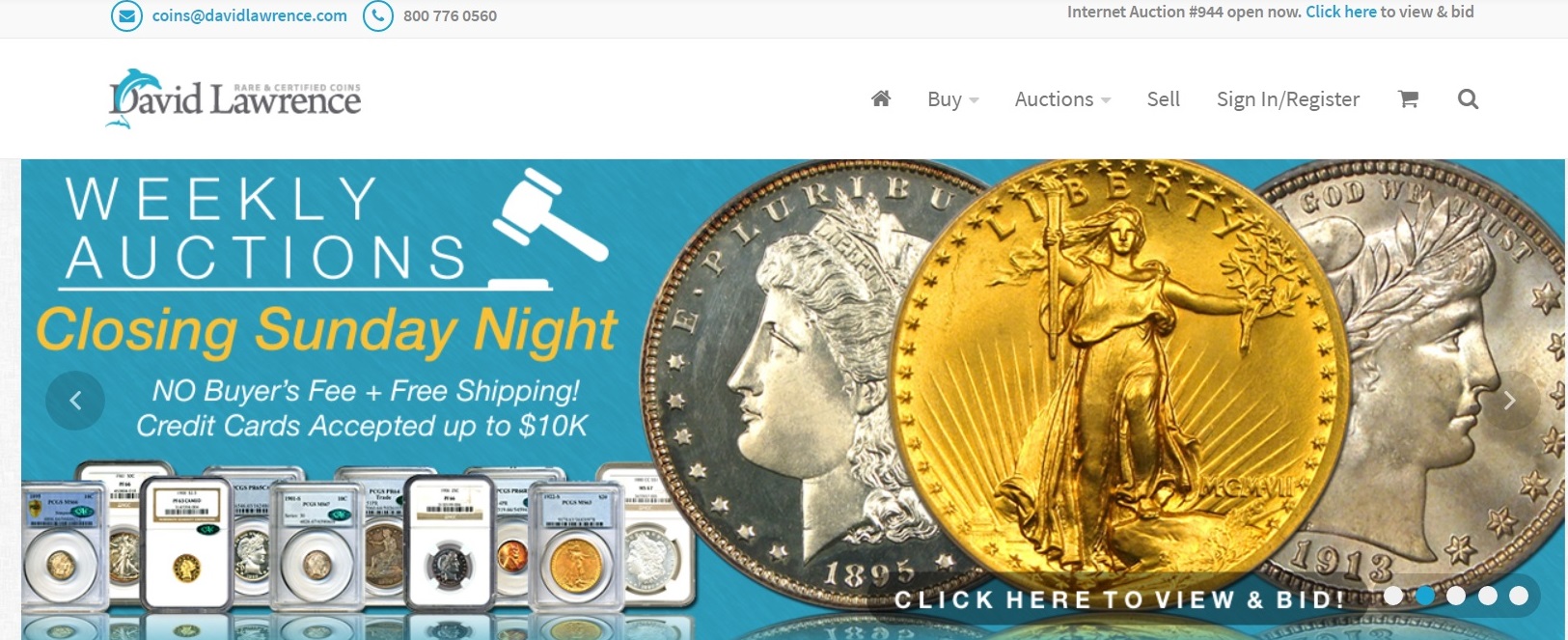 The large rotating banner we call the "Hero Banner," will always have a tile and link to our Weekly Sunday Auctions. Other banners you may see could include Elite Items (coins valued over $25K), Current Featured Collection, Major Numismatic Rarities and various other groups, all found by clicking on the banner itself. The smaller Collections & Popular Searches tiles below are lesser extensions of the top "Hero Banner" but work the same way. These will rotate from time to time as a quick one-click button to get you to specific inventory classifications. If you have a popular search tile you would like to see here, feel free to let us know!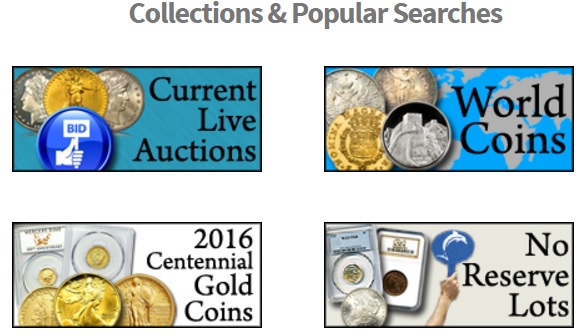 The Menu Bar:

Now, let's look at the menu bar that appears at the top of every page. This is located at the top right and starts off with a Buy tab to view the available inventory by category, i.e. US Classics, Moderns, World Coinage etc. These are global inventory categories that combine both buy it now items and auction items together. The Auctions tab displays all items running in current auctions and has a breakdown of the two current live Sunday auctions individually. The Search function is found by clicking on the magnifying glass icon at the far right of the menu bar. Once clicked on, a search bar will appear, and you can type in a specific date directly over the word "Search..." and the website will bring up specific matches for you.
<img src="/content/images/2017/01/Search-Bar-1.jpg"
Inventory Browse Pages:
Once you have selected your category, for example a specific Auction number, you will see all lots appear and the number of page listings at the bottom. To filter down further to specific coins of interest, we have created pre-set filters on the left side of the page. For instance, you can select Silver Dollars and a Series menu will appear to filter further to the exact type of coins you want to see. Other important filters can be added to your search including price range, grade and grading service preferences.
There are also some viewing options that appear as boxes on the top right of your search results. Here you click to view the coins without or in the holder, or with the coin image and the full description of the item. The Sort by: option to the right of that allows a simple newest to oldest, lowest value to highest and vice versa.
View 1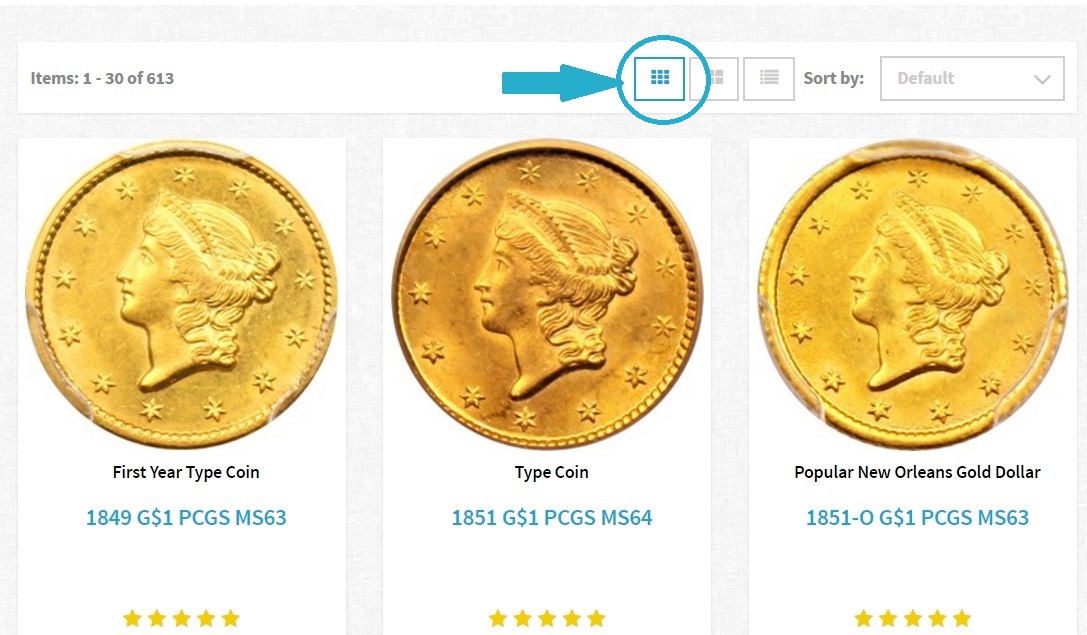 View 2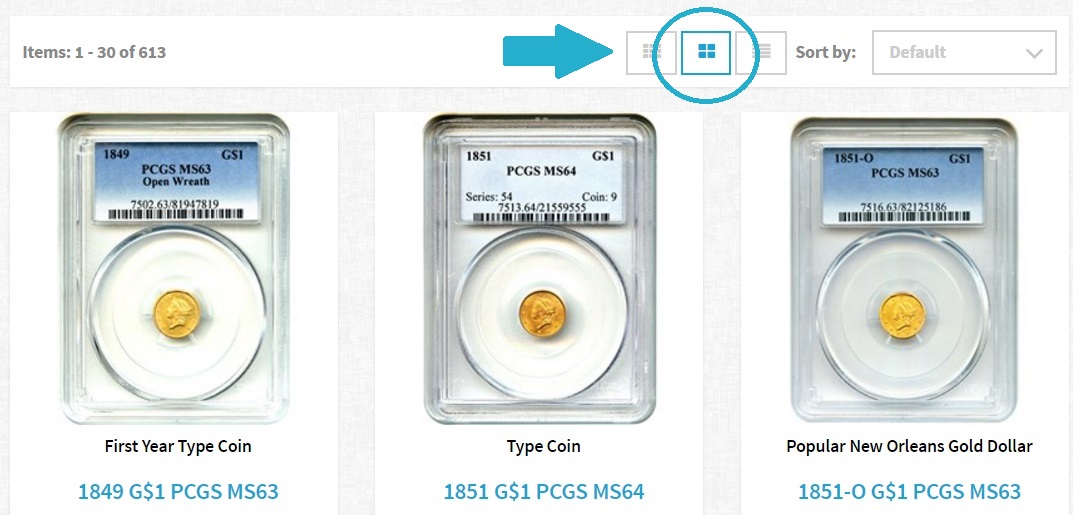 View 3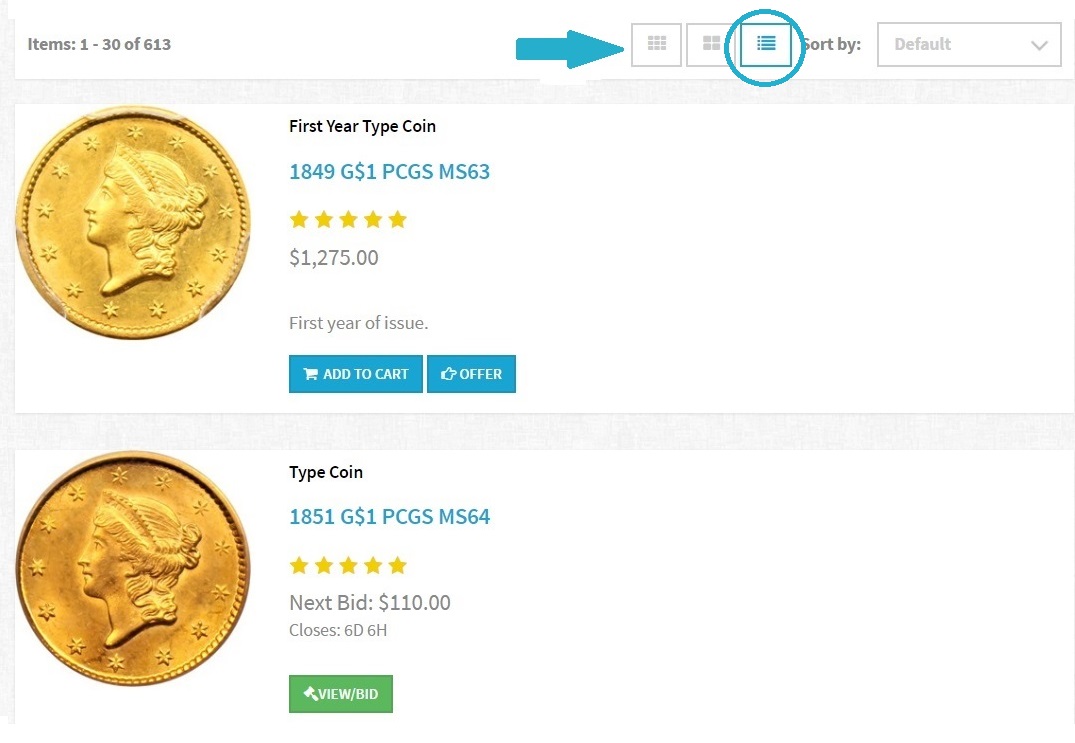 MyDLRC:
After logging into the website using your email address and password, there are some handy tools under the MyDLRC tab to help you keep track of your purchases, offers and bids, as well as a Want List manager and Watched Items feature. Most of these options are quite user friendly, but I wanted to fill you in on how the Watched Item tool works as many visitors do not utilize this fantastic feature. While browsing coins in the inventory, once you click on something of interest, you are taken to a new screen with different viewing options (the 4 round dots under the coin image), a heart icon (Add to Want List) and an eye icon (Watch).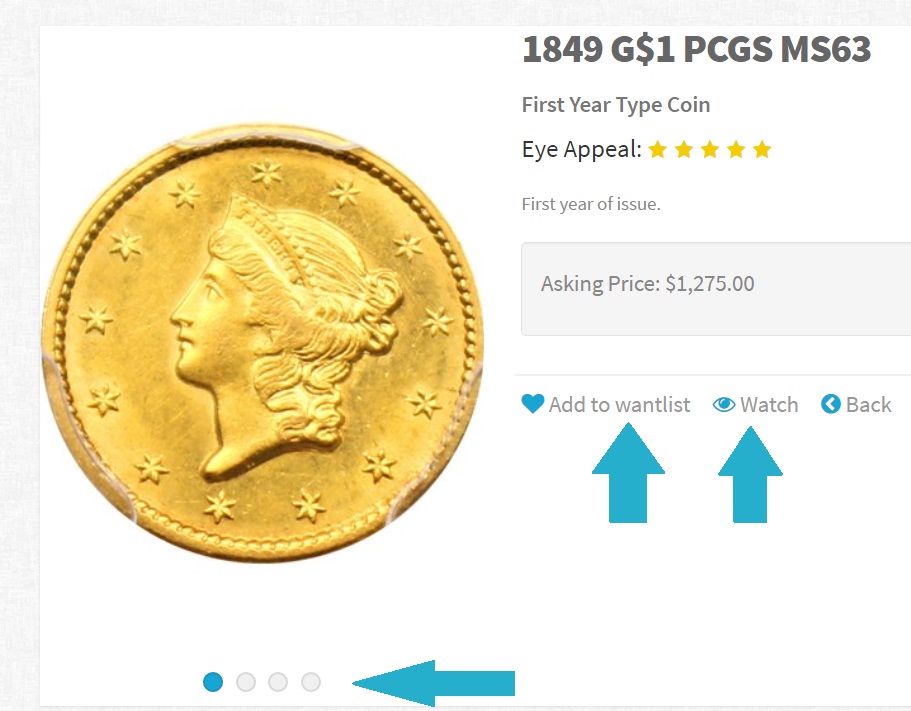 By clicking on the Watch icon, this coin will now appear under the Watched Items tab in your myDLRC for a quick reference each time you log back into your account. By clicking on the heart icon, you are prompted to add that coin to your Want List. You can create a label for this coin, choose the grading service, grade and specific entries that are available for that coin. Once you save these options, you will be notified by email when we get a coin in our inventory that fits your requirements.
Auction Bidding:
Our Sunday Internet Auctions have become a staple of our business model and a facet that everyone should participate in or at least follow on a weekly basis. Here's why: We acquire thousands of certified coins each month and run these items through a weekly auction on our website before placing them up for direct purchase. This gives all our customers an equally fair chance of obtaining the latest and greatest coins, often at below list prices. In fact, our reserve level on each coin is set below what the coin will list on the website for after conclusion of the auction.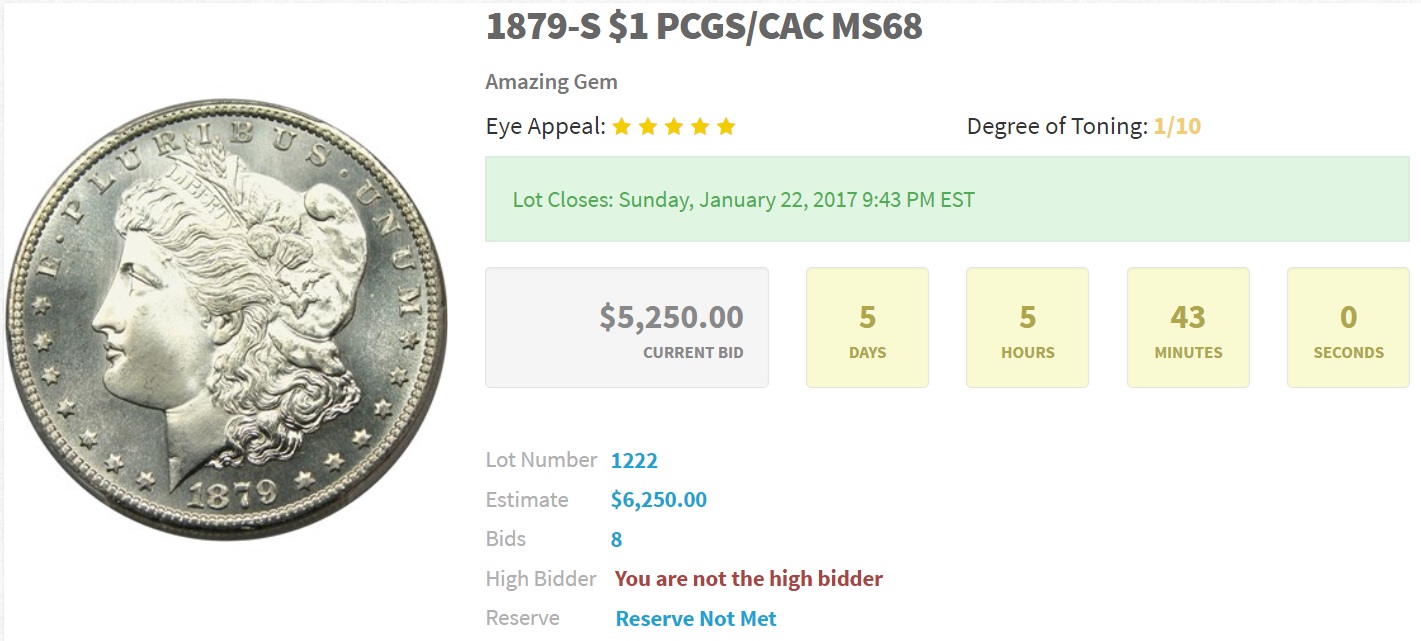 Bidding Tip:
Our system is set up to automatically try to help you win each lot at the lowest increment possible. A good strategy is to figure your top number you are willing to pay for an item and bid it early. Last minute bidding is not advantageous at DLRC. Every time a bid is placed in the final 3 minutes of an auction, 3 additional minutes are added to the item. This prevents buyers from being "sniped" in the final seconds and allows us to give the live auction experience to our bidders. Important Note: During the close of the auction, it is very important to refresh your page for up to date bidding information.
---
We have tried to make our website as intuitive as possible, but with so many facets and features, there will always be some that need more explaining. Keep in mind that we offer website and account support Monday-Friday 9:00-5:00pm EST at (800) 776-0560, and if you have last minute questions over the weekend, we are always available via email at coins@davidlawrence.com if you need assistance or have further questions.
We'll keep you informed of any new changes as they occur.
Until then, Happy Browsing!