New Million Dollar Coin: David Lawrence Sells 1879 Coiled Hair Stella!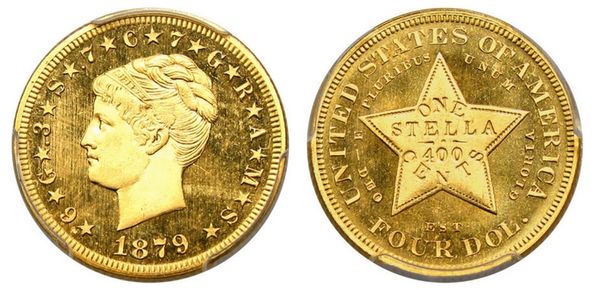 David Lawrence Rare Coins has brokered one of the rarest U.S. gold issues from the 19th Century. Graded by PCGS Proof 66 Cameo, DLRC placed an 1879 Coiled Hair $4 Gold Stella for just over $1,000,000. This transaction solidified the coin as one of the newest members of the PCGS Million Dollar Coin Club. Last sold in January 2014 for $851,875 in public auction, the coin had been held off the market for a few years and was recently acquired on behalf of the collector from a New Jersey dealer.
John Brush, President of David Lawrence, reported, "a valued client and collector that we've had the privilege of working with in recent years contacted us in his search for a Coiled Hair Stella. Thanks to our long-standing relationships with dealers throughout the country, we were able to locate this piece quickly, and we were excited to marry the coin and the collector. All the parties involved were extremely pleased with our efficiency and handling of this transaction."
About the $4 "Stella" Gold Pieces
The $4 Stellas of 1879 and 1880 are technically considered "pattern" coinage, but are treated and collected as regular-issue proof gold pieces. Named "Stella" for the Italian word "star" depicted on the reverse, the coins were originally conceived by John A. Kasson with help from Dr. William Wheeler Hubbell, and were to be used for international trade. However, the coins did not gain public acceptance and the production was halted. There are two varieties: Coiled Hair and Flowing Hair, with Coiled Hair being the rarer of the two. The 1879 Coiled Hair is the second rarest date, behind the 1880, and only twelve examples are known to have been struck.
"In the current marketplace, high end coins of major rarities are becoming increasingly harder to locate," continued Brush. "As collectors and investors once again are returning to collectibles, we've seen record results in many public auctions and in private transactions. So, when collectors let us know their current Want Lists, we work hard to locate special coins such as the Coiled Hair Stella."
This example of the 1879 Coiled Hair Stella can be traced back several generations as it was once part of the fabled Garrett and Buddy Ebsen Collections. A premium gem with well-struck devices, the lightest softness is noticed on some hair strands due to the typical planchet striations. Frosty surfaces with wonderful cameo contrasts and deeply-mirrored fields, the eye-appeal of this piece is nearly unmatched.
About David Lawrence Rare Coins
David Lawrence Rare Coins specializes in certified U.S. coins. Whether you are just starting your collecting journey or you're in the process of putting together one of the top sets of U.S. coins, David Lawrence can certainly help put their service and expertise to work. Please contact us at 800-776-0560 or email coins@davidlawrence.com, and we'll work with you to figure out what we can do to help you and your collection!

David Lawrence Rare Coins, founded in 1979, is an industry leader in the trading and auctioning of U.S. rare coins certified by PCGS, NGC, and CAC.

The company has handled legendary rarities of United States numismatics including two examples of the 1894-S Barber dime, a gem 1876-CC twenty cent piece, the finest known 1901-S Barber quarter, one of the twelve known 1870-S Seated dollars, and the finest certified 1796 No Pole Liberty Cap half cent. They also helped to assemble and sell the Richmond Collection, a group that realized $25 million at their public auction.

DLRC holds weekly internet auctions and offers sellers the options of direct sale or consignment to auction.

DLRC is located in Virginia Beach, VA, and offers products via their website, trade shows, <a href="https://www.amazon.com/Collectible-Coins-David-Lawrence-Rare-LLC/s?ie=UTF8&page=1&rh=n%3A9003130011%2Cp_6%3AA1ET7V2EV7EGK1" style=color:#26aecd">Amazon, and on eBay.