Numismatic Masters Auction #1 Realizes Over 1.7 Million Dollars

The first in our exciting quarterly series, The Numismatic Masters Internet Auctions, featuring offerings from the collection of D.L Hansen, has just ended with tremendous results. We would like to extend our thanks to all those who participated in this auction, making it one of our most successful online events ever. Total sales topped just over 1.7 million on just 302 total lots. Bidding was lively throughout this extended sale and active right until the final minutes of closing. Congratulations to those who won their desired lots!
A few notable coins that sold include:
1916 Standing Liberty 25c PCGS MS66 FH
Realized - $43,250.00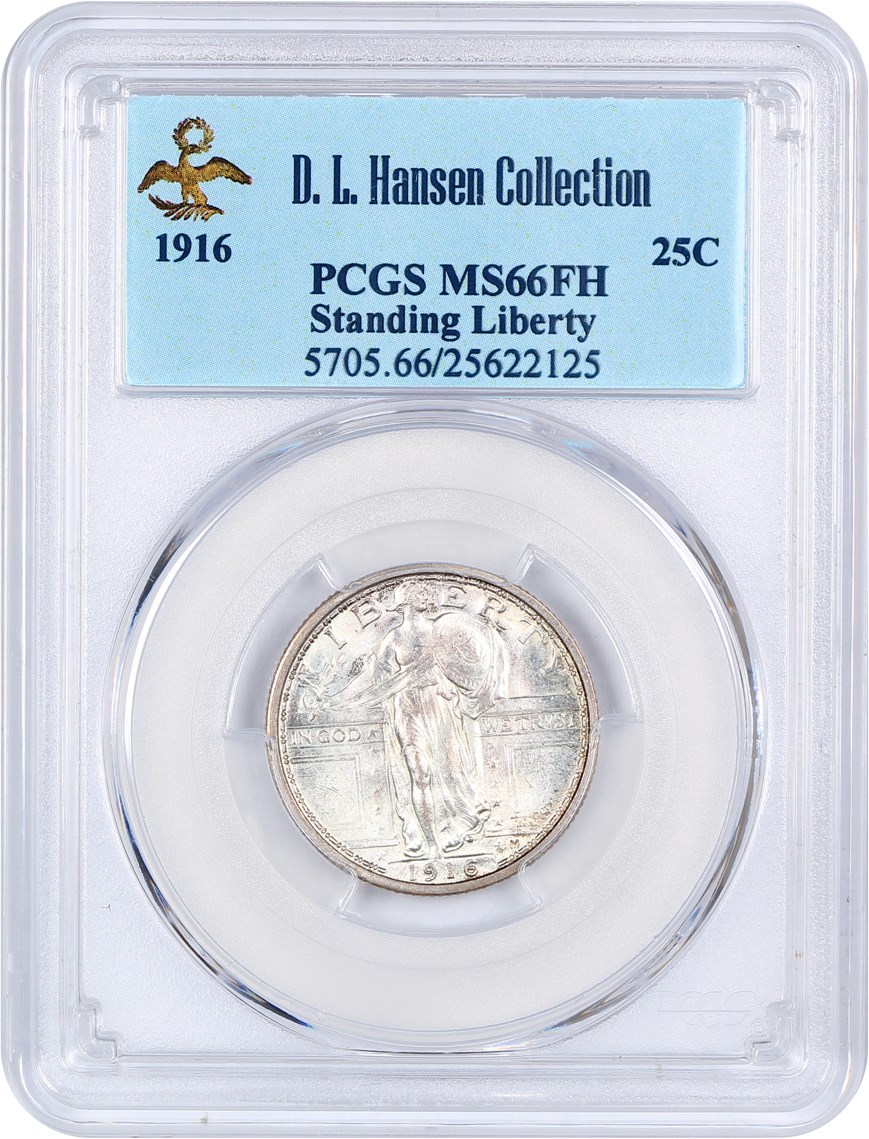 1914 $2 1/2 NGC Proof 67
Realized - $35,500.00

1813 $5 PCGS MS64+
Realized - $64,875.00

1876-S $20 NGC MS65
Realized - $97,300.00

1890 $20 NGC MS66
Realized - $68,750.00

1925-S $20 PCGS MS64+
Realized - $50,000.00

1929 $20 PCGS MS65
Realized - $62,150.00

As always, we continue to run our weekly internet auctions and are gearing up for the second installment of the Numismatic Masters Internet Auctions coming this Summer. We look forward to offering a new group of interesting selections from D.L Hansen's distinguished collection in the near future.
Lot and Price Realized
1834 1/2c NGC/CAC MS65 BN $1,350.00
1856 1c NGC MS65 BN (Slanted 5) $700.00
1983 1c NGC MS68 RD (Doubled Die Reverse, FS-036) $2,250.00
1854 3cS PCGS MS65 $2,150.00
1859 3cS PCGS MS64 $500.00
1861 3cS PCGS/CAC MS64 $675.00
1862 3cS PCGS/CAC MS66 $1,100.00
1871 3cS NGC/CAC MS68 $8,825.00
1865 3cS PCGS/CAC Proof 64 CAM $1,600.00
1868 3cS PCGS Proof 64 $1,250.00
1800 H10c PCGS/CAC AU53 $7,261.00
1803 H10c PCGS/CAC VF35 (Small 8) $9,150.00
1946-D 10c PCGS MS66 FB ex: Omaha Bank Hoard $45.00
1947 10c PCGS MS66 $33.00
1950 10c PCGS MS66 FB $35.00
1950 10c PCGS MS66 FB ex: Omaha Bank Hoard $38.00
1950-D 10c PCGS MS65 (DDR, FS-801, FS-104) $66.00
1950-S 10c PCGS MS65 FB ex: Omaha Bank Hoard $60.00
1951-D 10c PCGS MS66 FB ex: Omaha Bank Hoard $36.00
1951-D 10c PCGS MS66 FB ex: Omaha Bank Hoard $42.00
1953-D 10c PCGS MS66 FB $30.00
1954 10c PCGS MS66 FB $40.00
1954-D 10c PCGS MS66 FB $35.00
1954-D 10c PCGS MS67 FB $95.00
1954-S 10c PCGS MS66 FB $50.00
1955 10c PCGS MS66 FB $105.00
1957-D 10c PCGS MS66 FB ex: Omaha Bank Hoard $35.00
1959 10c PCGS MS66 FB $35.00
1959-D 10c PCGS MS67 FB $39.00
1959-D 10c PCGS MS67 FB $70.00
1957 10c NGC Proof 69 CAM $280.00
1875 20c PCGS MS65 $4,150.00
1875-S 20c PCGS MS65 $1,950.00
1815 25c NGC MS61 (B-1, E Stamp) $3,400.00
1882 25c NGC MS67 $2,950.00
1916 Standing Liberty 25c PCGS MS66 FH $43,250.00
1917 Type 1 25c PCGS MS67 FH $2,450.00
1917-D Type 1 25c PCGS MS66 FH $1,300.00
1918/7-S 25c PCGS MS63 $21,625.00
1919-S 25c PCGS MS63 FH $6,756.00
1920-D 25c PCGS MS66 $2,505.00
1920-S 25c PCGS MS62 $435.00
1921 25c PCGS/CAC MS65+ FH $7,300.00
1923-S 25c PCGS/CAC MS66 FH $14,750.00
1924 25c PCGS MS66+ FH $3,025.00
1924-D 25c PCGS/CAC MS66 $575.00
1927 25c PCGS MS66 FH $1,775.00
1927-D 25c PCGS/CAC MS65+ FH $2,350.00
1928-S 25c PCGS MS66 FH $1,250.00
1952-D 25c NGC MS67 Star $1,085.00
1912-S 50c NGC MS67 $9,200.00
1905 50c NGC Proof 67 $3,650.00
1942 50c NGC Proof 68 Star $2,935.00
1798 $1 ANACS XF40 (Large Eagle) $1,800.00
1798 $1 ANACS AU50 (Large Eagle) $2,505.00
1798 $1 NGC AU55 (Large Eagle) $5,665.00
1799/8 $1 NGC AU58 (15 Stars Reverse, B-3, BB-141) $8,900.00
1842 $1 NGC MS62 (OH) $1,850.00
1873 Trade$ ANACS MS61 $775.00
1874 Trade$ PCGS Proof 63 CAM $2,303.00
1883 Trade$ PCGS Proof 63 $2,450.00
1883 Trade$ PCGS/CAC Proof 64 $3,300.00
1887 $1 NGC MS66 $220.00
1897-S $1 NGC MS66 PL $1,425.00
1898-O $1 NGC/CAC MS66 $280.00
1849 G$1 PCGS MS63 (Closed Wreath) $975.00
1851 G$1 NGC MS64 $625.00
<a href="https://www.davidlawrence.com/rare-coin/1347691 1852 G$1 PCGS MS64 $650.00
1853-O G$1 PCGS MS64 $2,165.00
1854 G$1 PCGS MS64 (Type 2) $6,507.00
1862 G$1 PCGS MS65 $1,575.00
1870 G$1 PCGS MS63 $1,515.00
1874 G$1 NGC MS63 $435.00
1882 G$1 PCGS/CAC MS63 $695.00
1882 G$1 PCGS MS65 $1,185.00
1883 G$1 PCGS MS67 $2,850.00
1884 G$1 PCGS/CAC MS65 $1,400.00
1888 G$1 PCGS/CAC MS65 $975.00
1888 G$1 PCGS MS65 $865.00
1889 G$1 PCGS/CAC MS65 $975.00
1889 G$1 PCGS MS67 $2,525.00
1882 G$1 PCGS Proof 65 DCAM $9,200.00
1886 G$1 PCGS Proof 65 CAM $8,400.00
1887 G$1 PCGS/CAC Proof 63 CAM $4,150.00
1888 G$1 PCGS/CAC Proof 65+ DCAM $12,250.00
1804 $2 1/2 PCGS MS61 (14 Star Reverse) $29,200.00
1835 $2 1/2 PCGS AU53 $1,085.00
1838 $2 1/2 PCGS MS61 $3,335.00
1839 $2 1/2 NGC AU58 $4,122.00
1839 $2 1/2 PCGS/CAC AU58 $7,255.00
1843-D $2 1/2 PCGS AU58 $3,935.00
1853 $2 1/2 PCGS MS63 $700.00
1853 $2 1/2 PCGS/CAC MS64 $1,750.00
1856 $2 1/2 PCGS MS63 $1,025.00
1857-S $2 1/2 PCGS AU53 $975.00
1860 $2 1/2 PCGS MS62 (New Reverse) $1,715.00
1861 $2 1/2 PCGS MS64 (New Reverse) $2,150.00
1866-S $2 1/2 PCGS VF30 $435.00
1867-S $2 1/2 PCGS/CAC XF45 $800.00
1873 $2 1/2 PCGS MS64 (Closed 3) $1,200.00
1878 $2 1/2 PCGS MS63 $500.00
1878 $2 1/2 PCGS MS65 $1,625.00
1878-S $2 1/2 PCGS MS62 $625.00
1882 $2 1/2 PCGS AU58 $915.00
1885 $2 1/2 PCGS AU58 $4,100.00
1888 $2 1/2 PCGS MS63 $725.00
1896 $2 1/2 PCGS MS66 $3,075.00
1897 $2 1/2 PCGS/CAC MS63 $590.00
1897 $2 1/2 PCGS/CAC MS64 $785.00
1897 $2 1/2 PCGS MS65+ $1,625.00
1899 $2 1/2 PCGS MS65 $1,350.00
1903 $2 1/2 PCGS/CAC MS65 $815.00
1903 $2 1/2 PCGS/CAC MS67 $3,650.00
1904 $2 1/2 PCGS MS65 $815.00
1905 $2 1/2 PCGS MS65 $815.00
1905 $2 1/2 PCGS/CAC MS66+ $1,800.00
1905 $2 1/2 PCGS/CAC MS66 $1,300.00
1906 $2 1/2 PCGS MS66 $975.00
1906 $2 1/2 PCGS MS67 $2,150.00
1907 $2 1/2 PCGS MS66 $1,025.00
1912 $2 1/2 PCGS/CAC MS64+ $2,200.00
1914-D $2 1/2 PCGS MS64+ $2,277.00
1927 $2 1/2 NGC MS62 $425.00
1927 $2 1/2 NGC MS63 $465.00
1914 $2 1/2 NGC Proof 67 $35,500.00
1854 $3 PCGS MS65 $11,325.00
1855 $3 PCGS MS62 $2,165.00
1855 $3 PCGS MS63 $3,455.00
1870 $3 PCGS MS62 $7,750.00
1873 $3 PCGS MS62 (Closed 3) $28,055.00
1878 $3 PCGS/CAC MS64+ $4,625.00
1880 $3 PCGS MS65 $14,305.00
1885 $3 PCGS AU58 $4,112.00
1888 $3 PCGS/CAC MS64+ $5,005.00
1889 $3 PCGS MS65+ $10,650.00
1876 $3 NGC Proof 66+ UCAM ex: Simpson $195,000.00
1886 $3 PCGS Proof 53 $4,000.00
1798 Large Eagle $5 PCGS VF35 $6,800.00
1802/1 $5 PCGS AU58 $9,750.00
1804 $5 PCGS/CAC AU55 (Small 8) $12,650.00
1804 $5 PCGS AU53 (Small/Large 8) $9,500.00
1805 $5 PCGS/CAC AU58 $16,250.00
1808 $5 PCGS MS62 $12,150.00
1809/8 $5 PCGS MS61 $10,450.00
1812 $5 PCGS/CAC MS63 $22,250.00
1813 $5 PCGS MS64+ $64,875.00
1823 $5 PCGS AU55 $17,750.00
1830 $5 PCGS AU58 $48,650.00
1837 $5 PCGS AU58 $3,250.00
1838-C $5 PCGS/CAC XF40 $10,500.00
1847 $5 PCGS/CAC VF35 $525.00
1852-D $5 PCGS AU53 $2,805.00
1856-C $5 PCGS AU58 $4,975.00
1870 $5 NGC MS61 $13,250.00
1880 $5 PCGS MS63 $460.00
1880 $5 PCGS MS64 $650.00
1881 $5 PCGS/CAC MS63 $475.00
1881 $5 PCGS MS65 $1,475.00
1881 $5 PCGS MS65 $1,475.00
1881-S $5 PCGS MS63+ $525.00
1883 $5 PCGS MS63 $975.00
1891-CC $5 PCGS MS61 $1,950.00
1892 $5 PCGS MS64 $1,100.00
1893 $5 NGC MS65 $1,415.00
1893 $5 NGC MS65 $1,465.00
1894 $5 PCGS/CAC MS63 $575.00
1894-O $5 PCGS/CAC AU58 $1,015.00
1897 $5 PCGS MS65 $1,515.00
1897 $5 PCGS MS65 $1,515.00
1899 $5 NGC MS63 $455.00
1901 $5 PCGS/CAC MS64 $700.00
1901 $5 NGC MS66+ $4,000.00
1901-S $5 PCGS MS64+ $735.00
1901-S $5 PCGS MS65 $1,465.00
1905 $5 PCGS/CAC MS63$505.00
1906-S $5 PCGS MS63 $600.00
1871 $5 NGC Proof 53 $11,750.00
1908-D $5 PCGS MS63 $975.00
1909-O $5 PCGS/CAC AU55 $15,650.00
1912 $5 PCGS MS63 $860.00
1912-S $5 PCGS MS61 $1,775.00
1797 Large Eagle $10 PCGS/CAC AU50 $32,450.00
1801 $10 PCGS AU50 $12,950.00
1865-S $10 ANACS XF45 (865/ Inverted 186) $5,250.00
1876 $10 PCGS VF35 $8,750.00
1882 $10 PCGS MS63 $735.00
1882-CC $10 PCGS XF45 $3,800.00
1892 $10 PCGS MS63 $750.00
1893 $10 PCGS MS63+ $765.00
1899-S $10 NGC MS65 $7,000.00
1901-O $10 PCGS MS63 $2,956.00
1902-S $10 PCGS/CAC MS63+ $875.00
1907 $10 PCGS/CAC MS65 (No Motto) $8,555.00
1908 $10 PCGS MS63 (With Motto) $1,100.00
1909-S $10 PCGS MS62 $1,850.00
1910 $10 PCGS MS65+ $5,750.00
1911 $10 NGC MS62 $830.00
1912 $10 PCGS MS65 $6,200.00
1912-S $10 PCGS/CAC MS64+ $11,900.00
1913 $10 PCGS MS64 $1,475.00
1915 $10 PCGS/CAC MS64 $2,900.00
1926 $10 NGC MS63 $825.00
1932 $10 PCGS MS65+ $2,675.00
1850 $20 PCGS MS61 $21,500.00
1866-S $20 PCGS MS62 (Motto) $33,950.00
1867 $20 PCGS MS61 ex: Bass/AWA $5,950.00
1869 $20 PCGS MS63 $35,055.00
1875-CC $20 PCGS MS62 $16,750.00
1876-S $20 NGC MS65 $97,300.00
1878-S $20 PCGS/CAC MS62 $5,500.00
1888-S $20 NGC MS65 $29,750.00
1890 $20 NGC MS66 $68,750.00
1895 $20 PCGS/CAC MS64 $3,550.00
1896-S $20 PCGS MS63 $1,685.00
1897 $20 PCGS MS63 $1,575.00
1898 $20 PCGS MS64 ex: AWA $8,756.00
1898 $20 PCGS MS64 $8,115.00
1899 $20 PCGS/CAC MS64 $1,950.00
1899 $20 PCGS/CAC MS64+ $2,265.00
1900 $20 PCGS MS63 $1,475.00
1903 $20 PCGS/CAC MS64 $1,850.00
1907 High Relief $20 PCGS MS65+ (Wire Edge) $43,250.00
1907 Saint Gaudens $20 PCGS MS64 (OGH) $1,950.00
1908 $20 PCGS MS65 (No Motto) $1,675.00
1908-D $20 PCGS MS65 (No Motto) $4,975.00
1908-D $20 PCGS MS66 (No Motto) $19,500.00
1908-D $20 PCGS MS65 (Motto) $3,125.00
1909-S $20 PCGS MS64 $2,100.00
<a href="https://www.davidlawrence.com/rare-coin/1347240 1910-S $20 Raw (ACCGS Holder) $1,300.00
1911 $20 PCGS MS65 $13,000.00
1911-S $20 PCGS MS65 $2,600.00
1913-D $20 PCGS MS65 $3,900.00
1914 $20 PCGS MS64+ $4,325.00
1915-S $20 PCGS/CAC MS65 $2,215.00
1915-S $20 PCGS MS65 $1,950.00
1922-S $20 PCGS MS64 $4,802.00
1925 $20 PCGS MS66 $2,250.00
1925-S $20 PCGS MS64+ $50,000.00
1929 $20 PCGS MS65 $62,150.00
Total: $1,701,861.00