Panama-Pacific Commemoratives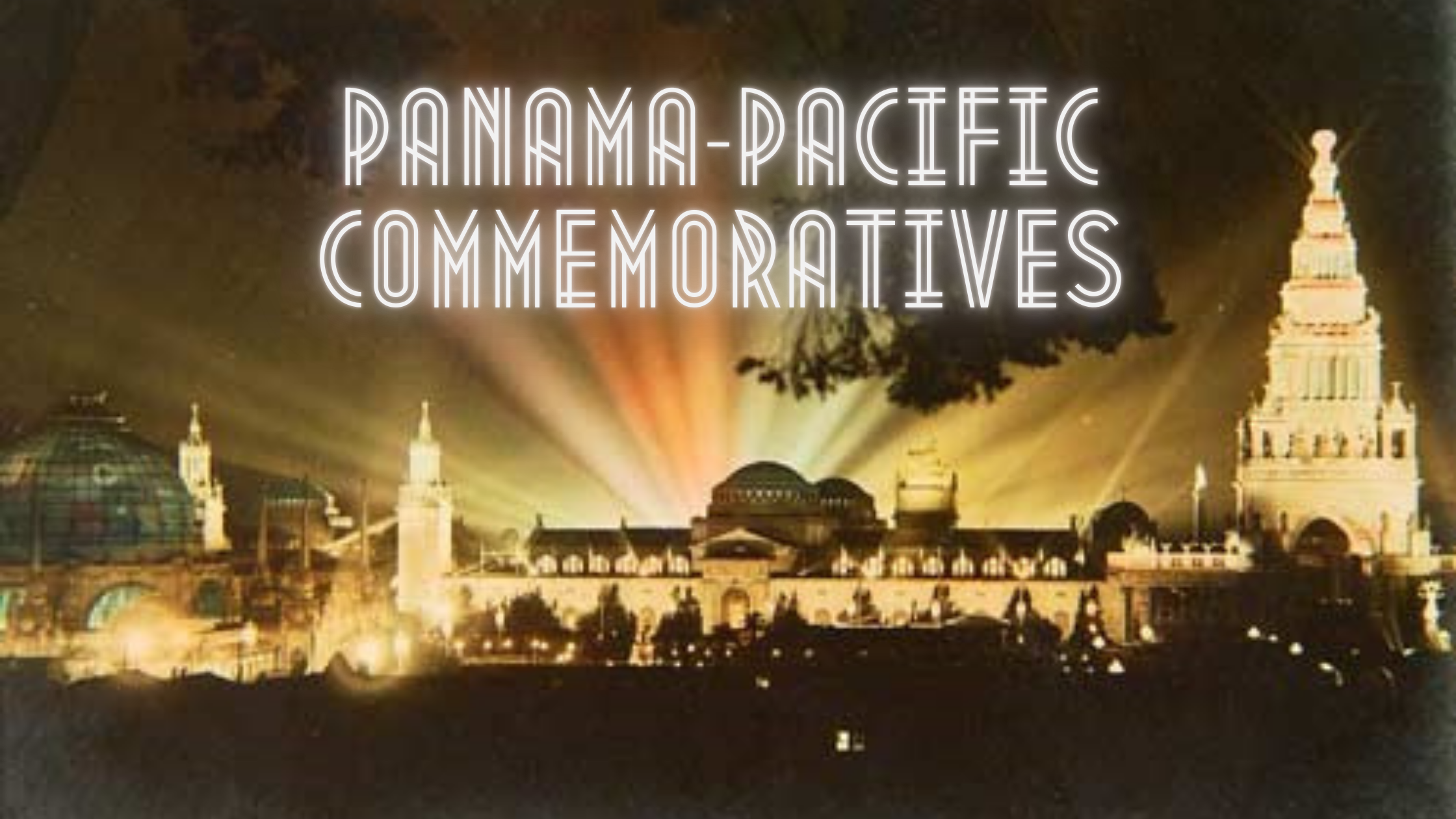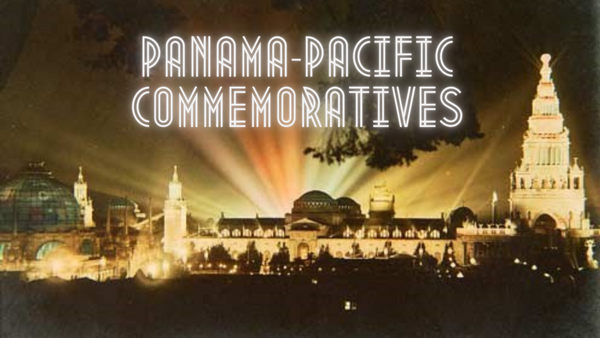 1915 was an exciting year for the United States. The Panama Pacific International Exposition was held in San Francisco to celebrate the opening of the Panama Canal, a project begun back in the 1880s by French engineers and finally finished by the US in 1914. For the time, the grandeur of the fair was unparalleled, with 31 nations contributing to the celebration by building exhibit halls on over 630 acres of bayfront marsh.
Showcasing breakthroughs in technology and communication, the fair displayed the newest in cars, airplanes, telephones, movies, manufacturing, and agricultural equipment. Fair-goers could visit Henry Ford's fully functional Model T assembly line or go outside to watch pilot Lincoln Beachy perform stunts in his plane.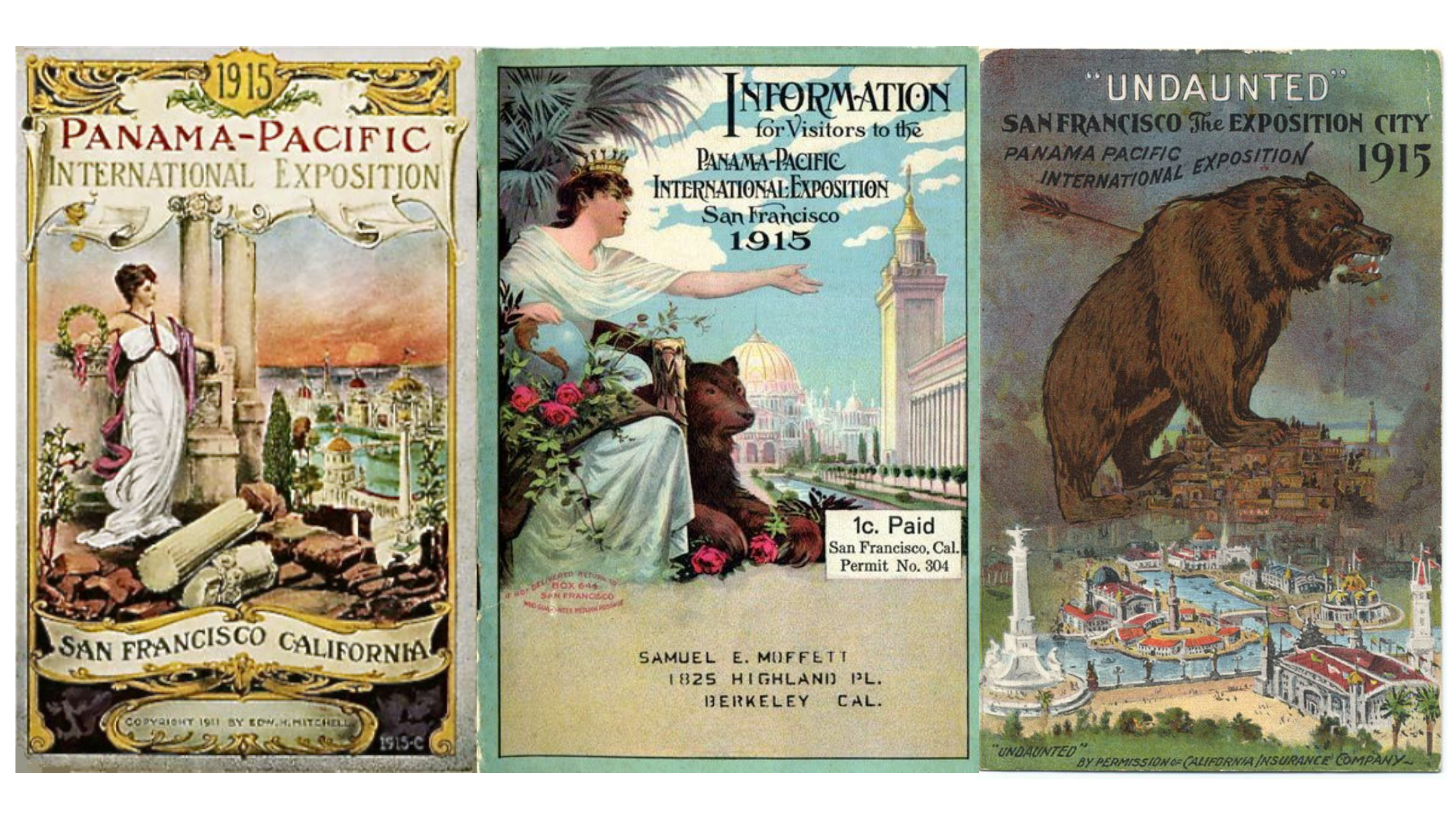 Cultural and fine arts exhibits allowed attendees to walk through replicas of famous places like the Greek Parthenon and of course, the Panama Canal. As just a small part of this incredible exposition - which drew over 19,000,000 attendees and raised millions of dollars for the city of San Francisco - a special set of commemorative coins were offered for sale.
A far cry from the clad half dollar, silver dollar, and $5 gold sets that we're used to now, the Panama Pacific commemoratives included a half dollar, gold dollar, quarter eagle, and two different $50 gold pieces. While all of these pieces are regarded as beautifully designed and fairly scarce among the classic commemorative series, the two $50 pieces are by far the jewels of this set.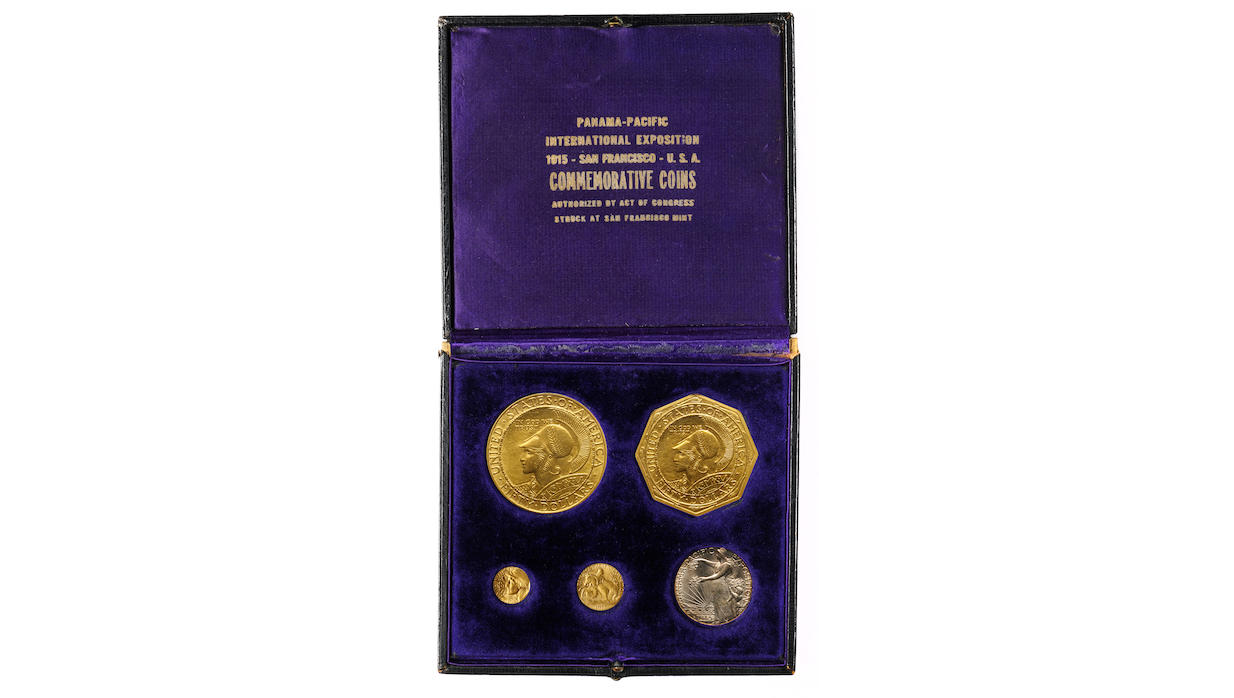 Two different shapes were issued, one round and one octagonal.  Unsurprisingly, the octagonal pieces proved a bit more popular due to their uniqueness. They were designed as a throwback to the unofficial octagonal "slugs" issued during the California Gold Rush of the mid-1800s. To this day they remain the only non-round coin officially issued by the US Mint.
Both versions of the $50 "quintuple eagle" were offered for sale for $100; equivalent to over $2,500 today. Few collectors could afford these giant pieces so not many were sold. Those that weren't sold were melted down, resulting in only 483 round pieces and 645 octagonal pieces that escaped the melting pots. Of those, PCGS estimates that a mere 362 and 512 have survived, respectively.
Today, both are highly desirable pieces of numismatic history. They mark an important moment in American history but are also the highest denomination coin issued by the US Mint aside from modern bullion issues. Thankfully, because of their upfront cost and obvious collectability, very few Pan-Pac $50s went into circulation, meaning that most surviving pieces are in Mint State. Despite this, very few gem examples have survived.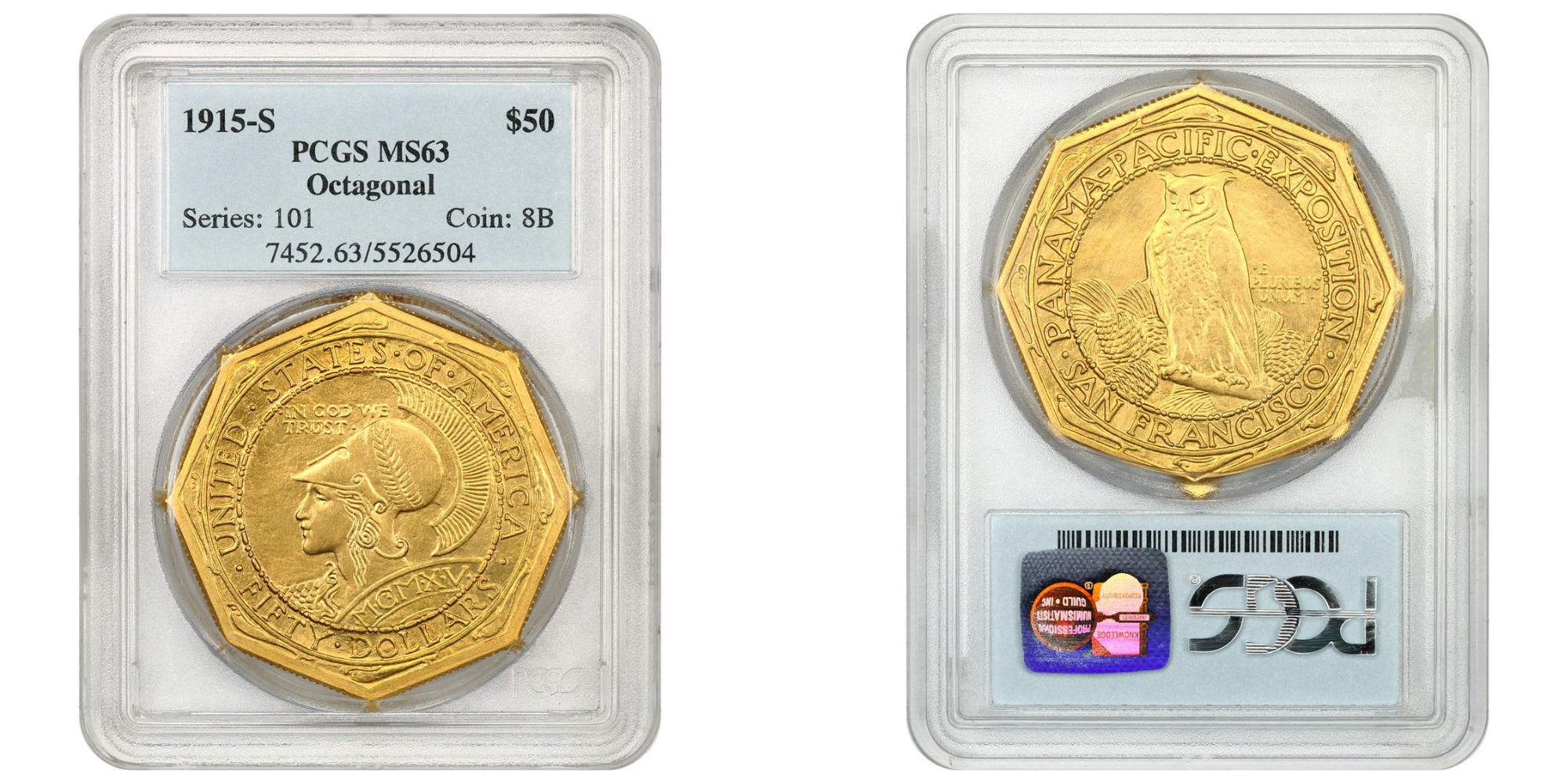 We're excited to offer a gorgeous 1915-S Panama-Pacific Octagonal $50 PCGS MS63 in this week's auction. This beauty is an even yellow-gold with plenty of luster. Well struck and beautifully preserved, any serious collector of commemoratives needs one of these in their collection. Don't miss out while it's available!
Questions, comments, or feedback on this article are welcome! Feel free to send us an email at coins@davidlawrence.com. We look forward to hearing from you!