Coins We Love: Carolina Creek Edition - August 18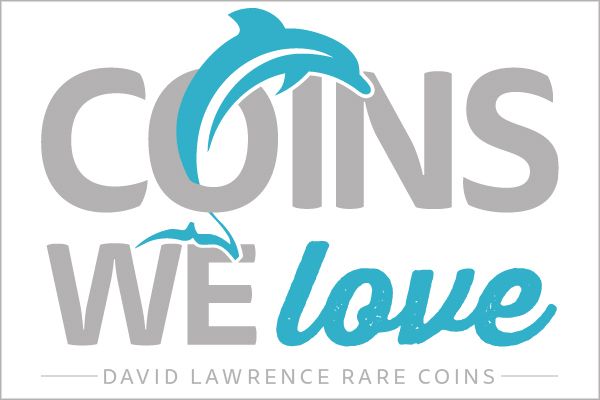 We've been busy digesting all of our new purchases from the recently completed ANA show. As we mentioned in our blog from this past week, the ANA show was a fantastic buying show for us at DLRC, and we were very pleased with what we were able to send home. In addition, we had the privilege to chat with some of our long-time and new friends and customers over the 9 days and came back with some new ideas for DLRC.

As we continue to recover from the marathon, we also want to highlight this week's Auction offering of the Carolina Creek Collection Part 1. Ending this Sunday evening beginning at 8pm, there are absolutely no guarantees or reserves on this auction, and we hope that you'll find some coins there that are of interest. As we've mentioned, we're pleased to offer long-term layaway options of up to 120 days with zero interest. All we ask is that you let us know in advance of the auction of your plan to use this option. You can reach us via email at coins@davidlawrence.com or give us a call at 800-776-0560.
Please enjoy the offerings and our comments below as we are honored to share with you a few more "Coins We Love"!
Sincerely,
John Brush and Your Friends at DLRC
---
Why we love it: The Walking Liberty half dollars from 1918 through 1923 are all scarce coins in uncirculated condition. Because of the striking differences from the time period, true gem examples are rare to find because of Liberty's leg picking up light friction and contact marks, an attribute commonly found on coins that grade as high as MS64. The Carolina Creek example is a shocking MS66 and is a glorious gem that escaped any rigors of circulation. It then acquired a perfect patina in shades of green, red, and orange that gracefully covers its lustrous and mark free surfaces. For the connoisseur of the series, this is the coin to own.
Value: With only a single example graded finer, we love the value that this piece offers. Offered with No Reserve once again, we expect this coin to surpass the $10,000 PCGS Price Guide value as it seems very conservatively evaluated at this time.
---
Why we love it: Affordable Capped Bust, Heraldic Eagle $10 offerings are few and far between. This particular piece is fresh to the market and has evenly worn, wholesome surfaces and is the perfect piece for a beginning type set of early gold.
Value: Available this week for $10,500 via Make Offer, we think that this offering is a great opportunity for the value-conscious collector/investor.
---
Why we love it: The Indian cents from 1889 are rarely found in full Red designation today, evidenced by the less than 300 coins certified in Red out of an original mintage of 48,866,025. The Carolina Creek example is a blazing gem with incredibly clean surfaces that are made even more appealing with the rich satin luster. PCGS has graded 10 examples in MS66RD with none finer, making this a tied for finest known coin destined for the top registry sets.
Value: It's nearly impossible to value this coin, but our point of references are a $14,000 PCGS Price Guide Value and recent auction records between $10,000-$17,000. One of our favorite denominations that we rarely see in gem grades, we expect this coin to reach 5-figures.
---
Why we love it: The Carolina Creek specimen of the 1910 Barber quarter is nothing less than an exquisite, near perfect gem. A light, original patina provides a certain gloss over the coin that is only found on coins that were expertly preserved over many years. The fields that are usually the first areas to betray contact marks are refreshingly clean and lustrous, and its strike is superb as expected for the grade. For the date, the coin is tied for finest known with two other examples. This is the coin for the discriminating Barber collector or type coin enthusiast.
Value: In our opinion, though it is a type coin, this piece is a great value for the discriminating collector. Where else are you going to find a coin that is tied for Finest Known for under $10,000? A great opportunity with a conservative PCGS value of $4,750.
---
Why we love it: 1904-S has been long recognized as the key date of the Barber series in any grade higher than Very Fine. From an already small mintage of 553,038 coins, the population numbers confirm that virtually every coin immediately entered circulation, and less than sixty coins have been certified in all grades of uncirculated. This gem is one of six examples total in MS65 between both PCGS and NGC, and it is surpassed only by seven other coins. For the gem Barber half collector, this is the opportunity to acquire this incredible condition rarity.
Value: It's been four years since we placed this piece with Mr. Carolina Creek and we were thrilled to be able to do so as we loved the coin then. There has not been another example of this quality and grade offered since June of 2014 in public auction, and we expect that this piece will certainly bring about much attention as it is truly a rare offering that should be appreciated.
---
Why we love it: Until recently, the 1886 was often over-shadowed by the 1912-S issue in the Liberty Nickel series. However, the true rarity in the series has always been the 1886 as the date was not struck as cleanly as the San Francisco issue and fewer gem examples were saved. Thus, this survivor is an anomaly and one of only 7 pieces graded as MS66 by PCGS with 2 MS66+ pieces graded finer.
Value: Offered with No Reserve, the PCGS price guide reflects a value of $26,000 on this rare date gem with recent auction records ranging from $16,000-$25,000. We expect to see quite a bit of bidding action as this coin will certainly sell this week.
---
Until next time, thanks for stopping by and sharing some time with us to browse our Coins We Love.