Coins We Love - December 14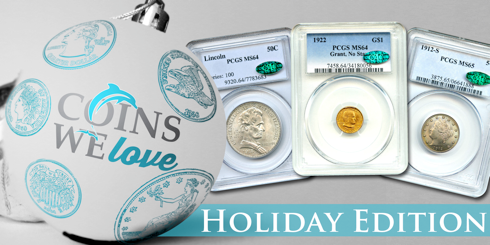 As I've stated before, no week is the same at DLRC. This week we had the privilege of sharing that we placed a Coiled Hair Stella with a client of ours. You can read the Press Release on our blog here. While this is one of the more exciting events for us this calendar year, it's difficult to explain that we enjoy placing the 1932-D 25c NGC AU50 just as much as the seven figure coins. Of course, when you have great clients and you get to play with physical pieces of history on a daily basis, it's easy to get excited.
As some of you know, there is a PCGS Members Only show going on in Las Vegas this week, but we took the week off from traveling so that we can enjoy time with our families during the holiday season. We will come out even stronger at the FUN show the first week of January. There are a few weeks before that event, but we'll keep plowing away in the office and will be able to tell you about a fresh collection of gold coins that we'll be offering in an upcoming auction next week. Until then, we hope that you enjoy reading about this week's Coins We Love, and we hope to hear from you soon!
A quick note: We will be closed tomorrow afternoon for our company Holiday Party, but you can email us at coins@davidlawrence.com for immediate needs.
Sincerely,
John Brush and Your Friends at DLRC
---
Why we love it: The 1919-D Standing Liberty Quarter is one of our favorite issues when you find one with a Full Head. Typically weakly struck, this date is one of the better strike and condition rarities in the series. In fact, only the 1918/7-S and the 1927-S are less frequently found with the Full Head designation. This piece exhibits beautifully flashy surfaces and is a gorgeous example of this underrated date.
Value: The CPG reflects a value of $21,300 with a wholesale Greysheet Bid price of $18,000. This piece is reserved in this Sunday's auction for just $16,000 and is an ideal grade for the collector as the coin nearly triples in value in MS65FH.
---
Why we love it: The penultimate issue amongst Indian Half Eagle Gold coins, the 1916-S is a scarce date in all grades, and nearly impossible to locate in gem condition. From a mintage of 240,000, this popular date is typically one of the holes in a set of gem $5 Indians. Especially elusive with the CAC seal of approval, this piece is a lovely example and perfect for the collector.
Value: Just a few years ago, this coin would have cost well over $15,000 as telemarketers were supporting and raising the price on the issue due to the scarcity. Alas, they have settled into the high 4-figures in the last two years, with CAC examples typically breaking into the $10,000 range. With a CPG value of $9,000 and a PCGS Price Guide of $10,500, this piece is available via Make Offer this week for a very reasonable $9,000, which is substantially less than any recent sale of a CAC-stickered piece.
---
Why we love it: Morgan Dollars simply do not come prettier than this pristine gem. Gorgeous prooflike fields with absolutely no toning, this blast white specimen is a treasure and will surely be coveted by many high-end Morgan collectors. Words simply can't do the eye appeal justice on this beaming prooflike gem!
Value: An absolute stunner that doesn't come graded finer with a Prooflike or DMPL designation, this piece is an excellent value at just $10,500 via Make Offer. With the PCGS Price Guide at $15,000 and the only auction record coming in at $10,575 this example is an excellent long-term investment play and is a gem of a coin!
---
Why we love it: The 1895 is the King of Morgan Dollars, and while we were pleased to place a gorgeous Proof 63 Cameo recently, the lightly circulated Proof 50 is a more affordable option for the common collector. Smooth, evenly worn surfaces with nice detail and eye appeal, this piece is ideal for the collector looking to finish off their book of Morgan Dollars.
Value: The CPG value of $41,300 seems rather accurate as lightly worn Proofs do not come available often. With the price jumping by more than 50% when you find a finer example, this grade is a reasonable alternative as it is reserved for $41,000 in this Sunday's auction.
---
---
Why we love it: One of the most popular (and fitting) notes for coin collectors, The Series 1886 features five Morgan dollars finely engraved and printed in green on the reverse. It is a fine note for the coin or currency collector and a great conversation piece for any collector.
Value: A fantastic note that more than doubles in value in a single grade finer, this piece would be worth more than $16,000 as a MS65. An ideal grade that provides some savings, this note is reserved for just $8,500 in this Sunday's auction.
---
Why we love it: This is a tremendously scarce small size star note, with just three known. Of the three, this note is the finest, with the other two grading Very Fine. An important opportunity for small size collectors.
Value: An incredibly fresh find, this piece has never been auctioned and was just recently discovered. Auctioned this Sunday with a conservative reserve of just $8,500.
---
Why we love it: Morgan Dollars simply don't come nicer than this ultra-gem MS68 example. Beautiful surfaces with fantastic eye appeal, this lovely type coin is virtually unobtainable in nicer condition.
Value: We see the NGC examples as excellent values in the current market. While PCGS examples garner in the $4,500 range, a NGC piece of the same quality is obtainable for quite a bit less. This piece is available via Make Offer for just $3,600 this week.
---
Why we love it: The key date of the Proof Walking Liberty Half series, the 1936 is rather plentiful, despite the limited mintage of 3,901 pieces. A beautiful gem proof with flashy fields, we love the look of the coin and the relative value based upon the limited mintage.
Value: In 2012-14, examples of this date and grade were realizing prices well over $5,000. However, the market has adjusted and settled at a level around $4,000 in recent years. The current PCGS Price Guide rests at $4,200 with a CPG value of $3,600. This premium gem is available via Make Offer for just $3,650, marking it an excellent value in our eyes.
---
Why we love it: The 1796 quarter is a famous rarity as it is the first year of issue of the quarter denomination by the U.S. Mint and a one-year type coin design. A choice Fine issue with smooth surfaces and nice detail, this CAC-stickered piece is ideal for the advanced collector or investor who appreciates a coin of the highest quality.
Value: The PCGS Price Guide rests at $28,000 and with auction prices typically resting in the mid-$20,000s, this coin is available via Make Offer for just $25,500.
---
Why we love it: We've had an overwhelming response on these items this holiday season and it's still not too late if you need something for the stocking of your loved ones. You can buy just 1 or 40 if you'd prefer, but this is the most affordable gold you can find, and it is perfect for gift-giving!
Value: These list for around $65 including shipping at most bullion dealers. We have a very limited supply available for $55 including shipping!
---
Until next time, thanks for stopping by and sharing some time with us to browse our Coins We Love.
Check out all of the available "Coins We Love" from past newsletters